If you are looking for a good beef curry, then look no further then this slow cooker massaman curry.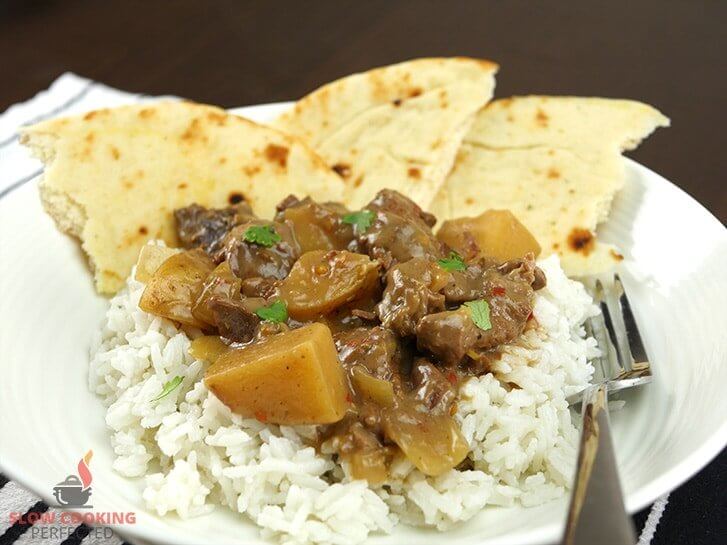 When you take a bite of this Thai curry, you will be greeted with a wide range of flavors thanks to the homemade curry paste. The beef will be so tender it will simply melt in your mouth. It is certainly a curry that is on my favorites list.
This recipe has quite a few ingredients since we are making the curry paste from scratch, but it is worth it as the result is just amazing. The slow cooking process will help draw out as much flavor from all ingredients while at the same time cooking the beef until it is tender.
If you do not want to make your own curry paste, you can easily replace it with a store-bought variety instead. You can find massaman curry pastes at any good supermarket or online at places such as Amazon.
A single batch of this curry should be enough to feed roughly eight people. I highly recommend that you make some side dishes to go with this dish. Something like steamed rice is perfect, as it will help feed a crowd with minimal effort.
Best Cut of Beef to Use
It is best to use a tough cut of beef for this recipe since we will be cooking it for a very long time. Once the dish is ready, you will have tender pieces of beef in a flavor-packed sauce.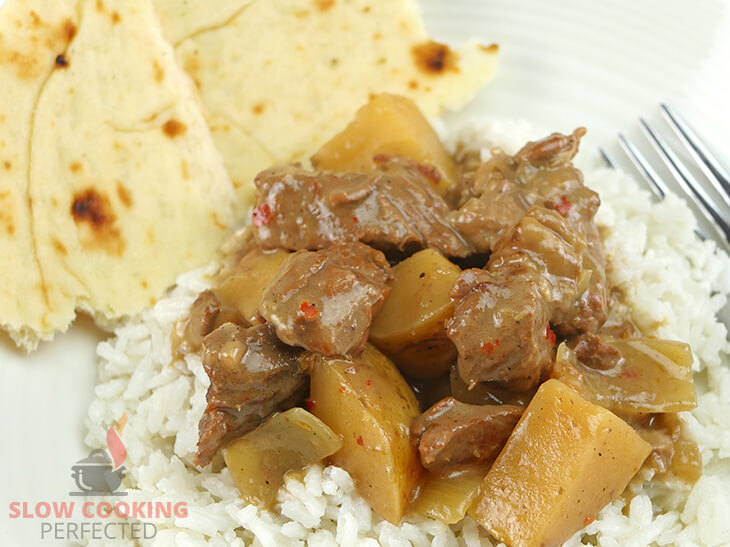 For this curry, I suggest using round, blade, brisket, sirloin, or chuck beef. Each cut of beef will work quite nicely in the slow cooker. The names of these cuts of meat may vary from country to country. For example, rump beef is a popular term in Australia but is called sirloin in America.
Serving Ideas for Massaman Beef Curry
Steamed rice is the perfect accompaniment for this curry. If you have the time then I highly recommend trying out some creamy coconut rice, it can be done in a rice cooker or over the stove.
For something a little extra, I recommend either purchasing or making some naan bread. I love to make some gluten-free naan bread whenever I have a bit of free time.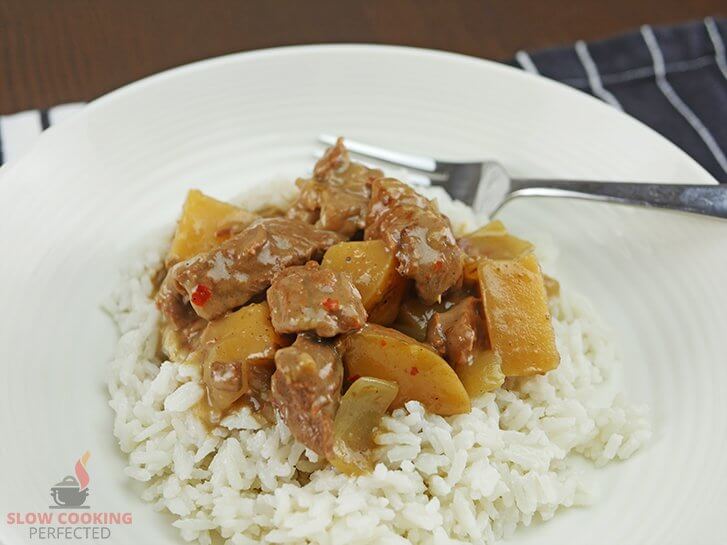 Another side dish that will work nicely with this curry is pappadums. You can pick these up at any good supermarket and can be cooked in a microwave. They are a delicious side dish to have with curry.
There is a huge range of side dishes that will work nicely with a curry. For example, mashed potatoes go great with this curry poured over the top. Alternatively, some steak fries are great dipped into the curry sauce.
The video below will show you all the steps on how to make this massaman beef curry in the slow cooker. Alternatively, there is a full written recipe right below the video.
Slow Cooker Massaman Beef Curry Recipe
Ingredients
1 kg (2.2 lb) beef, cubed
500 g (1.1 lb) potatoes, large cubes
2 onions, quartered
640 ml (21.6 fl oz) coconut cream
1 tsp tamarind concentrate
¼ cup brown sugar
Massaman Curry Paste
3 shallots, diced
2 tsp garlic, crushed
2 Tbsp lemongrass, chopped
1 Tbsp dried red chilies, crushed
1 Tbsp coriander seeds
1 Tbsp cumin seeds
3 cardamom pods
½ tsp nutmeg, ground
¼ tsp cloves, ground
¼ tsp black peppercorns
2 tsp shrimp paste
2 Tbsp water
To Thicken
2 Tbsp cornstarch
2 Tbsp water
Instructions
Firstly, blend the curry paste ingredients in a blender until paste-like.
In a frypan over high heat, quickly brown the beef. Once browned, put to the side.
Next, in the same frypan, add 1 Tbsp oil, the curry paste and cook until fragrant.
In a slow cooker, add the beef, curry paste, potatoes, onion, coconut cream, tamarind concentrate, and the brown sugar. Mix until the sauce and paste are well combined.
Cook on low for 8-12 hours.
Mix the cornstarch and water until it forms a paste. Mix into the slow cooker and cook on high for a further 15 minutes or until thickened slightly.
Season with salt and pepper.
Serve & Enjoy.
Recipe Tips
Tamarind can be replaced with lime juice if you are unable to get your hands on any.
Since we cook the coconut cream for a long time, there is a chance that it will split. Adding a cornstarch and water mix towards the end will help bring it all back together.
If you want to add more vegetables to this slow cooker massaman curry, try adding some bell peppers or celery. Both of these vegetables works well in this curry.
You can skip frying the curry paste and beef if you want to save time. There will be some differences in the final dish, but nothing too drastic.
After the initial eight hours of cooking, you might want to skim any fat off the top of your curry. Do it before mixing in the cornstarch paste.
Note: I use a 5.5L (6 Quart) slow cooker for all the recipes that I have on this website unless specified. If you have a smaller or larger slow cooker, then you might need to adjust the ingredients.
Nutrition Information
Serving Size: 318g (11.2 oz)
Servings Per Recipe: 8
Calories Per Serving: 569
Amount Per Serving
Saturated Fat: 15.3g
Trans Fat: 0.4g
Dietary Fiber: 5g
Sugars: 9g
Cholesterol: 94mg
Sodium: 154mg
Protein: 31g
The information above is an estimate generated by an online nutrition calculator.
More Slow Cooker Curries
Below are a few more slow cooker curries that I reckon you will love.
You will love the beef madras curry if you like this recipe. It has some incredible flavors thanks to the homemade curry paste. I highly recommend giving it a try if you love spicy curries.
I have a ton of chicken curries that you should check out. Some of my personal favorites is the chicken tikka masala or the spicy peanut chicken curry. Both are equally pretty amazing.
This slow cooker massaman beef curry is undoubtedly delicious, and I hope that it comes out to be as great as it did for me. If you have some tips on improving this recipe or anything else, then feel free to leave a comment below.