One excellent side dish that you can cook in the slow cooker is some mashed potatoes. This tasty recipe is an easy way you can make this superb accompaniment in bulk.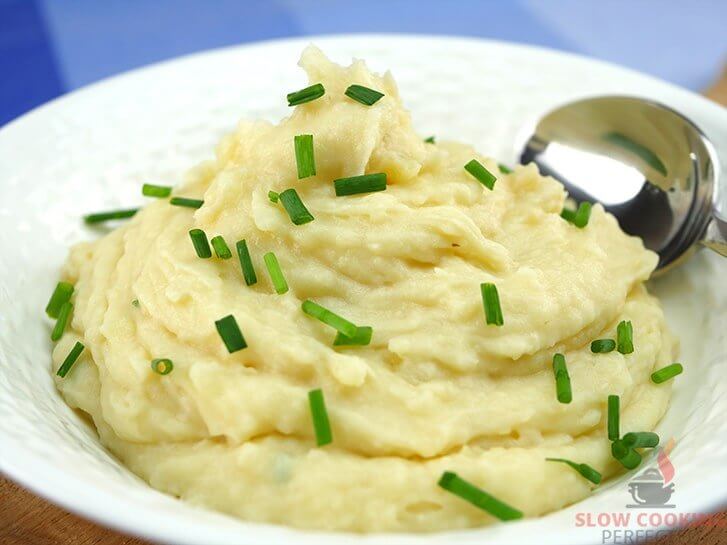 Once you're ready to serve, you will have some incredibly creamy mashed potatoes that tastes as good as it looks. To top the dish off, you can finish it with some chopped chives or just serve as is.
You should find that this mashed potato recipe is super easy and is a great way to feed a crowd. It's also perfect if you have a busy day ahead but want something delicious for dinner.
There are many different potato recipes for the slow cooker that you're able to do. Each of them has its pros and cons, but typically they all come out delicious.
Perfecting Mashed Potato
There are quite a few ways that you can make smoother and better-tasting mashed potatoes. I will just go through a couple of tips.
Some potatoes are better for mashing than others, but with that said, most varieties would work just fine. If you want the best mash, then try to use one of the following varieties; dutch cream, Desiree, or Yukon Golds.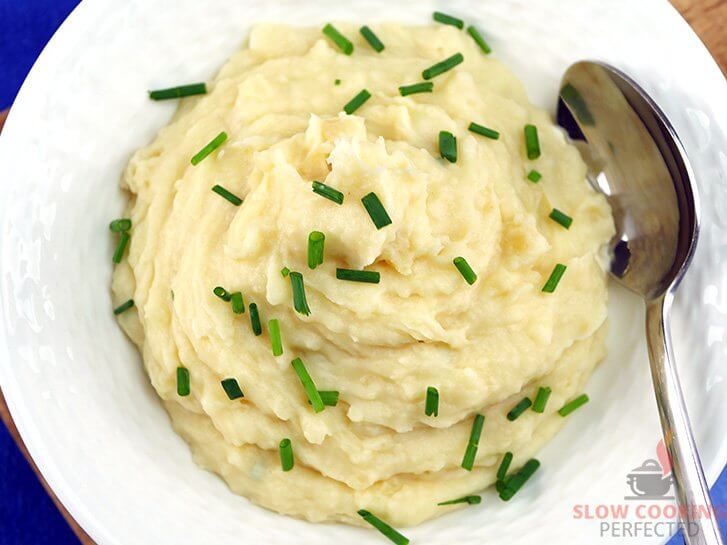 There are quite a few different ways you're able to mash the potatoes, with each having varying results.
Personally, I mash the potatoes with a hand masher as it's the easiest method but can give mixed results.
If you have the time, then using a ricer will provide you with much smoother mashed potatoes. Using a ricer is a must if you want the least amount of lumps.
Lastly, you can try using a fork, but it involves a lot of work and likely to be very inconsistent. I find I often end up with the most lumps using this method.
What to Serve with Mashed Potatoes
There are so many tasty dishes that go great with mashed potatoes. I will just go through some of my favorites that you can also cook in a slow cooker.
Some Swedish meatballs go so well with mashed potatoes, and it's like a match made in heaven. The creamy sauce and the tasty meatballs just work so well.
You have got to give slow-cooked beef cheeks a try if you love beef that just melts in your mouth. It's a relatively easy recipe and works perfectly with mashed potatoes.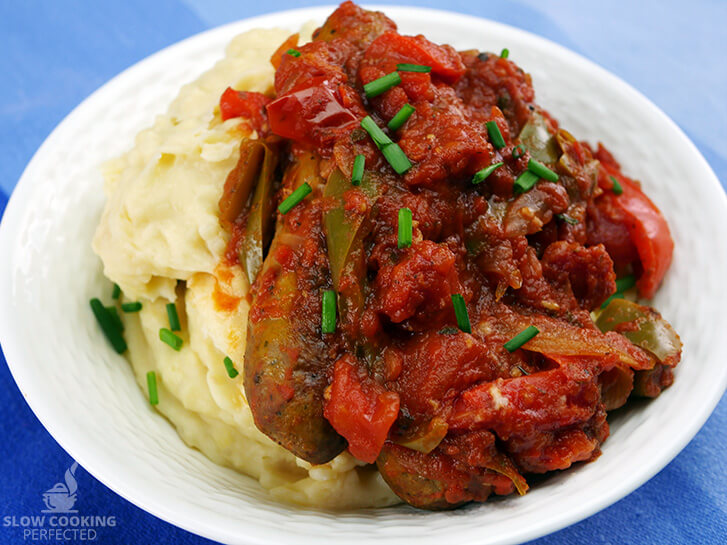 I absolutely love sausage and peppers, and just like the other two options can be made in the slow cooker. The sauce is absolutely flavor-packed and will match perfectly with any good quality sausages.
If you have any suggestions on what to serve with mashed potatoes, then be sure to leave us a comment at the bottom of this page.
Keep the Leftovers for Later
As with most slow cooker recipes, this will reheat quite nicely, so make sure you keep any leftovers.
Keep the leftovers covered and stored in the fridge until needed. I haven't tested to see how well it will freeze, but this is an option if you want to keep it for longer.
You can use leftover mashed potato as a side dish, or you can use it in another recipe. For example, making something like tuna cakes is an excellent way of using up any leftovers.
If you need to see how to make these mashed potatoes in the slow cooker, then be sure to check out the video below. It takes you through all the steps to making this delicious dish. It's a surprisingly easy to dish to make, and the result will leave you very happy.
Slow Cooker Mashed Potatoes Recipe
Ingredients
2 kg (4.4 lb) potatoes, peeled, cubed
1 cup chicken broth
2 tsp garlic, crushed
60 g (2.1 oz) butter, room temperature
1 cup sour cream
1 Tbsp fresh chives, chopped
Instructions
Add the potatoes, chicken broth, and garlic into the slow cooker.
Cook on low for 6-8 hours or on high for 3-4 hours.
Mash the potatoes until smooth. Mix in the butter, sour cream, and chives.
Season with salt & pepper.
Serve & Enjoy.
Recipe Tips
Use white pepper if you don't want black specks throughout your mashed potato. The taste won't be any different as it's just a visual thing some people might prefer.
I use chives in this recipe, but you can swap these out for any kind of herb. Another great herb people love to use is some parsley.
You can replace the sour cream for a different dairy such as cream or even milk. If you're using milk, I would add slightly less to avoid making the mash too runny.
There is no cream cheese in this recipe, but you can add it if you want. Make sure you warm the cheese, so it mixes in properly.
Note: I use a 5.5L (6 Quart) slow cooker for all the recipes that I have on this website unless specified. If you have a smaller or larger slow cooker, then you might need to adjust the ingredients.
Nutrition Information
Serving Size: 319g (11.3 oz)
Servings Per Recipe: 8
Calories Per Serving: 288
Saturated Fat: 5.8g
Trans Fat: 0.2g
Dietary Fiber: 6g
Sugars: 2g
Cholesterol: 27mg
Sodium: 203mg
Protein: 6g
The information above is an estimate generated by an online nutrition calculator.
More Delicious Slow Cooker Recipes
There are a ton of other side dishes that you can do in the slow cooker. I will just quickly mention a couple of my favorites.
If you're a huge fan of potato dishes, then you should try out the scalloped potatoes in the slow cooker.
For something creamy and cheesy, I highly recommend giving mac and cheese a go in the slow cooker. It works out surprisingly well and is super delicious.
On top of side dishes, there is a ton of other delicious slow cooker recipes that will work great with this recipe. If you have two slow cookers, then you can have the main meal cooking in one and the potatoes cooking in the other.
That's all I have to say about this tasty slow cooker mashed potatoes recipe. If you have any thoughts, tips, or anything else, then feel free to leave a comment right below.