If you have never had beef cheeks before, then this slow cooker beef cheeks recipe is the perfect one to start with. By the time it's ready to eat, you will have tender flavor-packed pieces of meat.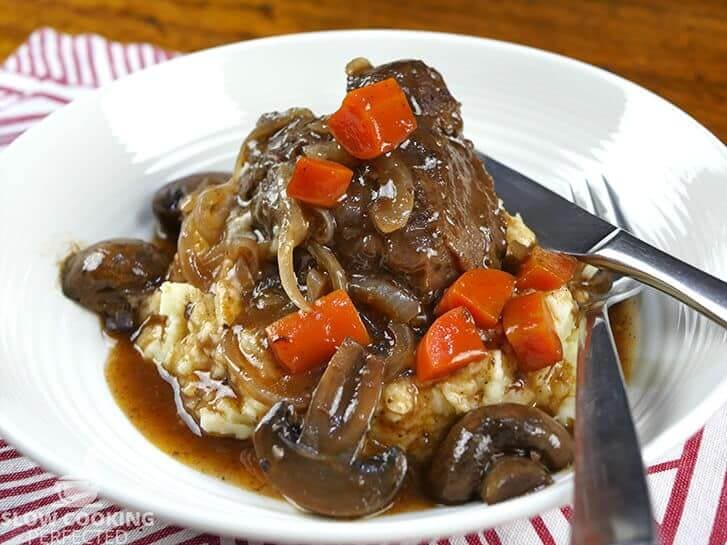 As the name suggests, beef cheeks are the cheek muscle of the cow. Since it's a highly used muscle, the meat will be very tough unless you use the correct cooking technique. It is considered to be a budget cut of meat, but this can vary depending on the country you live in. Usually, slow cooking is recommended to get the meat nice and tender.
There are many ways you can slow cook beef cheek, but my favorite is with some vegetables and excellent red wine gravy.
This dish is great for feeding a crowd. A single batch of this recipe should feed roughly six people. If you add some sides, then you might be able to feed even more.
What to Serve with Beef Cheeks
Many side dishes go well with these slow cooker beef cheeks, so be sure to make something that you enjoy.
A delicious creamy potato mash works excellent with the tender beef cheeks. The mashed potato in the photos is the same one that I made in the slow cooker. So be sure to check that out if you're interested.
One of the easiest side dishes that you can make is some steamed rice. I typically cook the rice in a rice cooker rather than over the stove, as it's a lot easier.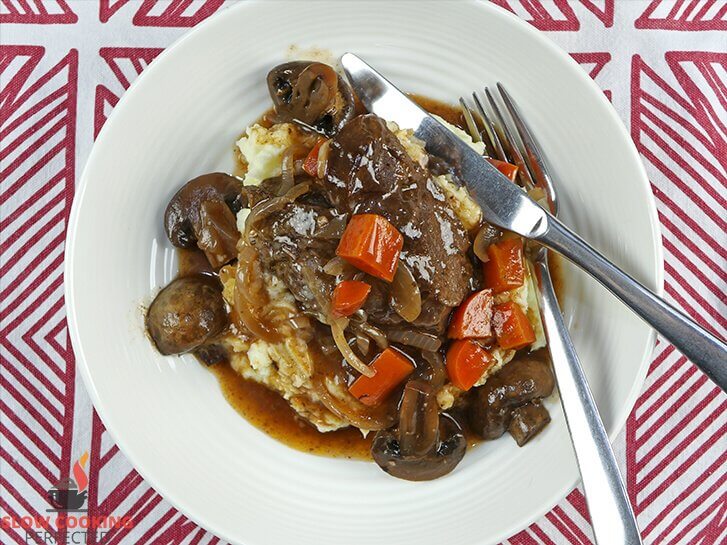 For something a little healthier, you can try making couscous or even some healthy cauliflower rice. Either of these will work nicely, but it just depends on how much time you have spare to spend in the kitchen.
There are lots of delicious side dishes that will work nicely with this delicious beef dish. If you have any suggestions, then be sure to share them with us by leaving a comment at the bottom of this page.
What to do with Leftovers
One of the best parts of this dish is the leftovers are great the next day for lunch or dinner. Simply reheat any leftovers in the microwave or oven. You should avoid heating leftovers in the slow cooker as it doesn't heat the food fast enough.
The leftovers will keep nicely in the refrigerator for a few days. Alternatively, you can freeze the leftovers and keep them for up to roughly six months.
You can check out all the steps to making this delicious recipe in the video below. Alternatively, you can find the full written recipe right underneath the video.
Slow Cooker Beef Cheeks Recipe
Ingredients
1 kg (2.2 lb) beef cheeks
1 cup red wine
2 onions sliced
1 Tbsp garlic crushed
2 carrots roughly chopped
2 Tbsp brown sugar
2 Tbsp tomato paste
2 bay leaves
1 tsp thyme
500 g (1.1 lb) mushrooms, halved
2 cups beef stock
To thicken
1/3 cup cornstarch
½ cup water
Instructions
In a frypan over high heat, quickly brown the beef cheeks. Once brown, put to the side.
Add the red wine into the same frypan and cook for 2 minutes, stirring continually.
In a slow cooker, add the onions, garlic, carrots, brown sugar, tomato paste, bay leaves, thyme, and the mushrooms. Lastly, add the beef cheeks, wine, and beef stock.
Cook on low for 8 hours or until the beef cheek is tender.
Season with salt and pepper.
Mix the cornstarch and water to form a paste. Slowly mix into the slow cooker. Allow to cook on high for a further 15 minutes or until thickened.
Serve & Enjoy.
Recipe Tips
If you're running low on time, then you can throw everything into the slow cooker. You might notice a few differences by skipping the frypan steps but nothing too drastic.
On the flip side, if you have time, then you can cook the mushrooms in some butter before adding them to the slow cooker. This extra frying will help add a ton of flavor to the dish.
You can try using a variety of mushrooms to help add a bit more flavor and texture to the dish. For example, you can try using some shiitake mushrooms as well.
Beef cheek can feel a bit tough at first. However, you will find that when you go to eat, it will be incredibly tender. Just make sure you cook it for long enough.
Note: I use a 5.5L (6 Quart) slow cooker for all the recipes that I have on this website unless specified. If you have a smaller or larger slow cooker, then you might need to adjust the ingredients.
Nutrition Information
Serving Size: 429g (15.1 oz)
Servings Per Recipe: 6
Calories Per Serving: 307
Amount Per Serving
Saturated Fat: 2.8g
Trans Fat: 0.6g
Dietary Fiber: 2g
Sugars: 7g
Cholesterol: 123mg
Sodium: 327mg
Protein: 39g
The information above is an estimate generated by an online nutrition calculator.
More Slow Cooker Beef Recipes
There are a ton of slow cooker beef recipes that you're able to do. I go through a couple of my favorites that I highly recommend that you try.
Personally, I love a good beef goulash that has been slow-cooked for several hours. The beef will be tender, and the sauce packed with flavors from a lovely range of herbs, spices, and vegetables. It's best served as a stew, but some side dishes will work nicely with it.
You can also try cooking osso buco in the slow cooker. The dish will have some incredible flavors thanks to the delicious tomato-based sauce and the flavor from the bone marrow.
I hope that this slow cooker beef cheeks recipe has shown you all the steps to making this amazing dish in an easy to understand manner. If you have some feedback, tips, or anything else, then please don't hesitate to leave a comment below.