This mouthwatering slow cooker goulash is an amazing beef stew that cooks for over eight hours.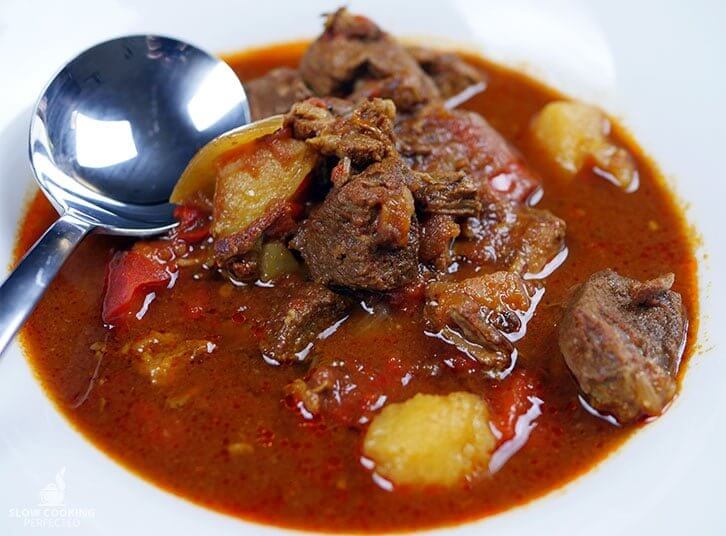 The long cook time allows for the flavors to develop and intensify. The result is a fantastic Hungarian style beef dish that just sends your taste buds on a fantastic journey.
A single batch of this delicious goulash will feed roughly six to eight people. You can easily adjust the recipe to feed more or you can make some delicious side dishes to serve with it. It is entirely up to you.
This goulash is yet another slow cooker beef dish that will reheat pretty well. If you have any leftovers, make sure you cover them and keep them in the fridge or freezer. They should keep for a few days in the fridge or a few months in the freezer.
Choosing the Best Cut of Meat
When it comes to buying beef for a stew, you do not need to buy an expensive cut. Something like chuck will become super tender after eight hours of cooking and will impart a fantastic beef flavor to your dish.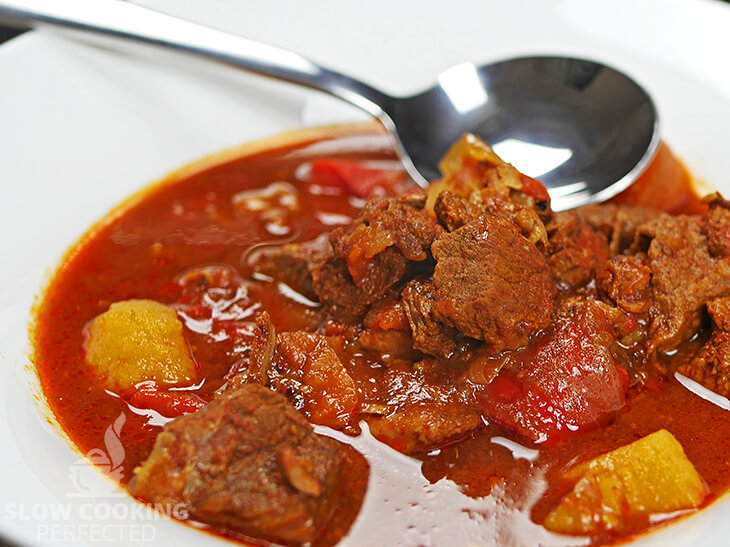 Something like round, chuck, blade, shank, or brisket will work nicely in this stew. The names of these cuts may vary depending on the country you are currently residing in. Most cheap cuts of meat will work fine.
What to Serve with Beef Goulash
If you are looking to bulk the recipe out a bit more, then I recommend cooking some extra food to go with it.
I love to have some freshly baked bread as a side dish as there is nothing more enjoyable then dipping some delicious soft bread into this rich tomato dish. For something a little different, you can try making some cornbread to go with this stew.
Steamed rice is another side dish that will work very nicely with this stew. I like to take the easy route and cook the rice in a rice cooker. For something a little different, you can try making cauliflower rice.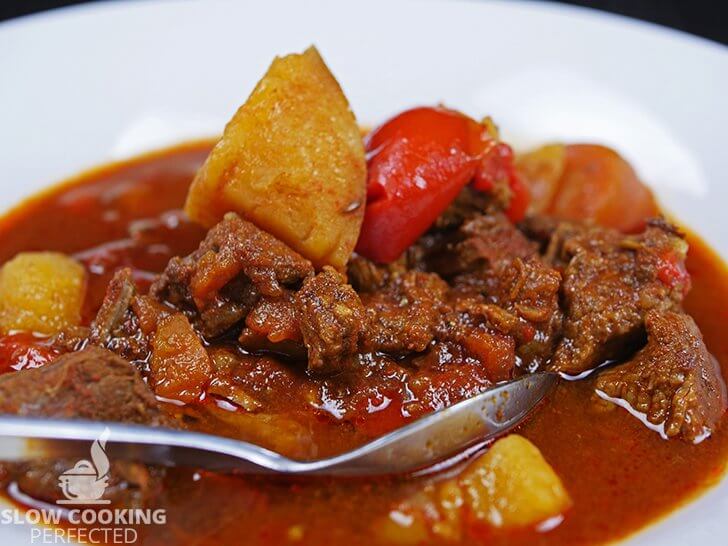 I love to make some mashed potatoes to go with this delicious stew. Personally, I would leave the potatoes out of the goulash to avoid going overboard with potato. Instead, you can replace the potato with mushrooms.
For something a little lighter than the suggestions above, you can make a salad. A popular salad to go with this stew is cucumber salad which consists of cucumber slices with a delicious dressing. It is simple but very delicious.
Also, do not forget there are some pretty amazing desserts that you can cook up for after the goulash.
The video below takes you through every step on how to cook this Hungarian inspired beef goulash in the slow cooker. Alternatively, there is a written recipe below the video.
Slow Cooker Goulash Recipe
Adblock removing the video? Support us by going ad-free or whitelist us in your ad-blocker.
Ingredients
750 g (1.7 lb) beef chuck steak, cut into 3 cm/1 inch chunks
2 Tbsp sweet paprika
1 onion, cut into chunks
2 tsp garlic, crushed
2 carrots, cut into chunks
2 potatoes, cut into chunks
2 red bell peppers, cut into chunks
2 Tbsp tomato paste
400 g (14.1 oz) diced tomatoes
1/2 cup beef stock
½ Tbsp caraway seeds
2 bay leaves
Instructions
Coat the beef with the paprika.
In a pan over medium heat, lightly brown the beef before transferring to the slow cooker.
Add the onion, garlic, carrots, potatoes, bell peppers, tomato paste, diced tomatoes, beef stock,  caraway seeds, and the bay leaves into the slow cooker. Mix slightly.
Cook on low for 8 hours.
Season with salt and pepper.
Serve & Enjoy.
Recipe Tips
You can skip browning the meat if you are in a rush. This skip will probably mean your beef might not be as flavorsome but will still be enjoyable. It also saves making an extra dish to wash up.
Assuming the goulash is too runny for your liking, then you can thicken it with some cornstarch. In a separate bowl, mix one tablespoon of cornstarch with one tablespoon of water until it forms a paste. Now pour this paste into the goulash while mixing, hopefully avoiding any lumps. It should thicken up after ten to twenty minutes of cooking.
Turn the slow cooker to high and cook for four hours if you are in a rush.
Note: I use a 5.5L (6 Quart) slow cooker for all the recipes that I have on this website unless specified. If you have a smaller or larger slow cooker, then you might need to adjust the ingredients.
Nutrition Information
Serving Size: 364g (12.8 oz)
Servings Per Recipe: 6
Calories Per Serving: 337
Saturated Fat: 3.1g
Trans Fat: 0g
Total Carbohydrate: 23.3g
Dietary Fiber: 5.2g
Sugars: 7.2g
Cholesterol: 112mg
Sodium: 1247mg
Protein: 41.4g
The information above is an estimate generated by an online nutrition calculator.
More Slow Cooker Dinner Recipes
There are plenty of other fabulous slow cooker dinner meals you can cook. Below are a couple of my favorite recipes.
If you are not interested in a beef stew but want a soup dish, something like a minestrone might interest you. Minestrone soup has a delicious range of vegetables, bacon, and pasta.
The delicious pepper steak is another slow cooker recipe that I reckon you will love. If you are looking for more recipes to add to your collection, you have to give it a try.
If you have some feedback that you would love to share on this slow cooker goulash, then please do not hesitate to leave a comment below.