This slow cooker beef ragu has a delicious sauce that has chunky vegetables such as carrots and celery. As with any ragu, it goes perfect with a serving of pappardelle pasta.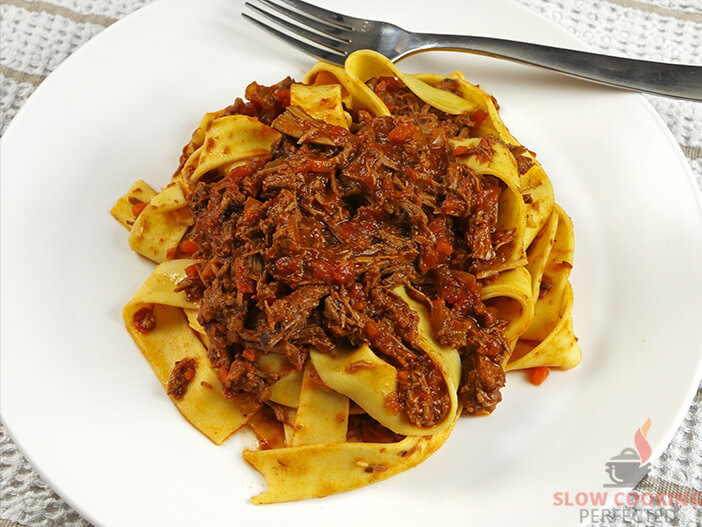 When you bite into this delicious dish, you will be greeted with a delicious tomato sauce loaded with shredded beef, carrots, celery, and a whole heap of flavor. I highly recommend giving it a try.
Ragu is traditionally an Italian dish that was first documented in the 18th century. Today, it is an extremely popular dish that is found all across the world.
You might be thinking that this recipe is quite involved, but it is totally worth it. The combination of ingredients creates a saucy ragu that you and your family will not be able to resist.
I found this recipe made more than enough pasta sauce to feed six to eight people. The addition of some garlic bread certainly helps this feed as many people as possible.
Beef Ragu Serving Ideas
There are plenty of side dishes that you can make to go with this pasta. Below are some of my favorite serving ideas.
I recommend using a pappardelle pasta for the best results. The ragu sauce will work best with this type of pasta, but you can swap it out if you do not have any. I also recommend topping the pasta with some shaved parmesan.
A lovely refreshing green salad and freshly baked garlic bread work excellent with this delicious pasta dish. You can make the garlic bread at home, or you can pick some up from your local supermarket.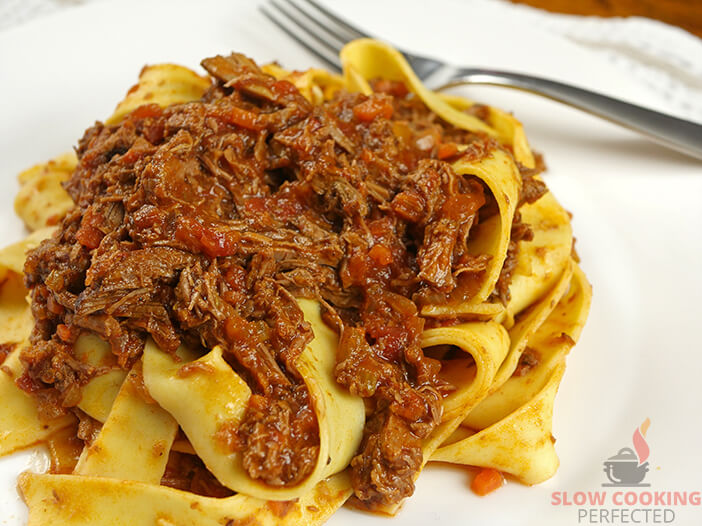 This beef ragu is delicious poured over the top of some homemade mashed potatoes. It is far from traditional but is certainly worth a try if you love mashed potatoes. It is also an excellent gluten-free alternative to pasta.
Another couple of popular additions to this pasta sauce is to serve it with some rigatoni or gnocchi. Each of these will work perfectly, and I highly recommend giving them a go.
Be sure to let us know of any ideas for serving this delicious dish. We will love to hear them.
Leftovers & Dessert
Leftovers of this slow cooker beef ragu are well worth keeping. You can heat this ragu with some pasta, or you can use it in other recipes.
For example, any leftovers will go great on top of some jacket potatoes or on a delicious homemade pizza. There are many choices to what you can do with the leftovers.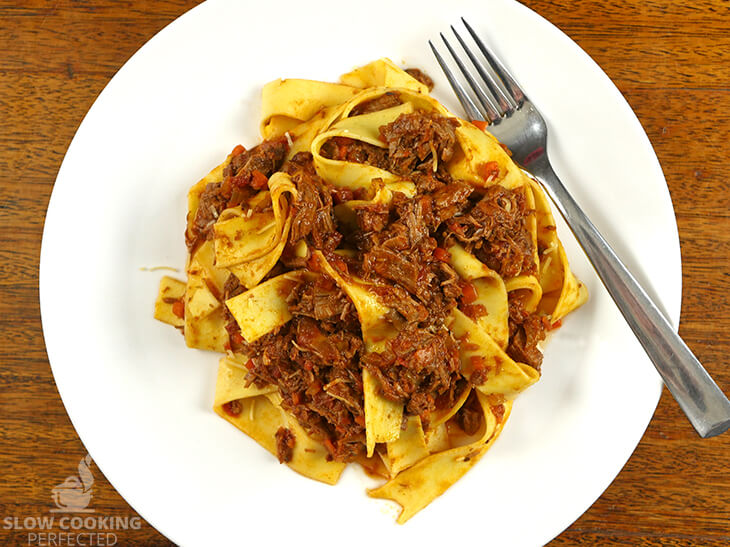 Usually, I am too full to eat more after this wonderful beef ragu. Still, if I were to have something, it will be the delicious poached pears in white wine. They are not too heavy and is the perfect way to finish off this lovely meal.
You can find the video on how to make this beef ragu in a slow cooker right below. Alternatively, you can find the full recipe underneath the video.
Slow Cooker Beef Ragu Recipe
Ingredients
1 kg (2.2 lb) chuck beef or similar
1 onion, diced
2 tsp garlic, crushed
2 carrots, diced
2 celery stalks, diced
1 tsp sugar
1 tsp fennel seeds
2 tsp thyme, dried
2 bay leaves
½ cup red wine
3 Tbsp tomato paste
800 g (1.8 lb) crushed tomatoes
½ cup beef stock
500 g (1.1 lb) pappardelle pasta, cooked (To serve with)
Instructions
Season the beef with salt and pepper.
In a frying pan over high heat, brown the beef on all sides. Once browned, put to the side.
Deglaze the pan with the red wine, then transfer to a slow cooker.
Next, in the slow cooker, add the beef, onion, garlic, carrots, celery, sugar, fennel seeds, thyme, bay leaves, tomato paste, crushed tomatoes, and the beef stock.
Cook on low for 10 hours.
Remove the beef from the slow cooker and shred using two forks. Return the beef to the slow cooker once it has been shredded.
Turn the slow cooker to high and cook for 15 minutes.
Season with salt & pepper.
Serve & Enjoy.
Recipe Tips
You can make this recipe gluten-free by using a gluten-free pasta instead of the pappardelle pasta.
You can use any type of pasta for this beef ragu. Still, for the best results, I highly recommend using pappardelle pasta.
It is essential to cook the pasta separately from the sauce. Cooking the pasta in the slow cooker will likely leave you with a super thick sauce and inconsistently cooked pasta. Use the cooking recommendations on the packet of the pasta to get the best results.
Any cut of beef will work fine for this recipe, but I highly recommend choosing a tough cut of meat. By the time you are ready to pull the meat apart, the beef should be super tender.
The slight addition of sugar is recommended to help take away some of the acidity of the tomatoes. If you are avoiding sugar, then you can easily leave this out.
You might need to skim the fat from the liquid when you remove the beef. The process of doing this is straightforward and will leave you with a less greasy ragu.
The beef should easily pull apart. Otherwise, it is likely the beef will need to be kept cooking for even longer. If you are running low on time, speed up the cooking by turning the slow cooker to high.
Note: I use a 5.5L (6 Quart) slow cooker for all the recipes that I have on this website unless specified. If you have a smaller or larger slow cooker, then you might need to adjust the ingredients.
Nutrition Information
Serving Size: 364g (12.8 oz)
Servings Per Recipe: 8
Calories Per Serving: 294
Amount Per Serving
Saturated Fat: 2.5g
Trans Fat: 0.3g
Dietary Fiber: 5g
Sugars: 7g
Cholesterol: 108mg
Sodium: 393mg
Protein: 33g
The information above is an estimate generated by an online nutrition calculator.
More Slow Cooker Recipes
If beef is not your kind of meat, but you like the sound of lamb, you might be interested in our lamb ragu recipe. It is similar but has a few unique twists, such as crispy bacon and some herbs that go great with lamb.
There are also plenty more beef recipes that you can make in a slow cooker. Another recipe that I highly recommend trying is the Hungarian inspired beef goulash. It has a lovely rich tomato sauce that has delicious paprika flavors.
This slow cooker beef ragu is one of my favorite slow cooker pasta recipes, and I hope that it becomes one of yours too. If you have some tips, feedback, thoughts, or anything else, then please do not hesitate to leave a comment below.