This tasty slow cooker pizza is a great way to make some homemade pizza when you do not have access to an oven. It does not end up as crisp as an oven-baked pizza but is still incredibly delicious.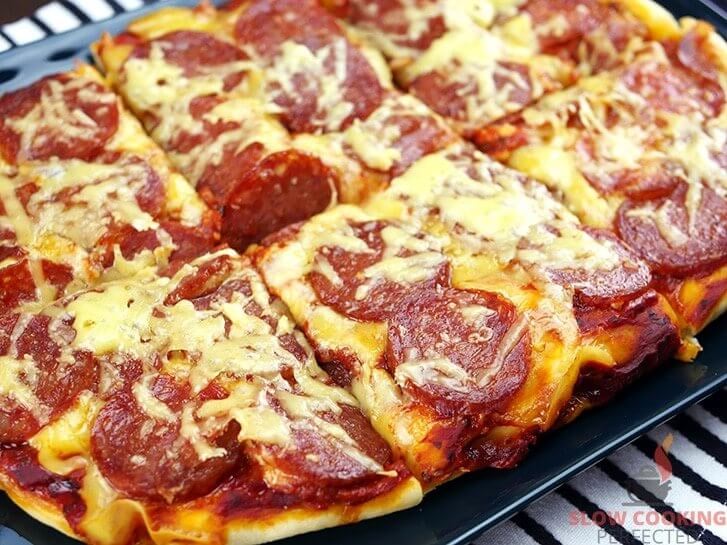 It is surprising how well this pizza will turn out. The dough is lovely and fluffy, and the topping is just absolutely gorgeous. It is yet another excellent example of one of the different slow cooker dishes you can make.
A single pizza should be enough to feed two people, which is roughly three slices each. If you need to feed more, then you will need more slow cookers. Alternatively, you can make some side dishes to go with the pizza.
Leftover pizza is always great, so make sure you do not throw it out. Store in the fridge, then eat cold or reheat in either a microwave or hot oven. I love making pizza or pasta dishes, as they are great for leftovers.
Why Cook Pizza in a Slow Cooker
There are many reasons why you might want to do a pizza in a slow cooker rather than in the oven. For example, you might not have access to an oven or simply want dinner to be ready when you get home.
I should mention a few downsides of cooking pizza in the slow cooker, such as the topping not becoming that lovely crisp texture. You also need to be careful of your toppings producing too much liquid as it can make the base go soggy.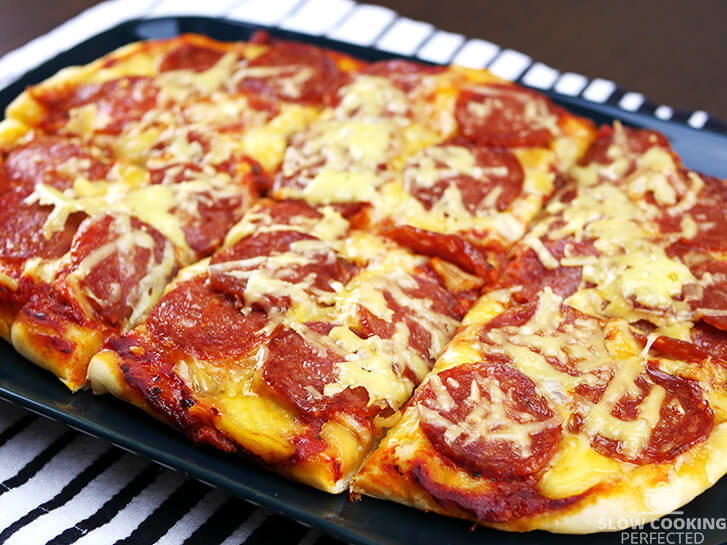 If you do not have time for a slow-cooked meal, then a puff pastry pizza in the oven is perfect. It is a super-easy way to quickly make a good tasting pizza without needing to make a dough.
Pizza Topping Ideas
You can change the topping on this pizza to anything you want. Below are a few examples of what you can do.
Ham, olives, tomato, anchovies are a delicious combination that works surprisingly well on slow-cooked pizza. I highly recommend giving it a try.
If you love pork, you can make a BBQ pork pizza, which consists of pulled pork, red onion, bacon, BBQ sauce, and a generous amount of cheese.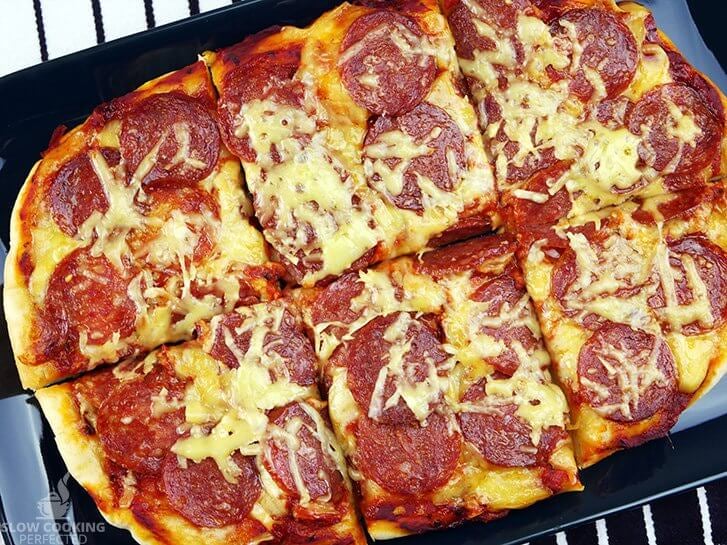 Another great combination is Hawaiian unless you do not like pineapple on pizza. A simple combination of ham, cheese, pineapple, and pizza sauce is all you need.
One last pizza topping that I reckon will work brilliantly in the slow cooker is pulled beef, pizza sauce, cherry tomatoes, olives, bell peppers, and a good amount of mozzarella cheese.
Also, if you have a combination that you would like to share, then be sure to leave a comment at the bottom of this page.
If you like to see things in action, then be sure to check out the video below. It will take you through all the steps to making this delicious pizza in the slow cooker. It also shows you what it should look like once it is finished cooking.
Slow Cooker Pizza Recipe
Ingredients
310 g (10.9 oz) pizza dough
1/3 cup pizza sauce
100 g (3.5 oz) pepperoni slices
1 cup mozzarella cheese, shredded
Instructions
Roll out the pizza dough, so it is roughly the size of the slow cooker pot.
Lightly spray the slow cooker with oil.
Add the dough to the slow cooker and form a crust around the edges.
Evenly spread the base with the pizza sauce.
Top the dough with pepperoni and cheese.
Sprinkle with some pizza herbs.
Cook on low for 2 hours or until the dough is cooked all the way through.
Serve & Enjoy.
Recipe Tips
You can make pizza dough from scratch, but I recommend that you use some premade pizza dough to save time.
Feel free to vary the number of ingredients in this recipe. If you love pepperoni, you might want to double it.
If you want to avoid too much oil pooling on the top of the pizza, you can precook the pepperoni slices and dry them on some paper towel.
I use pepperoni pizza as an example of just one topping you can do in the slow cooker. You can do so many more things, such as a breakfast pizza.
For easy removal, you can use a slow cooker liner or line the slow cooker with baking paper or foil. Just make sure you leave enough excess, so you can grab it and pull it out.
Note: I use a 5.5L (6 Quart) slow cooker for all the recipes that I have on this website unless specified. If you have a smaller or larger slow cooker, then you might need to adjust the ingredients.
Nutrition Information
Serving Size: 303g (10.7 oz)
Servings Per Recipe: 2
Calories Per Serving: 813
Saturated Fat: 9.9g
Trans Fat: 0.8g
Dietary Fiber: 19g
Sugars: 3g
Cholesterol: 63mg
Sodium: 2194mg
Protein: 41g
The information above is an estimate generated by an online nutrition calculator.
More Slow Cooker Pizza Recipes
If you love pizza and cannot get enough, then be sure to check out the pepperoni pizza casserole. It is packed full of flavor and can feed quite a few people, perfect if you need to feed a hungry crowd.
The slow-cooked breakfast pizza is also a must-try. The pizza is topped with pizza sauce, ham, tomato, eggs, and some mozzarella cheese. Much like this pizza, it is an absolute must-try.
I hope you enjoy this slow cooker pizza and that you do not have any issues with making it. If you have some feedback, then feel free to leave a comment right below.