This slow cooker pulled pork is extremely easy to get right, and the result is absolutely amazing. You can eat it alone, in a salad, sandwich, and much more.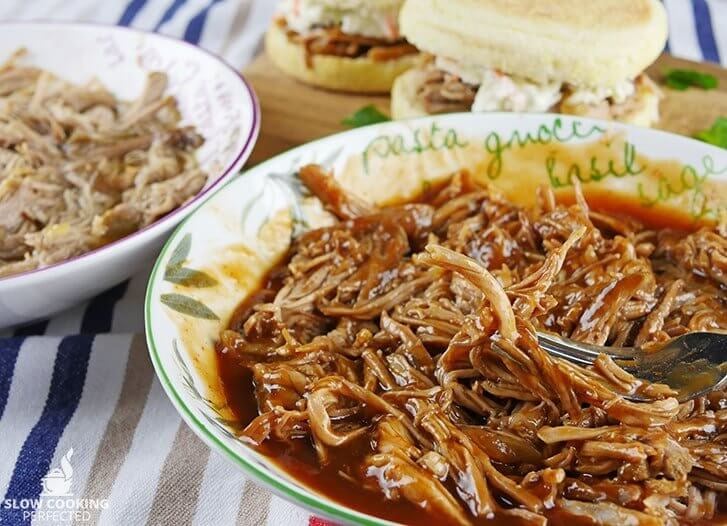 Making pulled pork in the slow cooker or crock pot is one of the best methods that you can use to achieve the best tasting sauce and meat. The long cooking time allows for all the flavors to develop and the meat to tenderize.
This recipe is surprisingly easy, and the pulled pork rub is so delicious you don't need any extra sauces. It does have a slight bite, but you can remove the chili powder if you prefer no spice at all.
How to use Pulled Pork
There are so many tasty uses for pulled pork such as being used in salads, pizza, sandwiches, tortillas, nachos, and so much more. Personally, I love having some pulled pork sandwiches loaded with some coleslaw.
You can also use the mixture in more complicated food items such as dumplings. A pulled pork dumpling is one of the most delicious things you can eat, and you have got to try it.
Let us know your favorite ways of using pulled pork in the comment section towards the bottom of this page. We love hearing your combinations.
Which Cut of Meat for Pulled Pork
The best cut of pork when it comes to something such as pulled pork is typically the shoulder or also known as the Boston butt. You should be able to find this cut of meat at any good butcher or supermarket.
You don't have to use this specific cut, but you will undoubtedly find the best results if you do.
Different Pulled Pork Sauces
You should find that the sauce that you make in this recipe is incredibly tasty and goes really well with the shredded pork. However, if you have a favorite BBQ sauce that you love, then you can mix the pulled pork in with that instead.
Both sauces are as good as each other so whatever you decide, you're in a for a treat.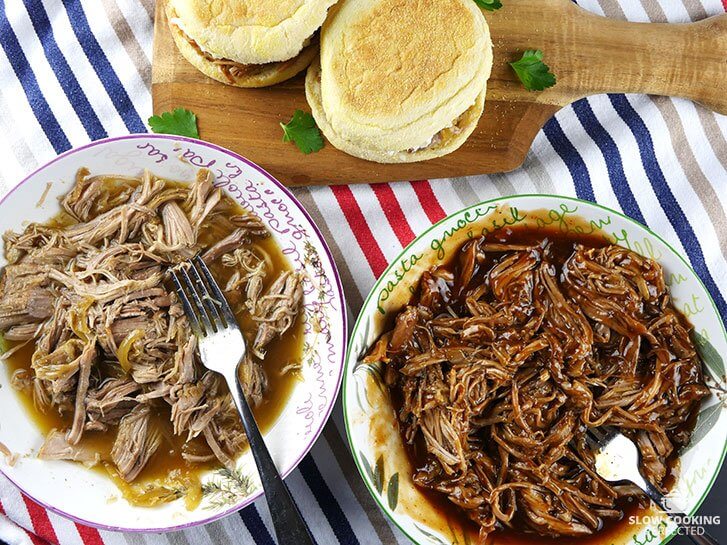 The image above shows you sauce from the slow cooker on the left and the barbecue sauce on the right. As I mentioned above, both sauces are delicious.
There are a ton of different spice mixes that you can use for pulled pork. Our blend is just one, and I hope that you do like it. It has the perfect combination of spices and sauces.
Using the Pulled Pork Leftovers
The pork will last for about three to four days in the fridge covered. You can also freeze it, but I can't say how it will be once you reheat it.
You can use the leftovers in the same way you would use it fresh. For example, it goes great in sandwiches, nachos, tacos, and so much more. Depending on what you're cooking, you may want to heat the meat.
One great suggestion I have read is to mix the pulled pork in with some mac and cheese. It's a combination that certainly does sound like it will be delicious.
If you want to see how to make this delicious slow cooker dish, then be sure to check out the video below. Alternatively, the text recipe can be found right below the video.
Slow Cooker Pulled Pork Recipe
Ingredients
500 g (1.1 lb) pork shoulder or similar
1 tsp chili powder
1 tsp cumin, ground
1 Tbsp salt
¼ cup brown sugar
1 onion, sliced
1 Tbsp garlic, crushed
1 cup chicken stock
1 Tbsp worcestershire sauce
¼ cup apple cider vinegar
1 cup BBQ Sauce (Optional)
Instructions
In a bowl, combine the sugar, salt, cumin and chili powder.
Rub ¾ of this spice mix into the piece of pork.
In a slow cooker, add the onion, garlic, Worcestershire sauce, chicken stock, and the apple cider vinegar.
Add the pork and top it with the remaining spice mix.
Cook on low for 8 hours.
Remove the pork from the slow cooker and place on a clean chopping board.
Remove any excess fat from the pork and then by simply using two forks pull the pork apart.
Lastly, you can either combine the pork with the sauce in the slow cooker or instead use a bought or homemade BBQ sauce. I prefer a smokey BBQ sauce but it is entirely up to you.
Recipe Tips
You can use a larger or smaller piece of pork for this recipe without needing to adjust it. You may, however, find if you go too large or too small you will end up with too little sauce or too much.
The BBQ sauce isn't the only sauce that goes great with pulled pork. You can try other varieties such as sweet chili, sweet & sour, mustard, and so much more.
You can strain the onions out of the sauce if you don't want them in your pork mixture. However, keep in mind these are incredibly tasty, so you miss out by not including them.
The ingredient quantities are carefully balanced so keep this in mind if you decide to change to alter them.
You're able to cook on high, but everything cooks better when it's low and slow.
The pork should pull apart easily with a fork if it doesn't, then it will need to cook for longer.
Note: I use a 5.5L (6 Quart) slow cooker for all the recipes that I have on this website unless specified. If you have a smaller or larger slow cooker, then you might need to adjust the ingredients.
Nutrition Information
Serving Size: 83g (2.9 oz)
Servings Per Recipe: 12
Calories Per Serving: 142
Saturated Fat: 3.3g
Trans Fat: 0g
Dietary Fiber: 0g
Sugars: 3.7g
Cholesterol: 38mg
Sodium: 691mg
Protein: 10g
The information above is an estimate generated by an online nutrition calculator.
More Slow Cooker Recipes to Try
There are just so many more slow cooker pork recipes that you're able to do. If you love this one, then you're also likely to also love the incredibly tasty slow cooker sweet and sour pork. It's a dish packed with vegetables, tender pork, and a delicious sweet and sour sauce.
Pork isn't the only meat that you can pull apart. Pulled beef is also very delicious, and I highly recommend that you try it out. You have deliciously spiced meat that's moist and looks absolutely amazing.
I hope that this slow cooker pulled pork recipe has been easy to follow and comes out tasting as good as it did for me. If you have some feedback, tips, variations or anything else, then please don't hesitate to leave a comment below.