This slow cooker pickled pork cooks to be incredibly tender and loaded with flavor. It goes great with some gravy and vegetables.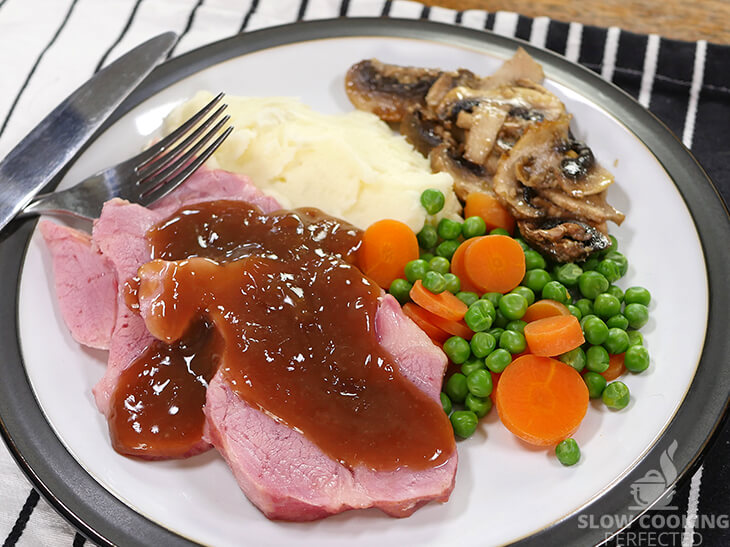 The pickled pork will have a slight saltiness to it and is incredibly flavorsome. It will be so tender it will almost melt in your mouth. I love to serve the pork as part of a meal, but it does go great inside a sandwich.
You should be able to feed roughly six people without needing to adjust the recipe. I highly recommend that you make some side dishes to go with the pork, especially if you want to feed as many people as possible.
Another dish that is very similar to pickled pork is corned beef. You can also cook that in the slow cooker with roughly the same ingredients.
The leftover meat is perfect for so many different dishes. For example, I love to have it in sandwiches. The leftovers should last for roughly three days in the fridge or three months in the freezer. There is a slight risk of the meat drying out in the freezer.
Pickled Pork Serving Ideas
There is plenty of food that will go great with the pickled pork. Below are just a couple of ideas on what you can do.
My favorite combination of side dishes to go with this pork is roasted potatoes, steamed vegetables, and cauliflower cheese. They are delicious and match very nicely with the flavors of the pork.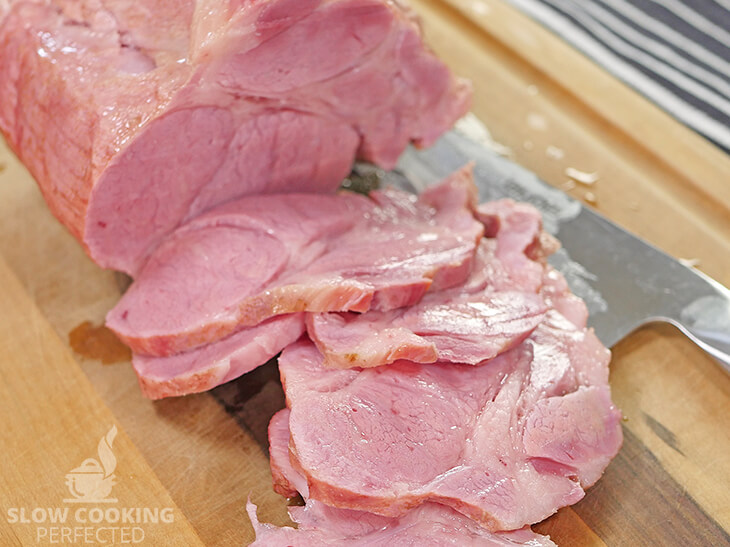 There are quite a few side dishes that you can make in a spare slow cooker. For example, some cheesy potatoes will work very nicely with this dish. It is one of my favorite side dishes.
If you are cooking for a crowd, you might be interested in making some mashed potatoes in the slow cooker. It is a great way to make a lot of food without much effort. It also goes great with the pork and some delicious gravy.
Be sure to share your serving ideas in the comments section towards the bottom of this page.
Tweaking the Recipe
You can add some vegetables in with the pork and poaching liquid. However, I would not recommend it as the vegetables will take on a lot of the vinegar flavor. Instead, I recommend cooking them in a separate slow cooker or in an oven.
I recommend allowing the meat to rest for fifteen minutes as it will help make the pork easier to slice. If you want it as fast as possible, instead cut thicker slices so the meat will not fall apart.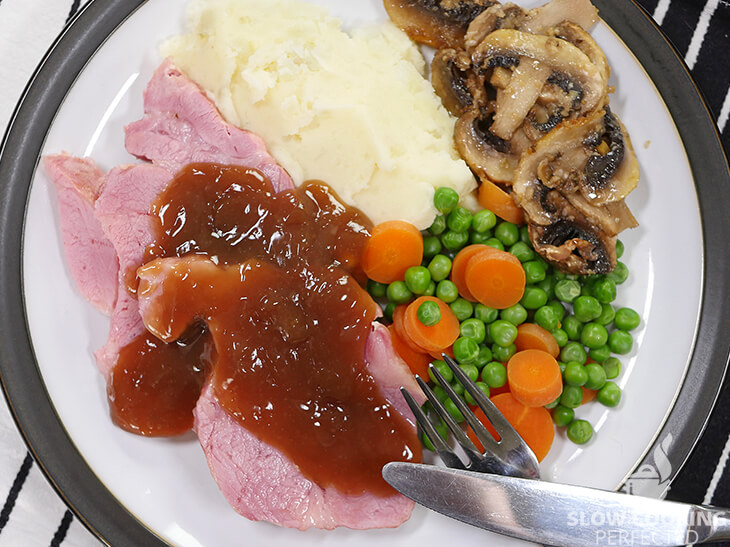 Pickled pork might be called something else depending on where you live. For example, in the US, it is called salted pork, or in the UK, it is known as Gammon.
For a bit of extra flavor, you can substitute the water with some chicken stock instead. However, water will work perfectly fine.
The video below will take you through all the steps to cooking this delicious pickled pork in the slow cooker. Alternatively, there is a full written recipe immediately beneath the video.
Slow Cooker Pickled Pork Recipe
Ingredients
1.5 kg (3.3 lb) pickled pork
1 onion, roughly chopped
1 carrot, roughly chopped
14 peppercorns
8 cloves
2 bay leaves
½ cup brown sugar
½ cup malt vinegar
Enough water to cover
Instructions
Place the onion, carrot, peppercorns, cloves, bay leaves, brown sugar, and the malt vinegar into the slow cooker.
Add the pickled pork.
Top with water until the pork is submerged.
Cook on low for 8 hours.
Remove the pork and allow to rest for 15 minutes. Discard the poaching liquid.
Serve & Enjoy.
Recipe Tips
Malt vinegar typically has gluten in it, so to make this gluten-free, substitute the malt vinegar with apple cider vinegar.
Pickled pork might also be called salted pork or gammon, depending on where you live.
If you need this dish faster, turn the slow cooker to high and reduce the cooking time to just four hours.
Note: I use a 5.5L (6 Quart) slow cooker for all the recipes that I have on this website unless specified. If you have a smaller or larger slow cooker, then you might need to adjust the ingredients.
Nutrition Information
Serving Size: 250g (8.8 oz)
Servings Per Recipe: 1
Calories Per Serving: 303
Amount Per Serving
Saturated Fat: 4.7g
Trans Fat: 0g
Dietary Fiber: 0g
Sugars: 4g
Cholesterol: 125mg
Sodium: 2815mg
Protein: 43g
The information above is an estimate generated by an online nutrition calculator.
More Slow Cooker Pork Recipes
There are lots more pork dishes that you can cook in the slow cooker. Below are a couple of my favorite recipes that I highly recommend giving a try.
For a super delicious meal, I recommend making the smothered pork chops. It features some delicious tender pork chops with a flavor-packed creamy gravy. It is super easy to get right and tastes amazing.
The slow cooked pulled pork is one of the most delicious dishes around. It features tender pork and a flavor-packed sauce. It is one of the most popular slow cooker meals that you can make.
I really love this slow cooker pickled pork recipe, and I hope that you do too. If you have some feedback, then please do not hesitate to leave a comment below.