You have got to try cooking pork ribs in the slow cooker as they cook to be incredibly tender and flavorsome.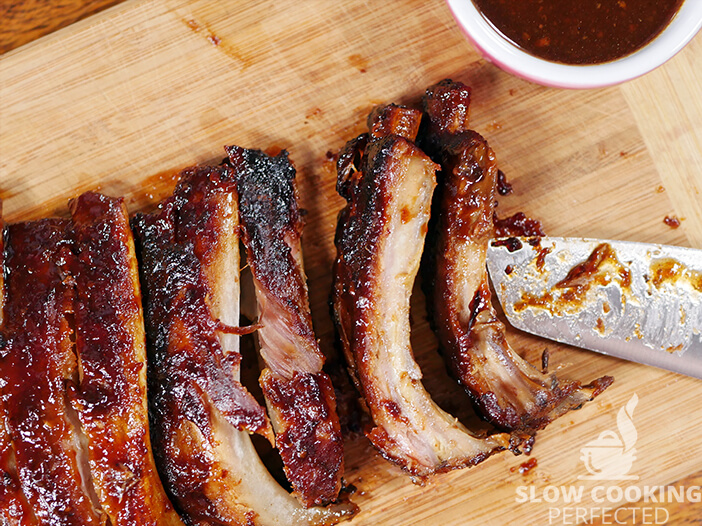 By the time you serve the ribs, the meat will be so tender that it will melt in your mouth. The marinade has a subtle bite and delivers a massive amount of flavor that compliments the pork well.
A single batch of these ribs should feed roughly four people. You can easily double or triple the recipe if you need to feed more. Side dishes are also a great way of feeding a crowd.
Tweaking the Marinade
There are several changes that you can make to the marinade to make it more to your liking. I will go through just some suggestions on what you can do to personalize the sauce.
The type of BBQ sauce that you use in the marinade will heavily impact the flavor. For example, using a smoky BBQ sauce will add a lovely smoky flavor to the marinade. I suggest experimenting with flavors, so you get the best combination for your taste buds.
For a bit of an extra bite, you can add some chili into the marinade. I only recommend doing this if you love spicy food.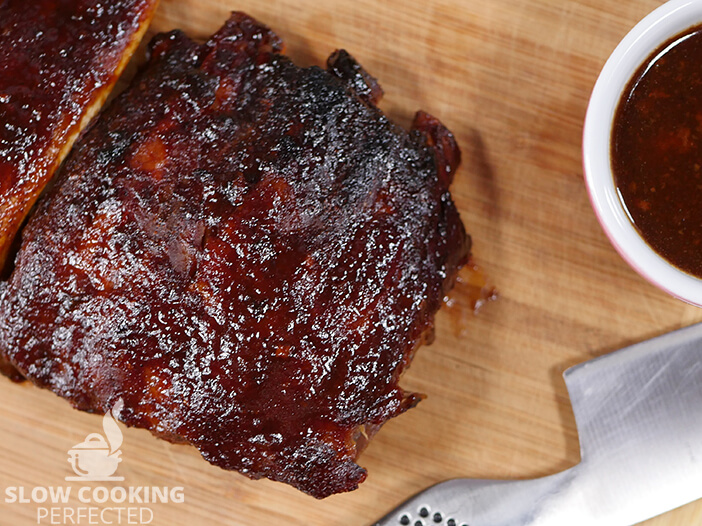 Adding a bit of beer into the slow cooker is the perfect way of adding even more flavor. Be careful on how much you add as it may turn the marinade runny.
There is always going to be more tweaks that you can do to the marinade. If you have a tweak that you love, then be sure to share it by leaving a comment at the bottom of this page.
Tips for getting the Best Slow-Cooked Pork Ribs
To get the best-tasting ribs there are a few things that you need to make sure you do. Below are just a couple of my tips.
I highly recommend that you remove the membrane on the pork ribs. Removing the membrane will help ensure that you get tender ribs. It can easily be removed by gently pulling it off the back of the ribs. You may need to use a knife to help assist pulling the membrane away from the ribs.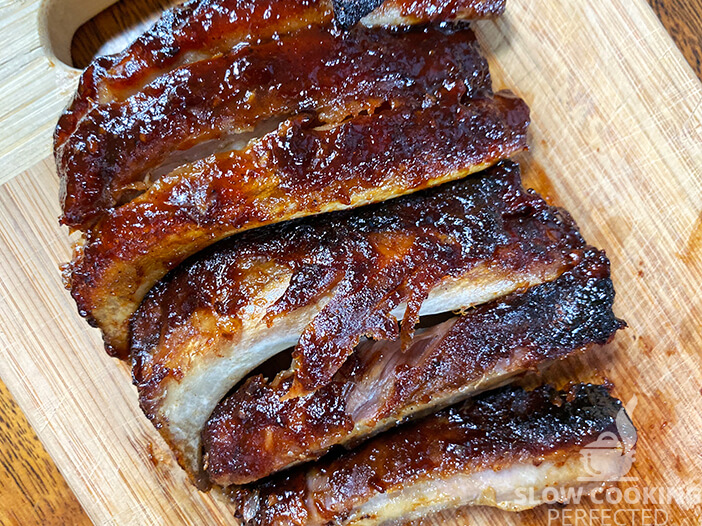 Season the ribs before putting them in the slow cooker. The seasoning will help draw out all the flavors of the meat. It's a simple step but one that is often skipped.
Cooking these low and slow is my recommendation, but if you need them fast, then cook on high for half the amount of time. So, roughly four hours on high.
These are just some of the tips I discovered while cooking these delicious slow cooker pork ribs. If you have anything you would like to add, then please be sure to let us know by leaving a comment at the bottom of this page.
Side Dishes to have with Pork Ribs
So many different side dishes go great with pork ribs. I will go through some of my suggestions on what to do.
If you have multiple slow cookers, then you can easily make a side dish without much effort. For example, I absolutely love the herby baby potatoes alongside these ribs. The mac n cheese is also a pretty good choice as well.
Of course, the usual potato fries are perfect as a side dish. If you want to be slightly healthier, then some sweet potato fries are super tasty.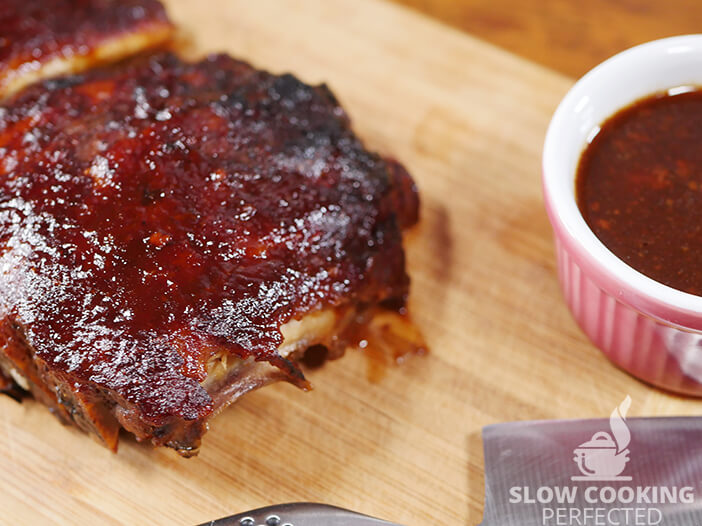 Almost any salad will match nicely with these ribs. My favorite is a homemade coleslaw. So, if you have the time, be sure to make a salad as well.
Lots of side dishes work great with pork ribs, so if you have any suggestions, be sure to let us know.
The video below will take you through all the steps on how to make pork ribs in the slow cooker. Immediately beneath the video is the full recipe that you can pin or print for later.
Slow Cooker Pork Ribs Recipe
Ingredients
1 kg (2.2 lb) pork ribs, membrane removed
Marinade
500 ml (16.9 fl oz) BBQ Sauce
30 g (1.1 oz) brown sugar
4 Tbsp apple cider vinegar
2 tsp garlic, crushed
1 Tbsp Worcestershire sauce
2 tsp cayenne pepper
Instructions
In a bowl, add all the marinade ingredients and mix until combined.
Slightly season the pork ribs with salt and pepper, and add to the slow cooker. Cover in the marinade.
Cook on low for six hours or until tender.
Remove from the slow cooker and place the ribs on a baking tray. Pour some of the sauce over the top. Broil in the oven for roughly 10 minutes.
Serve & Enjoy.
Recipe Tips
You can use a homemade BBQ sauce, or one purchased from the store. Both will work perfectly in this recipe.
For the perfect ribs I recommend cooking on low for six hours. Alternatively, if you need them fast then you can cook them on high for three to four hours.
Remove the membrane for the ribs so that they will be super tender and easy to eat.
Broiling the meat can be skipped if you're running low on time.
To ensure that this recipe is gluten-free, check to make sure the BBQ sauce and Worcestershire sauce are gluten-free.
Note: I use a 5.5L (6 Quart) slow cooker for all the recipes that I have on this website unless specified. If you have a smaller or larger slow cooker, then you might need to adjust the ingredients.
Nutrition Information
Serving Size: 419g (14.8 oz)
Servings Per Recipe: 6
Calories Per Serving: 631
Amount Per Serving
Saturated Fat: 5.1g
Trans Fat: 0g
Dietary Fiber: 2g
Sugars: 54g
Cholesterol: 185mg
Sodium: 1644mg
Protein: 53g
The information above is an estimate generated by an online nutrition calculator.
More Slow Cooker Recipes to Try
There are so many different slow cooker recipes that you need to try. Below is just a few of my recommendations that I reckon you will enjoy if you like this recipe.
One recipe that I highly recommend that you try is the beef brisket. It's undoubtedly a must-try if you love flavor-packed tender pieces of meat.
Cooking pork belly in the slow cooker is also a must-try. It cooks to be incredibly tender, and the glaze that goes with it is simply amazing. I absolutely love it and will always recommend it as a must-try dish.
I hope that you love these slow cooker pork ribs as much as I do. If you have any feedback, tips, or anything else, then please don't hesitate to leave a comment below.