These slow cooker ranch pork chops cook to be incredibly tender and coated in a deliciously creamy ranch sauce.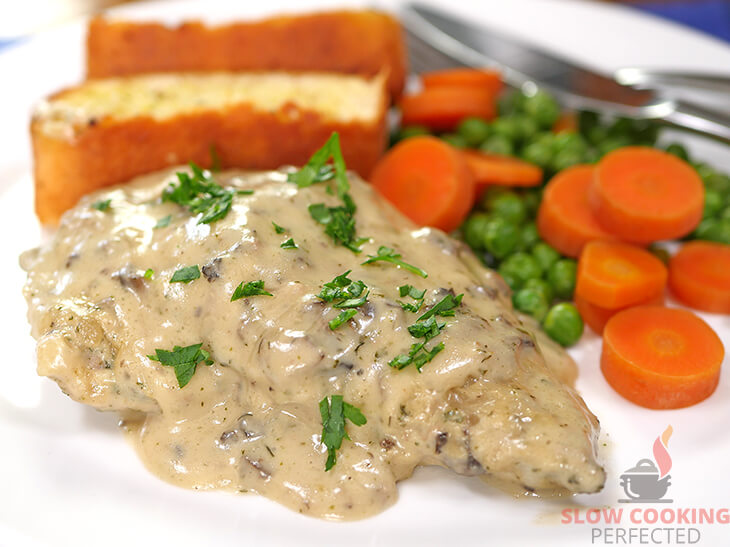 By the time the pork is ready, you will have a delicious sauce loaded with flavor thanks to the ranch dressing mix and mushrooms. The sauce matches with the deliciously tender pork perfectly. It is always a huge hit whenever I make it.
This dish will produce enough food to feed four to six people. You will need to add some more pork chops if you want to feed more. Some side dishes are also great for feeding a crowd.
You can keep any leftovers for a few days in the refrigerator. Alternatively, you can store the leftovers in the freezer for up to three months.
Serving Ideas for Ranch Pork Chops
Many different side dishes will match nicely with these pork chops. Below are a couple of my favorite ideas.
A classic side dish for this meal is some lovely steak fries and a green salad. I recommend cooking the steak fries in a deep fryer or oven. The green salad can be as extravagant or basic as you want. Personally, I love a simple combination of lettuce, cucumber, tomato, and red onion.
One of my favorite side dishes to have with these pork chops is mashed potatoes and some steamed vegetables. I love to steam a combination of broccoli, snow peas, cauliflower, and carrots.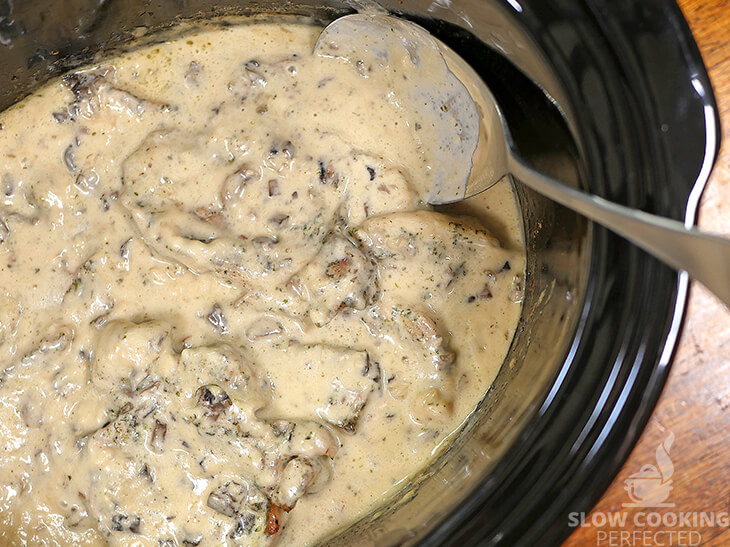 A super easy side dish is some steamed rice. I love to cook the rice in a rice cooker as it is amazingly easy to get right. For something, a little healthier, you can make something like cauliflower rice instead.
My last suggestion is to serve the pork chops with some cheesy potatoes and bacon. The best part is that you cook them in the slow cooker. However, you will need multiple slow cookers to get the best results.
Perfecting the Recipe
More vegetables can be added in with the pork. For example, some sliced onions are a great way to add a bit more flavor to the sauce while also bulking the dish out a little.
For the best results, I recommend picking thick pork chops that still have the bone. The bone will help add flavor to the sauce, and the thick meat will tolerate longer cooking times better. I highly recommend spending a bit more money to get a better result.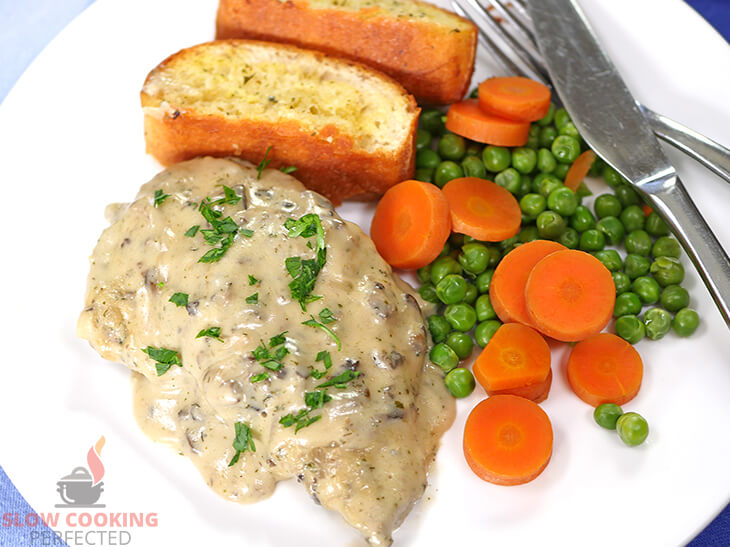 The chicken stock can be replaced with beef stock or water. For the best results, I recommend steering away from water as it provides the least flavor. If I cannot get fresh stock, I simply make some using powder.
The pork chops can be seared before being added into the slow cooker. However, it is entirely optional and will unlikely impact the final result of this recipe.
Below is a video that will take you through the steps of making ranch pork chops in the slow cooker. If you prefer written recipes, then there is one immediately beneath the video.
Slow Cooker Ranch Pork Chops Recipe
Ingredients
1 kg (2.2 lb) large pork chops
30 g (1.1 oz) ranch dressing seasoning
200 g (7.1 oz) mushrooms, diced
250 ml (8.5 fl oz) chicken stock
200 ml (6.8 fl oz) heavy cream
Thickener
3 Tbsp cornstarch
3 Tbsp water
Instructions
In a slow cooker, coat the pork chops with the ranch dressing seasoning.
Add the chicken stock and mushrooms into the slow cooker.
Cook on low for six hours.
Remove the pork chops from the slow cooker and place them to the side.
In a bowl, combine the cornstarch and water until it forms a paste. Stir the cornstarch mixture and cream into the pork sauce.
Return the pork chops to the slow cooker.
Cook on high for 30 minutes or until the sauce has thickened.
Season with salt and pepper.
Serve & Enjoy.
Recipe Tips
You can sear the pork chops before adding them to the slow cooker. Personally, I find they are still delicious slow-cooked from raw.
The mushrooms are optional but do add a bit more flavor to the sauce and pork chops.
To cook this dish faster, turn the slow cooker to high and reduce the cooking time to three hours.
You can make ranch dressing seasoning at home with just a few ingredients. Making it at home is ideal if you cannot get your hands on any.
Heavy cream is also known as thickened cream in Australia, culinary cream in New Zealand, or whipping cream in the United Kingdom.
Note: I use a 5.5L (6 Quart) slow cooker for all the recipes that I have on this website unless specified. If you have a smaller or larger slow cooker, then you might need to adjust the ingredients.
Nutrition Information
Serving Size: 293g (10.3 oz)
Servings Per Recipe: 6
Calories Per Serving: 459
Amount Per Serving
Saturated Fat: 30.4g
Trans Fat: 0.2g
Dietary Fiber: 0g
Sugars: 3g
Cholesterol: 164mg
Sodium: 213mg
Protein: 37g
The information above is an estimate generated by an online nutrition calculator.
More Slow Cooker Pork Recipes
There are plenty more pork recipes that you can make in the slow cooker. Below is a couple that I recommend giving a try.
The pulled pork is an absolute classic and is one of the most popular slow cooker recipes around. I highly recommend giving it a try as it is loaded with flavor and always a huge hit.
If you are looking for something hearty, then you need to give the pork stew a try. It has loads of vegetables and lots of chunks of pork. It is a delicious combination that I recommend you try.
I really hope that you love these slow cooker ranch pork chops. If you have some feedback, tips, variations, or anything else that you would like to share, then please do not hesitate to leave a comment below.