These slow cooker smothered pork chops have a deliciously creamy sauce that is loaded with flavor. I highly recommend giving it a try.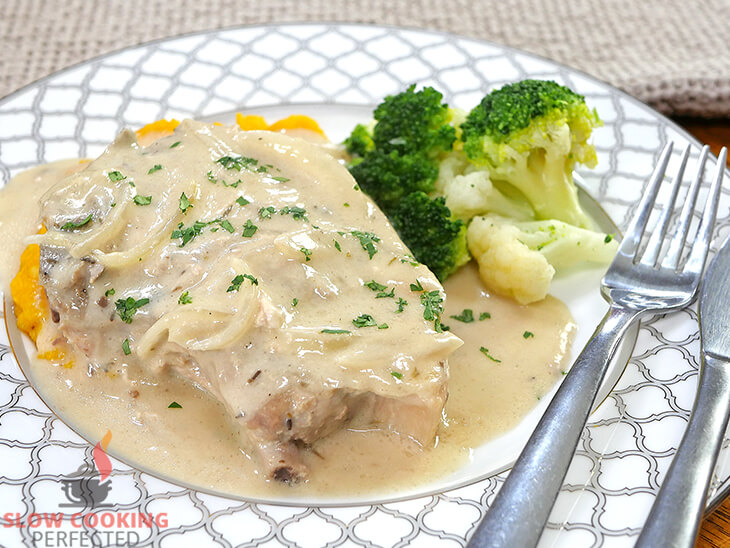 The pork chops cook to be incredibly tender and loaded with flavor thanks to the sauce. The sauce is loaded with flavor thanks to the onion, mustard, thyme, and Worcestershire sauce. It is a truly delicious combination that the entire family will enjoy.
You will get four serves out of this recipe, but I recommend that you make some side dishes to go with it. If you need to feed more people, then simply double or triple the recipe.
Leftovers are fine to be kept in the fridge or freezer. They will last for roughly three days in the refrigerator or three months in the freezer. There is a risk of the cream gravy splitting when you reheat this dish.
Best Pork Chops to Use
The quality of the pork chops will profoundly impact the outcome of this dish. Below are some suggestions for picking the best pork chops for slow cooking.
Picking a thick pork chop will likely yield the best results. The thick meat allows for long cooking times, thus allowing flavors to develop. It is also likely to result in some delicious tender meat.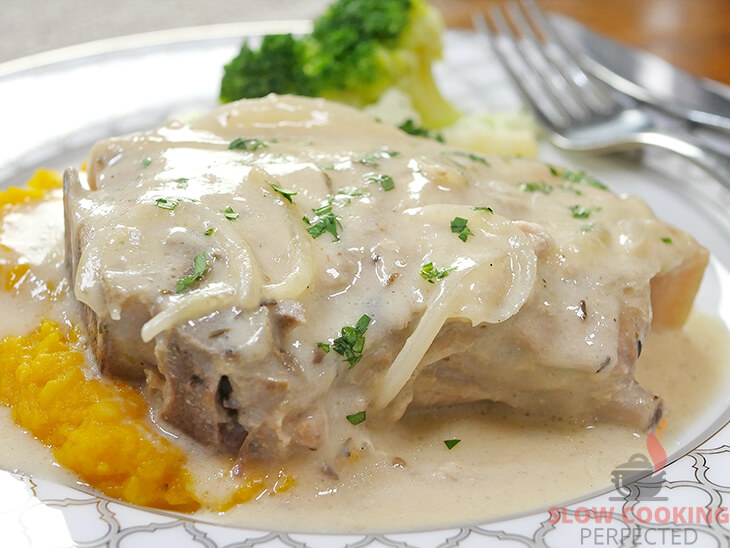 You can use pork chops with the bone-in or boneless. Either option will result in a lovely meal. However, the bone will help add lots more flavor to the sauce, so I recommend using the bone if possible.
Personalizing the Recipe
There are many ways that you can adjust this recipe so that it is more to your liking. Below is a couple of ideas on what you can do.
Mushrooms are an excellent addition to this recipe and can be added at the start of cooking. Other vegetables like sliced bell pepper or carrot will also work nicely with the rest of the ingredients.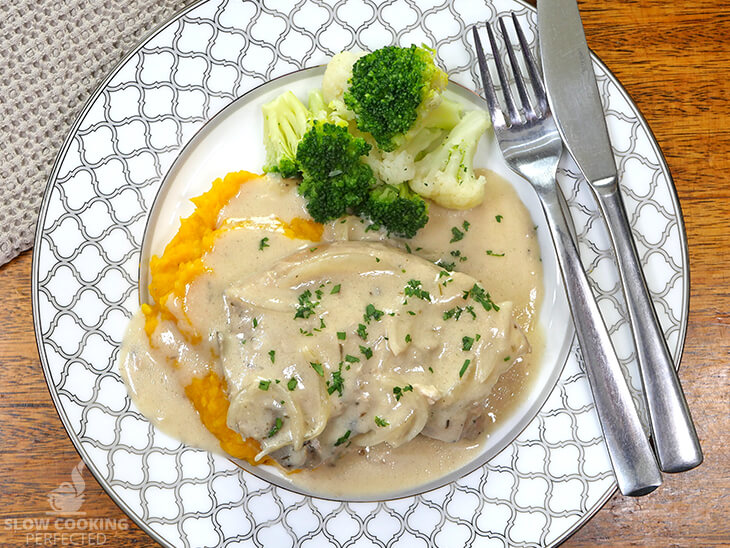 To make things easier to prepare, I do not panfry the pork chops before adding them to the slow cooker. However, you can easily do this if you have the time. I also recommend deglazing the frypan with a bit of wine, so you get even more flavor.
If you have any changes that you think worked great, then be sure to let us know. We will love to hear how you have tinkered with this recipe.
Side Dishes to Serve with Smothered Pork Chops
I love to serve these pork chops with a side dish or two. Below is a couple of my favorite choices.
One of my favorite side dishes to have with pork chops is sweet mashed potatoes. They are super easy to make and can also be made in the slow cooker. Some steamed vegetables will also work nicely alongside the pork chops and mashed potatoes.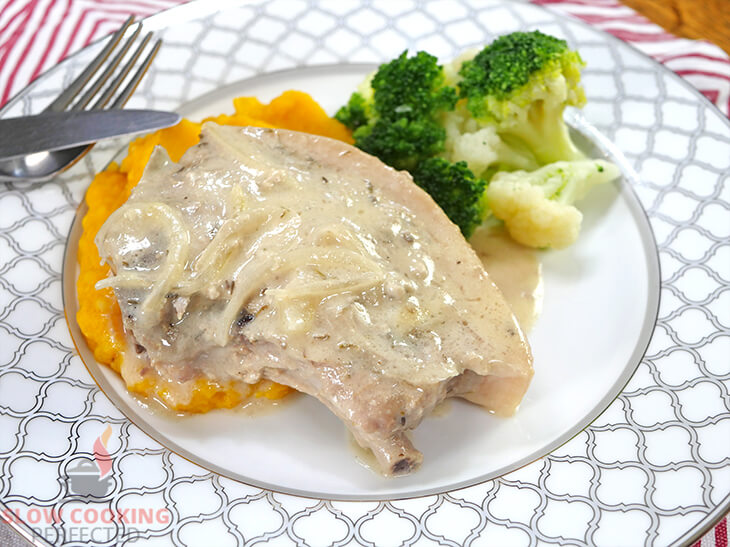 Steamed rice is another side dish that will work very nicely with the flavors of this dish. I love to cook the rice in the rice cooker as it is way easier than doing it over the stove. For something, a little healthier, you can give cauliflower rice a try.
Steak fries and a salad are an excellent option for a side dish. I love to make a delicious green salad with lettuce, cherry tomatoes, cucumber, and sliced red onion. If you feel a little adventurous, you could try making sweet potato fries instead of regular fries.
The video below will take you through all the steps on how to make smothered pork chops in the slow cooker. Alternatively, there is a full written recipe immediately beneath the video.
Slow Cooker Smothered Pork Chops Recipe
Ingredients
4 large pork chops
1 large onion, sliced
2 tsp garlic, minced
1 Tbsp Worcestershire sauce
2 tsp Dijon mustard
1 tsp thyme, chopped
1 bay leaf
250 ml (8.5 fl oz) chicken stock
125 ml (4.2 fl oz) cream
Thickener
2 Tbsp cornstarch
2 Tbsp water
Instructions
In the slow cooker, add the pork chops, onion, garlic, Worcestershire sauce, mustard, thyme, bay leaf, and chicken stock.
Cook on low for six hours.
Remove the pork chops from the slow cooker and place them to the side. Discard of the bay leaf.
In a bowl, mix the cornstarch and water until it forms a paste.
Stir the cornstarch mixture and cream into the liquid in the slow cooker.
Return the pork chops to the slow cooker.
Turn to high and cook for 30 minutes or until thickened.
Season with salt and pepper.
Serve & Enjoy.
Recipe Tips
If you prefer, you can pan fry the pork chops before placing them into the slow cooker.
The mustard can be left out of the recipe if you are not a fan.
Flipping the pork chops halfway through cooking will ensure that both sides infuse with the sauce.
Turn the slow cooker to the high setting and reduce the cooking time to three hours to speed this dish up.
Note: I use a 5.5L (6 Quart) slow cooker for all the recipes that I have on this website unless specified. If you have a smaller or larger slow cooker, then you might need to adjust the ingredients.
Nutrition Information
Serving Size: 309g (10.9 oz)
Servings Per Recipe: 4
Calories Per Serving: 450
Amount Per Serving
Saturated Fat: 9.5g
Trans Fat: 0.2g
Dietary Fiber: 1g
Sugars: 4g
Cholesterol: 155mg
Sodium: 261mg
Protein: 43g
The information above is an estimate generated by an online nutrition calculator.
More Slow Cooker Pork Recipes
There are many more pork dishes that you can make in the slow cooker. Below is a couple of my favorite recipes.
The sweet and sour pork is an absolute must-try in the slow cooker. It is loaded with some delicious vegetables and lots of pork. The sweet and sour sauce is a must-try.
You have also got to try the crispy slow cooker pork belly. The pork cooks to be deliciously tender and has a lovely crunchy crackling on top. Lastly, the sweet soy glaze completes the entire dish.
I hope these slow cooker smothered pork chops cook to be as great as they did for me. If you have any thoughts, tips, or feedback, please do not hesitate to leave a comment below.