One of the tastiest dishes that you can make in the slow cooker is pork belly, and this recipe will prove to you exactly why that is the case.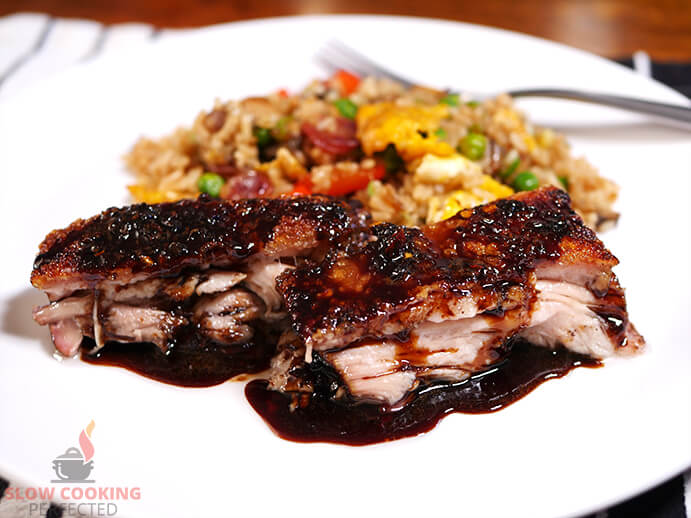 This recipe features a delicious honey and soy glaze to drizzle over the top of the super tender pork belly. It actually tastes as good as it sounds.
You should find that this recipe will feed about four people, especially if you have extra side dishes. If you need to feed more people, then you only need to double the quantity of the pork belly and the glaze.
There are plenty more pork recipes that you can do in the slow cooker. They're all pretty good, but slow-cooked pork belly always sits at the top of my list.
What to Serve with Pork Belly?
There is a staggering number of dishes that can accompany the pork belly. Below are just a few ideas on how you can serve this delicious dish.
The side dish that I like to have with this dish is some delicious fried rice. For something a little easier, you can stick with just regular rice.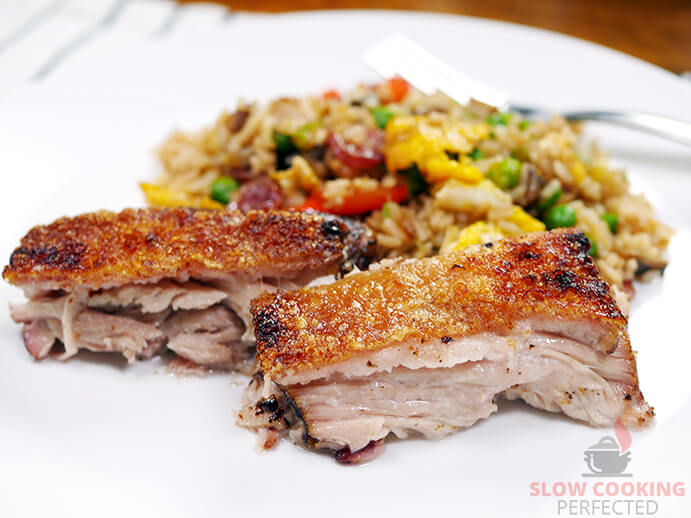 Stir-fried vegetables such as broccoli, bok choy, onion, carrot, and some baby corn go excellent as an accompaniment to this dish. It's a delicious combination that is super easy to make quickly.
An option if you have multiple slow cookers is to make some creamy cabbage. It's a super tasty dish where the cabbage cooks to be super tender, and the creamy sauce is packed with flavor.
If you have a combination that you absolutely love and don't mind sharing, then be sure to let us know in the comments section towards the bottom of this page.
Tweaking the Recipe
There are lots of little tweaks that you can do to this recipe. I will quickly cover a couple of ideas on how you can tweak the recipe.
If you're running low on time, then you can skip grilling altogether. The only thing you miss out on is the crispy fat that always tastes super amazing.
Another thing that you can skip on doing is the glaze for the pork belly. I absolutely love the glaze, so I highly recommend finding the time to get it made. However, with that said, the pork will still be delicious without the glaze.
Before you start cooking, you can cut the pork into slices rather than leaving it as one whole piece. I recommend pan frying if you do decide to slice the pork.
Reducing the cooking time by roughly two hours will give you a firmer pork belly. Vital if you prefer pork not to be so tender that it starts to fall apart.
Be sure to let us know if you have any tweaks that you think makes this recipe even better.
Leftovers & Dessert
Any leftover pork belly can be kept in the fridge for up to three days. Alternatively, you can freeze it for up to three months.
You can shred any leftover meat and use it in sandwiches or on a pizza. You could also just keep it as is and eat it with some rice and vegetables.
There are lots of desserts that go great after this delicious pork recipe. My favorite is some baked apples that you can also cook in the slow cooker. You will, unfortunately, need multiple slow cookers.
The video below will take you through all the steps on how to make pork belly in the slow cooker. It's short and won't take up much of your time. Alternatively, be sure to check out the full recipe underneath the video.
Slow Cooker Pork Belly Recipe
Ingredients
Master Stock
1 l (1.1 qt) water
1 tsp garlic
1 tsp ginger
2 Tbsp sugar
3 Tbsp soy sauce
3 Tbsp Shaoxing wine
1 cinnamon stick
1 star anise
2 cardamom pods, crushed
Glaze
2 tsp ginger
2 Tbsp honey
4 Tbsp Brown sugar
6 Tbsp soy sauce
½ tsp chili flakes
Instructions
Add all the master stock ingredients into the slow cooker and stir slightly.
Gently add the pork belly into the slow cooker.
Cook on low for 6 hours.
Remove the pork from the slow cooker and allow it to drain. Pat the pork dry with some paper towel.
Place the pork under a grill with the fat side up and cook until the top is crispy. Keep an eye on it as it will burn quickly.
Meanwhile, in a pot, mix the glaze ingredients and bring to the boil.
Once the top of the pork belly is crispy, slice into serving size pieces and pour the glaze over the top.
Serve & Enjoy.
Recipe Tips
To ensure that this recipe is gluten-free, double check the soy sauce is gluten-free.
You can freeze the master stock so that you can use it again in a future recipe. Make sure you remove any fat before freezing. It should last for roughly three months.
Pan-frying is also an option if you don't have a grill. Be careful as the pork tends to spit a lot when you fry it. Fry until the pork is golden brown and the fat has become crispy.
For the best piece of pork belly, try sourcing it from your local butcher.
Make sure you use a sharp knife for when you go to cut the pork. If it is blunt, then you could end up with some very deformed pieces of pork belly.
Note: I use a 5.5L (6 Quart) slow cooker for all the recipes that I have on this website unless specified. If you have a smaller or larger slow cooker, then you might need to adjust the ingredients.
Nutrition Information
Serving Size: 205g (7.2 oz)
Servings Per Recipe: 4
Calories Per Serving: 943
Amount Per Serving
Saturated Fat: 32.2g
Trans Fat: 0g
Dietary Fiber: 0g
Sugars: 18g
Cholesterol: 120mg
Sodium: 1069mg
Protein: 18g
The information above is an estimate generated by an online nutrition calculator.
Other Recipes Worth Making
There are lots of other recipes that you can do in the slow cooker that you should try. Below is just a couple of my favorites, especially if you love pork.
The sweet and sour pork is a must-try if you love Asian inspired food. It has a delicious range of vegetables, and the pork cooks to be tender. The sauce brings it all together for one of the tastiest slow cooker recipes around.
One of the most popular dishes to make in the slow cooker is pulled pork. It's a pretty easy recipe, and the result is worth the time and effort. The pork can be used in tons of different dishes such as nachos.
I hope that you end up loving this slow cooker pork belly as much as I do. If you have some feedback, tips, or anything else then please don't hesitate to leave a comment below.