These slow cooker baked apples are a great fruity dessert. They are perfect if you are looking for something easy and tasty.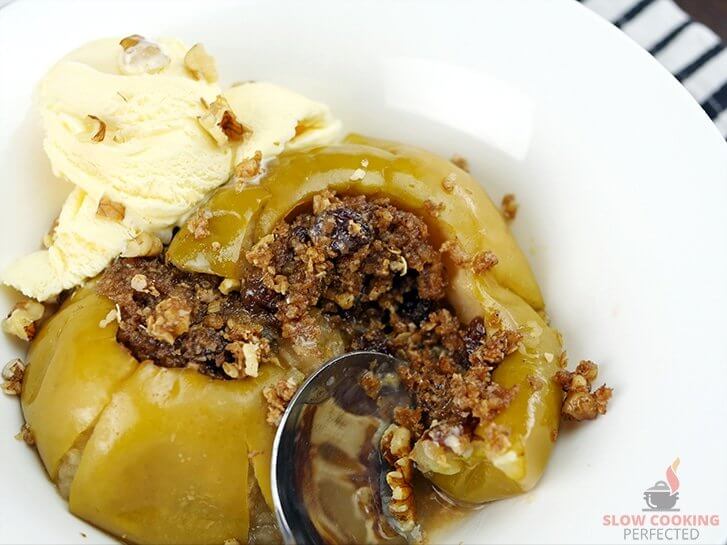 The filling mix for this recipe consists of a delicious blend of cinnamon, nutmeg, raisins, oats, walnuts, butter, and brown sugar. This combination leaves you with a flavor-packed center that matches the tender apple perfectly.
This recipe will make six delicious baked apples, which should be enough to feed six people. I highly recommend that you serve the apples with an accompaniment such as ice cream. You can easily double the recipe if needed.
Any leftovers are well worth keeping as they make for a fantastic breakfast, both hot and cold. If you are reheating the apples, make sure you heat them in either a microwave or a hot oven.
Perfecting the Recipe
Like any apple recipe, you can use any type of apple, but the results may vary. For the best results, I recommend using a stewing or baking apple. You can usually find these at any good supermarket. There are quite a few varieties, but I highly recommend using something like a Jonagold, Granny Smith, or something similar.
If you prefer your desserts to be less sugary, then you can leave the sugar out of the filling. The apples and raisins should be able to provide enough sweetness to keep these baked apples enjoyable.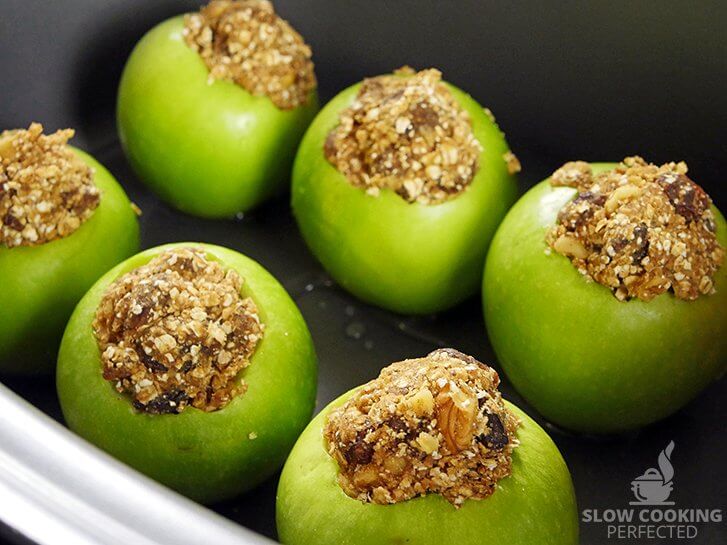 The walnuts can easily be swapped for pecans instead. If you have a nut allergy, then you can leave the nuts out altogether. Crushed cornflakes make for a decent replacement.
Exploding apples are quite common when you go to bake apples and it is no different when you cook them in the slow cooker. There are a few things you can do to help reduce the chance of the apple falling apart, such as pricking the skin or peeling a small strip of the skin away.
What to Serve with the Baked Apples
Below are a few ideas on what you can serve with these delicious apples.
As you can imagine, baked apples go perfectly with some vanilla ice cream. I like to use vanilla ice cream as it is unlikely to conflict with the apple flavors. With that said, do not be afraid to use your favorite ice cream.
A good thick custard will work very nicely poured over the top of these apples. You can make the custard at home, or you can pick up some from the local supermarket. Either option will work perfectly with this dessert.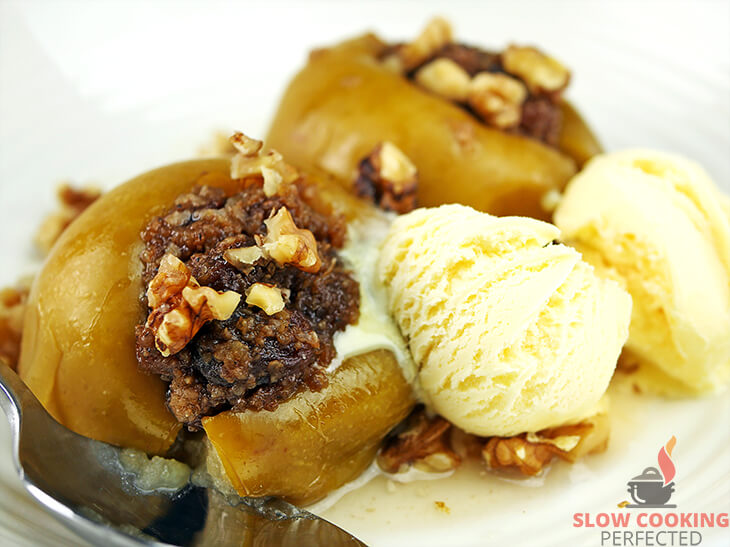 The easiest accompaniment is to simply serve the apples with a drizzle of cream. The cream will add an extra texture and a bit of flavor. It also helps cut through some of the sweetness of the apples.
Lastly, you can serve these apples on their own. Either way, you will end up with a great tasting dessert that the entire family will enjoy.
If you want to see how to make these baked apples in the slow cooker, then be sure to check out the video below. The video will take you through everything you need to know about this incredible slow cooker dessert.
Slow Cooker Baked Apples Recipe
Ingredients
6 large apples
60 g (2.1 oz) unsalted butter, softened
½ cup brown sugar
¼ cup walnuts, chopped
½ cup rolled oats
½ cup raisins
½ tsp cinnamon, ground
½ tsp nutmeg, ground
Instructions
Core the apples, try to leave 1cm (1 inch) at the bottom so the filling will not fall out.
In a bowl, combine the butter, brown sugar, walnuts, rolled oats, raisins, cinnamon, and nutmeg.
Fill the apples with the walnut and oat mix.
Place the apples into the slow cooker, so they are facing upright. Also, add about ½ cup of water to the slow cooker.
Cook on low for 3-4 hours or until tender.
Serve & Enjoy
Recipe Tips
Peeling the skin in a single strip around the center of the apple will help stop the apples from exploding. Not hugely important, but for anyone where looks are important, you might want to do this.
Even though I would not recommend it, you can core the apples all the way through. You might find some, or all of the fillings will leak out the bottom.
Note: I use a 5.5L (6 Quart) slow cooker for all the recipes that I have on this website unless specified. If you have a smaller or larger slow cooker, then you might need to adjust the ingredients.
Nutrition Information
Serving Size: 227g (8 oz)
Servings Per Recipe: 6
Calories Per Serving: 306
Amount Per Serving
Saturated Fat: 5.3g
Trans Fat: 0.3g
Dietary Fiber: 6g
Sugars: 37g
Cholesterol: 20mg
Sodium: 8mg
Protein: 3g
The information above is an estimate generated by an online nutrition calculator.
More Slow Cooker Apple Recipes
There is a surprising amount of apple dishes that you can cook in the slow cooker. Thanks to the way apple's cook, they seem to work well in a slow cooker.
The apple crumble features a delicious crunchy topping paired with some delicious slow-cooked apples. It is an incredible combination that will have you going back for seconds.
Another apple dessert that I reckon you will enjoy is apple cobbler. Essentially it is some delicious slow-cooked apples topped with an incredible fluffy cake. I love it, and I highly recommend it.
These sweet and delicious slow cooker baked apples are pretty easy to make, but if you run into any trouble, please let me know. If you have any tips, tricks, feedback, or anything else, then feel free to leave a comment right below.