This slow cooker apple and rhubarb crisp is an incredible dessert that cooks out to have a gooey filling and a surprisingly crunchy topping.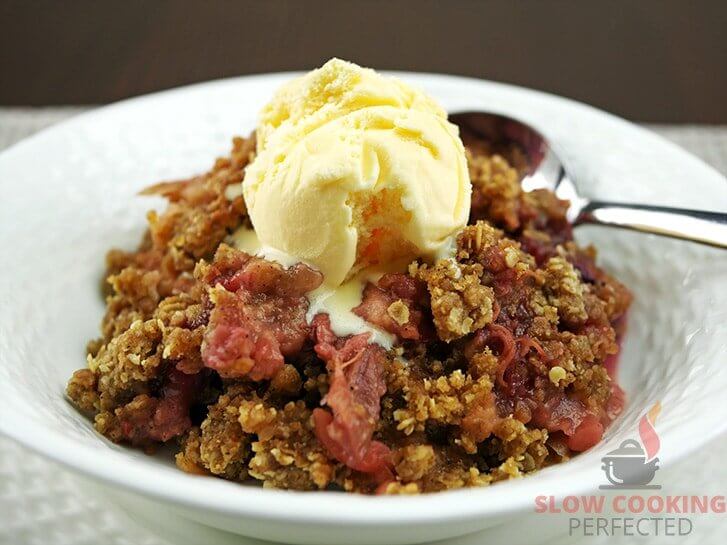 After a few hours of cooking, the apples and rhubarb will be deliciously tender and packed with flavor. The topping will have a lovely crunch and have delicious flavors from the nutmeg, cinnamon, and the rolled oats.
One great reason to do a crisp in the slow cooker is that you can get it cooking early in the day and not have it end up being either burnt or overcooked. It's super easy to make in the slow cooker with the hardest part of the dish is getting the topping prepared.
Assuming you're not a fan of rhubarb but looking for a tasty dessert, then be sure to check out our crunchy slow cooker apple crisp. It's very similar to this recipe and tastes just as amazing.
What to Serve with this Rhubarb Crisp
As with basically any slow cooker dessert, this dish goes great topped with some vanilla bean ice cream. If you're feeling energetic, you can even make the ice cream at home.
Alternatively, both custard or cream will go great drizzled over the top of this rhubarb crisp. The cream is the easiest option as you don't need to do any extra preparation.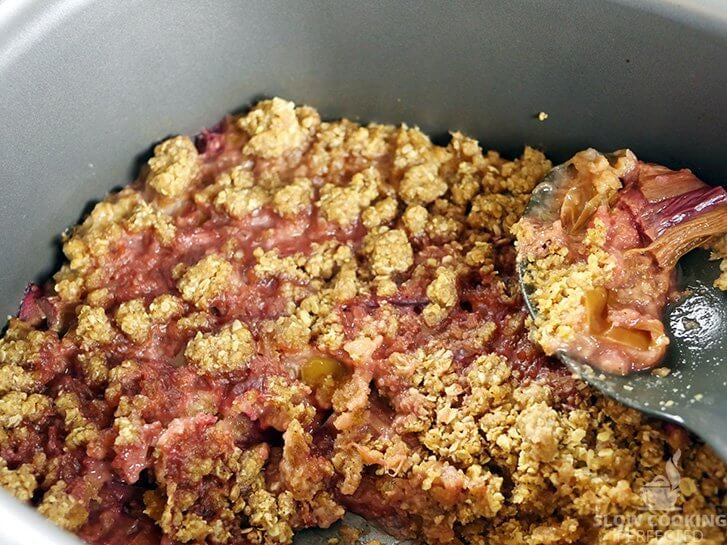 I love this dessert just by itself, so don't feel like you have to serve it with anything extra. If you have any suggestions on what to serve with this crisp, then be sure to let us know.
Personalizing the Recipe
There are a few tweaks that you can make to this slow cooker apple and rhubarb crisp that I will mention below.
Pears are an excellent addition to this recipe, so don't be afraid to add them. You can either replace half or all the apples with pears. It's entirely up to you.
You're able to add some chopped nuts into the topping mixture for a bit of an extra crunch. The nuts will also add a bit more flavor to the crumble.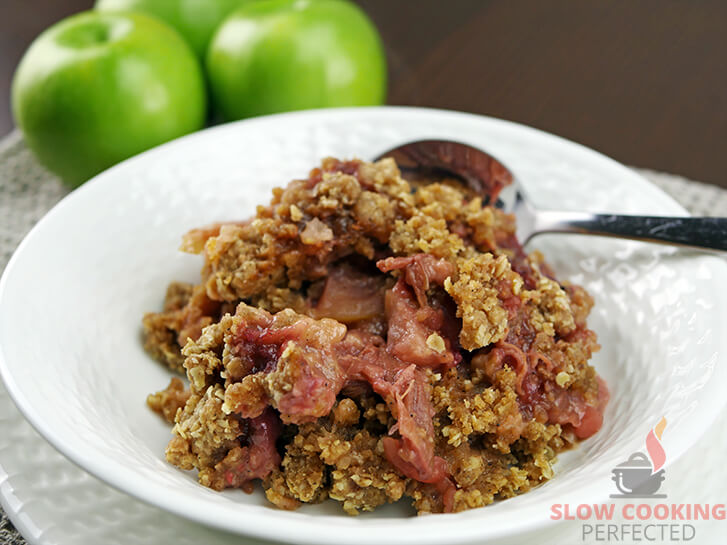 In my opinion, the best apples to use are granny smith or any baking apple. However, this recipe will work with any apple, so feel free to use any that you have around.
Some people like to add sugar in with the apple and rhubarb, but I find it already sweet enough. I recommend only adding extra sugar if you have a sweet tooth.
Be sure to share with us any changes that you think are amazing. We love to hear of any improvements to this recipe.
What to do with Leftovers
The leftovers of this crisp are great for breakfast the next day, so make sure you don't throw them out. Simply keep stored in the fridge or freezer until you need it.
You should find that the leftovers will last roughly three to five days in the fridge before needing to be discarded. Alternatively, this dessert will last for up to six months in the freezer.
If you like seeing how to make recipes, then the video below will take you through all the steps to making this delicious rhubarb crisp in the slow cooker. Alternatively, you can find the full written recipe and a great looking photo right below the video.
Slow Cooker Apple & Rhubarb Crisp Recipe
Ingredients
6 cups apples, cored, cut into chunks
6 cups rhubarb, cut into chunks
1 Tbsp lemon juice
Topping
200 g (7.1 oz) plain flour
150 g (5.3 oz) unsalted butter, cubed
110 g (3.9 oz) brown sugar
130 g (4.6 oz) rolled oats
1 tsp nutmeg, ground
1 tsp cinnamon, ground
Instructions
First, in a bowl, add all the topping ingredients and mix until it resembles large breadcrumbs.
In a slow cooker, add the apples, rhubarb, lemon juice, and mix.
Add the topping to the slow cooker.
Cook on low for 5 hours or until the rhubarb is cooked and the apples are tender.
Move the lid so there is a gap for steam to escape for the last hour of cooking so the topping will harden/crisp up.
Serve & Enjoy.
Recipe Tips
Turning this up to high heat will have this tasty slow cooker dessert cooked within two hours. Just make sure you move the lid slightly, so you get the crunchy topping.

For the best results, I recommend using a baking apple, but you can use any type of apple you like. It may end up quite gooey but still packed full of flavor.

Some nuts can be added to the topping if you're looking for some extra crunch. For example, chopped walnuts, or pecans will work incredibly well mixed into the topping.

If the crumble feels too buttery, then simply add some more flour. You want to get a crumble that's not too dry but not too wet.
Note: I use a 5.5L (6 Quart) slow cooker for all the recipes that I have on this website unless specified. If you have a smaller or larger slow cooker, then you might need to adjust the ingredients.
Nutrition Information
Serving Size: 252g (8.9 oz)
Servings Per Recipe: 8
Calories Per Serving: 437
Saturated Fat: 9.1g
Trans Fat: 0g
Dietary Fiber: 7g
Sugars: 23g
Cholesterol: 27mg
Sodium: 18mg
Protein: 9g
The information above is an estimate generated by an online nutrition calculator.
More Slow Cooker Dessert Recipes
There are so many slow cooker desserts that you can make, especially ones with fruit in it.
If you want something with a little more cake, then be sure to check out the tasty peach cobbler recipe. Gooey bits of peaches topped with cake is as good as it sounds.
A chocolate dessert that I highly recommend that you try is the self-saucing chocolate pudding. It's a rich pudding that creates its own delicious sauce.
This slow cooker apple and rhubarb crisp is delicious, and I hope you think so too. If you have a variation, tips, or something else that you would like to say, then please feel free to leave a comment below.