This tasty slow cooker apple cobbler is topped with a simple cake mix that you can easily whip up with just four ingredients.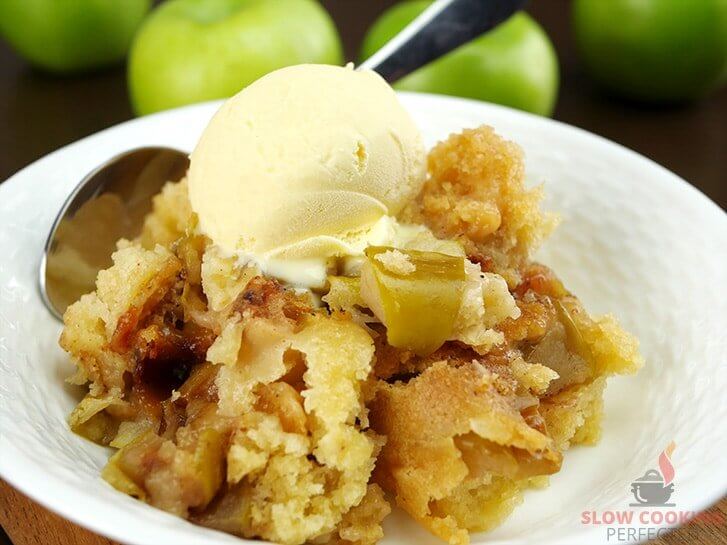 By the time this dish is ready to eat the apples should be deliciously tender and the topping should be slightly moist but also a little fluffy. The smell from the slow cooker will have you eager for this delicious dessert.
This dish is great if you need to use some apples as you need quite a few of them. You can use any type of apple, but for the best results, a stewing or baking apple will work best. A couple of variations that you can try is Jonagold or McIntosh.
What to Serve with an Apple Cobbler
You can eat this tasty dessert just on its own or with some delicious extras such as vanilla ice cream, custard, or even some heavy cream.
Even though you can eat this cold, I highly recommend that you eat it while it is still warm for the best experience.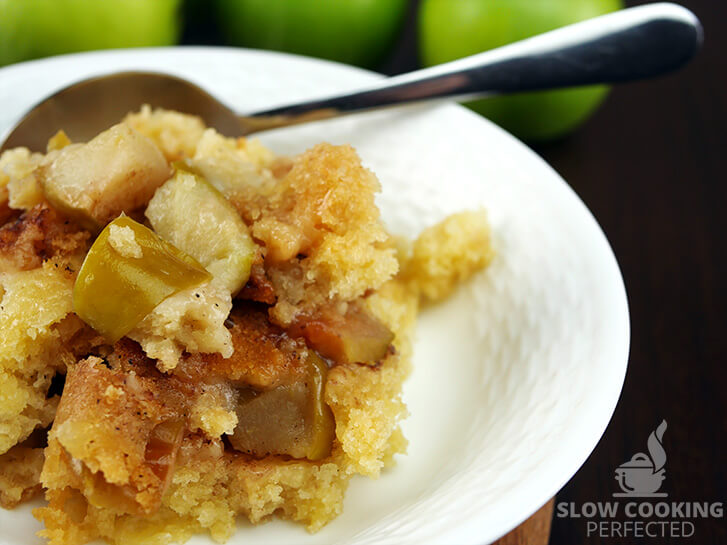 It's totally up to you how you eat this tasty dessert, but there is a ton of extras that goes great with a slow cooker dessert.
Some Popular Tweaks
There are quite a few different tweaks that you can make to this apple cobbler recipe. I will just go through some of my favorites for when I feel like changing things a little.
Feel free to play around with the spices in the apple mixture. For example, if you're a huge fan of cinnamon, then you can easily double the amount used. You can also add some nutmeg and cinnamon to the cake mix.
The cake mixture has a fair bit of sugar, but if you're a huge sweet tooth, then you can also add some sugar into the apple mixture. I wouldn't add anymore than a tablespoon or two; otherwise, you risk it becoming way too sweet.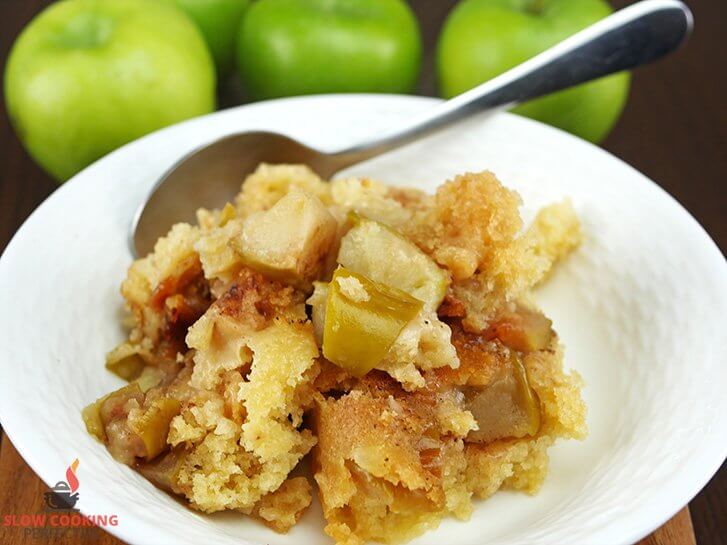 Adding more fruit in with the apple is an excellent way of changing the flavors of this slow cooker apple cobbler. For example, some rhubarb will be perfect alongside the apple as it will help take a bit of the sweetness away.
I would love to hear any of your tweaks that you have made to this recipe, especially if they make it even better. So, be sure to leave a comment and let us know your tweak.
Is there anything Easier?
If this dish is looking like a bit too much work, then you should look at something like a dump cake for the slow cooker. It's much like this dish but so much easier, and if you're looking for an apple dish, then there is an apple dump cake you can try.
If you love watching how to make a recipe, then the video below will take you through everything you need to know on making an apple cobbler in the slow cooker.
For more information on this recipe, then you can find the full written recipe and cooking tips right underneath the video.
Slow Cooker Apple Cobbler Recipe
Ingredients
Base
5 cups apples, large cubes
1 Tbsp lemon juice
½ tsp cinnamon, ground
½ tsp nutmeg, ground
Cake Mix
2 cups self-rising flour
1 cup sugar
1 & 1/4 cup milk
60 g (2.1 oz) butter, melted
1 tsp salt
Instructions
In a bowl, mix the self-rising flour, sugar, milk, butter, and salt until combined. Try to avoid lumps by slowly mixing in the milk and butter.
Add the apples, lemon juice, cinnamon, and nutmeg in the slow cooker and mix.
Pour the cake mixture over the top of the apples.
Cook on low for 3-4 hours or until the cake is cooked and the apples are tender.
Serve & Enjoy.
Recipe Tips
As I mentioned above, try and use a stewing apple for the best result. However, any type of apple should work out fine.
You can use some tinned apple instead, but the base will be a lot gooier. This change will make it even easier to make this delicious slow cooked apple cobbler.
For a bit of extra flavor, you can add some nutmeg and cinnamon into the cake mix. This variation will give you a lovely spiced cake on the top of the tender apples.
Note: I use a 5.5L (6 Quart) slow cooker for all the recipes that I have on this website unless specified. If you have a smaller or larger slow cooker, then you might need to adjust the ingredients.
Nutrition Information
Serving Size: 204g (7.2 oz)
Servings Per Recipe: 6
Calories Per Serving: 358
Saturated Fat: 6g
Trans Fat: 0.3g
Dietary Fiber: 4g
Sugars: 28g
Cholesterol: 26mg
Sodium: 968mg
Protein: 6g
The information above is an estimate generated by an online nutrition calculator.
More Awesome Apple Recipes
Another dessert you should try out is the delicious apple crisp. Rather than having a cake topping it has a crunchy oat topping. It's ideal if you're a huge fan of apple-based desserts.
Some baked apples cooked in the slow cooker are certainly worth giving a try. They have an incredible walnut, oat, and raisin filling that tastes absolutely divine.
This tasty slow cooker apple cobbler cooked out to be so good for me and I hope that it does for you too. If you have some feedback, tips, or anything else, then feel free to leave a comment below.