This 3-ingredient slow cooker apple dump cake is yet another super easy dessert that tastes absolutely amazing.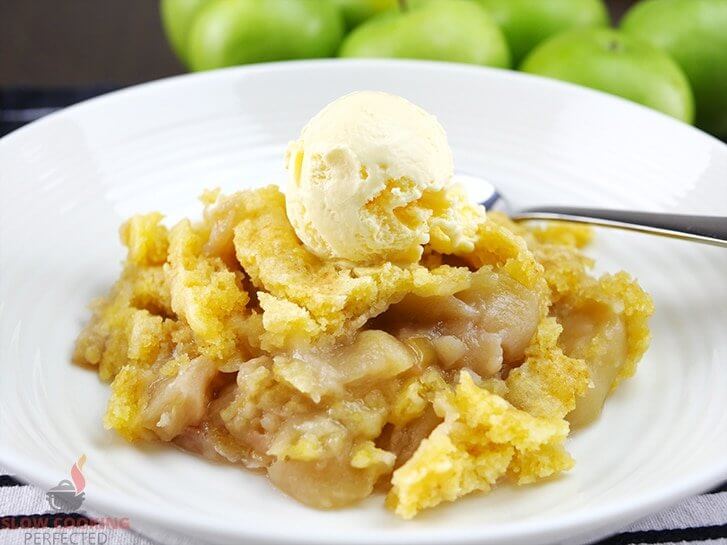 This cake cooks to have lovely tender bits of apple throughout it. It is incredibly simple as you only need to dump just three ingredients into the slow cooker. Much like the delightful apple crisp, this is best served straight out of your slow cooker or Crock-pot.
You should be able to feed roughly four people from a single batch of this cake. If you need to feed more, then I highly recommend that you double or triple the ingredients. Side dishes are also a great way of feeding more people.
Make sure you keep any leftovers as they reheat perfectly as a tasty cooked breakfast. Store them covered in either the refrigerator or freezer. The leftovers stored in the fridge should last for about a week before needing to be thrown out.
Perfecting the Recipe
You can add some more flavor into this dessert by adding some nutmeg and cinnamon to the apple. This addition will result in a different but tasty spiced apple dump cake. I recommend adding roughly a teaspoon of each spice.
It is vital that you do not make the cake mixture before pouring it over the apples. Simply, pour over the flour mixture, and it will cook to be perfect after a few hours.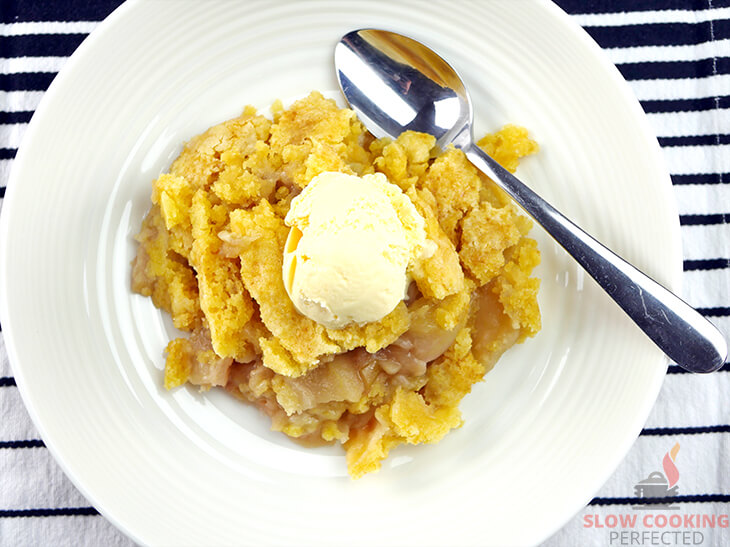 I recommend cutting the butter into cubes and evenly scattering it over the cake mixture. However, you can instead melt the butter and drizzle it over the cake mixture. I find the cube method better as it is easier to evenly spread.
You can get apple pie filling at your local supermarket, but you can also find it online at stores such as Amazon. You can say the same for a yellow cake mix, which is usually available at the supermarket or online.
What to Serve with an Apple Dump Cake
You can eat this apple dump cake just by itself, or you can take it to the next level by adding some delicious extras.
My favorite change is to serve this cake with a scoop of ice cream. For the best results, I recommend vanilla ice cream, but other flavors might also work.
If you have a bit of free time, then a delicious homemade custard will work nicely with the apple cake flavors. You can use a store-bought custard if you do not have the time or ingredients.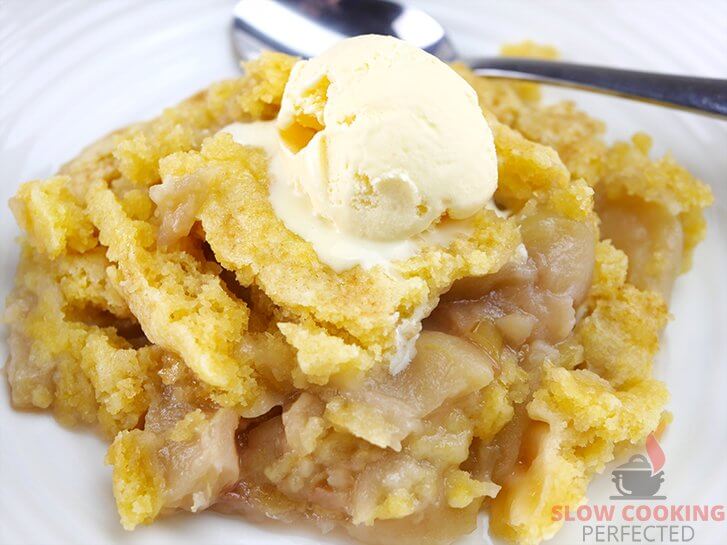 The easiest addition is a simple drizzle of cream. I like this option as it is easier and helps cut through some of the sweetness. I recommend using an unsweetened cream for the best results.
All the options above are great additions, but as I said earlier, I prefer to have this slow-cooked dessert with vanilla bean ice cream.
The video below will take you through the few steps to making this delicious apple dump cake in the slow cooker. Alternatively, you can find the full written recipe right below the video.
Slow Cooker Apple Dump Cake Recipe
Ingredients
800 g (1.8 lb) apple pie filling
400 g (14.1 oz) yellow cake mix
110 g (3.9 oz) butter, cubed
Instructions
Add the apple pie filling to a slow cooker and top with the yellow cake mix. Lastly, scatter the butter over the top of the cake mix.
Cook on high for 2 hours.
Serve & Enjoy.
Recipe Tips
You can sprinkle the apple pie filling with some cinnamon for a bit of extra flavor. Some pie fillings will already have this mixed in, so make sure you check to avoid overdoing the cinnamon.
The butter can be melted instead of cubed. Just make sure you evenly drizzle it over the top of the cake mix.
Fresh apples can be used instead of tinned; however, you may need to cook it for longer, so the apples are tender by the time it is finished cooking.
If you want to cook this cake a little slower, simply turn the slow cooker to low and increase the cooking time to four hours.
Yellow cake mix might also be called a butter cake mix. If you cannot find either, then a vanilla cake mix will work great as a replacement.
Note: I use a 5.5L (6 Quart) slow cooker for all the recipes that I have on this website unless specified. If you have a smaller or larger slow cooker, then you might need to adjust the ingredients.
Nutrition Information
Serving Size: 328g (11.6 oz)
Servings Per Recipe: 4
Calories Per Serving: 801
Saturated Fat: 15.5g
Trans Fat: 0.9g
Dietary Fiber: 3g
Sugars: 28g
Cholesterol: 59mg
Sodium: 701mg
Protein: 5g
The information above is an estimate generated by an online nutrition calculator.
More Slow Cooker Dump Cakes
There are quite a few other types of dump cakes that you can make in the slow cooker.
If you like this cake, then you might also like the peach dump cake. It is effortless to prepare and cooks to be so deliciously good.
Another slow cooker dessert that I highly recommend that you try is the apple cobbler. It is very similar to this dish but instead uses a homemade cake topping.
This slow cooker apple dump cake is undoubtedly easy and was extremely tasty for me. I hope that you find the same and that you do not run into issues. If you have some feedback, variations, tips, or anything else, then please feel free to leave a comment below.