If you love easy desserts, then you're going to love this slow cooker chocolate cherry dump cake. It needs just three ingredients and cooks to be gooey, rich, and so delicious.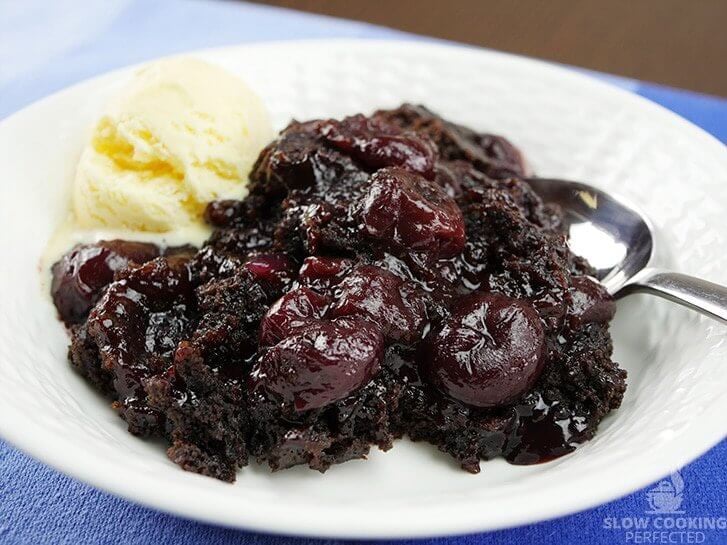 The rich chocolate cake on top of the sweet cherry mix cooks to be amazing. The result is a fantastic combination of gooey cherries and a delicious chocolate cake.
Much like the apple dump cake or the pineapple dump cake, this is also incredibly easy. It's the perfect dessert for when you need something easy that will also please a sweet tooth.
There are some cooking tips towards the bottom of this page if you want to try to vary the dish a little.
What to Serve with this Dump Cake
One thing that you may notice with my slow cooker desserts is that I love to serve some ice cream with them. This dump cake is no different.
A good vanilla ice cream goes fantastic on the side or on top of the cake. Alternatively, a scoop of chocolate ice cream is perfect if you want to go all out with the chocolate.
A drizzle of cream also works really well with the cake as it helps take away a bit of the sweetness. Personally, this option is my favorite.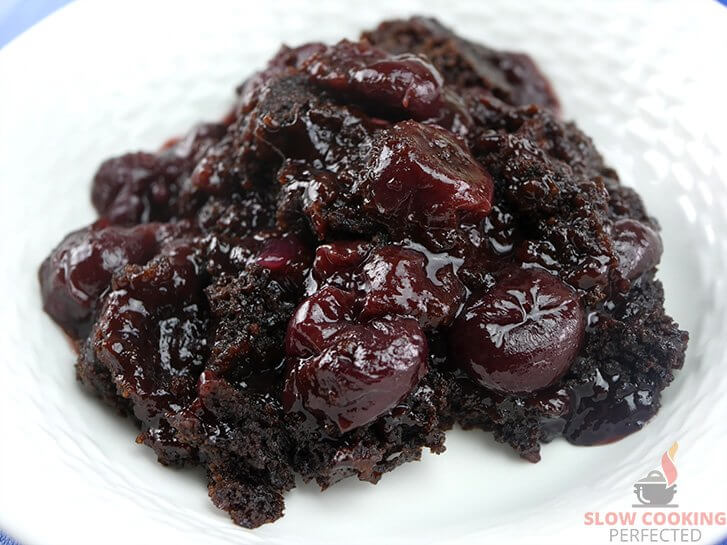 If you have a bit of time, then you can make a delicious hot custard to pour over the top. It's a tasty combination that makes this the ultimate comfort food.
Of course, there are many more accompaniments that will help elevate this dump cake. If you have one that you would like to share, then please leave us a comment at the bottom of this page.
Keep any Leftovers
This chocolate cherry dump cake is yet another dish that you can keep the leftovers in the fridge or freezer.
The leftovers should last three to five days if stored correctly in the fridge. Simply microwave or heat in the oven whenever you're feeling a bit hungry. You can also consume this cold if you don't mind the taste and texture of a cold cake.
You can also store any leftovers in the freezer for up to three months. Perfect if you want some desserts that you can grab and quickly heat.
If you like video, then check out the one I have prepared below. It will take you through all the steps to making this tasty chocolate cherry dump cake in the slow cooker. Alternatively, you can find the full written recipe right underneath the video. You can also pin this recipe for later.
Slow Cooker Chocolate Cherry Dump Cake Recipe
Ingredients
600 g (1.3 lb) cherry pie filling
400 g (14.1 oz) box chocolate cake mix
110 g (3.9 oz) butter unsalted, cubed
Instructions
Add the cherry pie filling to the slow cooker. Top with the chocolate cake mix and then scatter the butter over the top.
Cook on high for 2 hours or until the cake is cooked.
Serve & Enjoy.
Recipe Tips
A yellow cake mix can be used instead of the chocolate for a completely different flavored dump cake.
You can use fresh cherries, but this involves a lot more work as they will need to be pitted. You may need to cook the cake for slightly longer as the cherries will need to cook until they're soft.
I used a plain chocolate cake mix for this chocolate cherry dump cake, but you're able to try out other variations such as a chocolate mud cake, brownie, and the many other varieties available.
Note: I use a 5.5L (6 Quart) slow cooker for all the recipes that I have on this website unless specified. If you have a smaller or larger slow cooker, then you might need to adjust the ingredients.
Nutrition Information
Serving Size: 278g (9.8 oz)
Servings Per Recipe: 4
Calories Per Serving: 701
Saturated Fat: 11.5g
Trans Fat: 0g
Dietary Fiber: 3g
Sugars: 40g
Cholesterol: 29mg
Sodium: 804mg
Protein: 6g
The information above is an estimate generated by an online nutrition calculator.
More Slow Cooker Desserts
There are so many different desserts that you're able to do in the slow cooker. For me, I prefer to cook up something a little fresher than a dump cake, if I have the time.
If you're willing to try something else, then I highly recommend trying out an apple crisp in the slow cooker. By the end of cooking, you will have some deliciously tender apples and a satisfyingly crunchy topping. It's undoubtedly delicious, and I can highly recommend it.
Another dessert that I highly recommend is the chocolate lava cake. The cake is incredibly fluffy and has a delicious chocolate sauce. I highly recommend making it if you're a massive fan of chocolate.
This slow cooker chocolate cherry dump cake is fantastically easy, and I hope that you enjoy it. If you have any thoughts, tips, or anything else that you would like to say, then please don't hesitate to leave a comment right below.