This slow cooker chocolate lava cake is an incredibly decadent dessert that is perfect if you're looking to spoil yourself with a bit of a treat.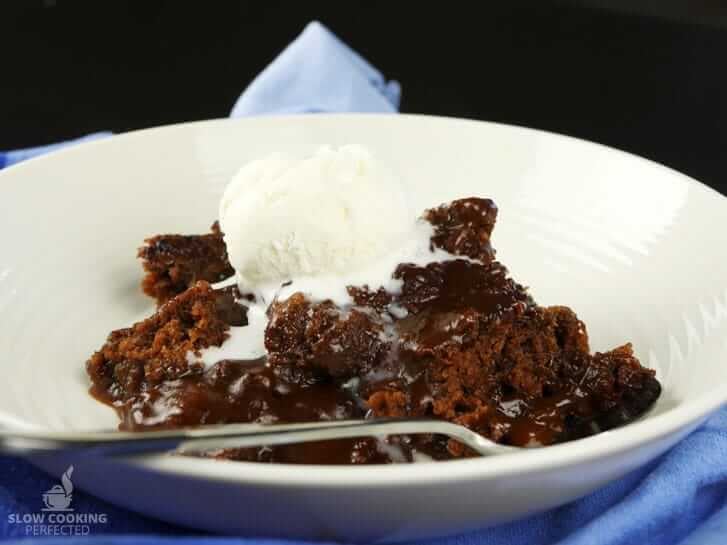 By the time this cake is ready, it will be fluffy, moist, and will please any chocolate lover. It will also have produced a delicious chocolate sauce that goes great with the cake. The result mimics what you would expect of a lava cake but done entirely in the slow cooker.
This cake goes fantastic with some ice-cream but is perfect just by itself. The gooey chocolate sauce that it produces is more than enough to thoroughly enjoy this tasty slow cooker dessert.
A lot of similar recipes for a lava cake in the slow cooker makes use of packet mixes. If you don't keep a ton of packet mixes lying around, then this recipe is perfect as we will be making the cake from scratch. The best thing about making it from scratch is that you know what's gone into it.
You will notice that this pudding is essentially a gooey self-saucing chocolate pudding that you're able to bake in the oven as well.
Personalizing this Recipe
Like most slow cooker desserts, this recipe can be altered to suit your taste buds better. I think the recipe is excellent without any changes, so don't feel like you need to change it.
Halfway through cooking, you can scatter some marshmallows over the top of the cake mixture. These will melt and give you a fantastic melted marshmallow topping. It's a slight change that will please anyone with a sweet tooth.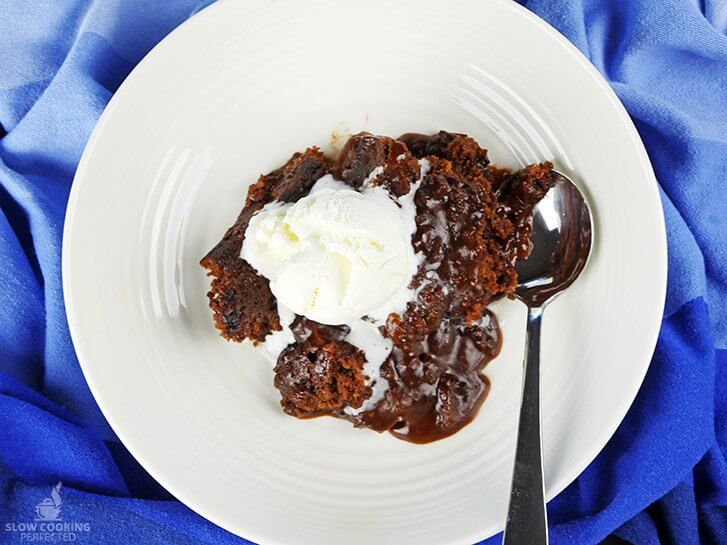 A cup of chocolate chips can be added into the cake mixture to make it extra rich. You will get lovely gooey bits of chocolate throughout the cake.
If you love the combination of peanut and chocolate, then you can try adding some peanut butter chips into the cake. Much like the chocolate chips, a cup of peanut butter chips should be more than enough.
We will love to hear your changes to this recipe, so be sure to share them with us using the comment section at the bottom of this page.
What to Serve with a Chocolate Lava Cake
Luckily this dessert makes a sauce so you don't really need to serve anything extra with it. With that said, below are a couple of my favorite accompaniments to have with this pudding.
This dessert can be quite sweet, so something like cream or ice-cream will help cut through the sweetness. As you can see in the photos, I am a huge fan of vanilla ice-cream, but other flavors might work as well.
Fresh fruit such as raspberries, strawberries, or even blueberries will work nicely with this chocolate lava cake. I recommend to simply scatter the fruit over the top of the cake once it is ready to eat.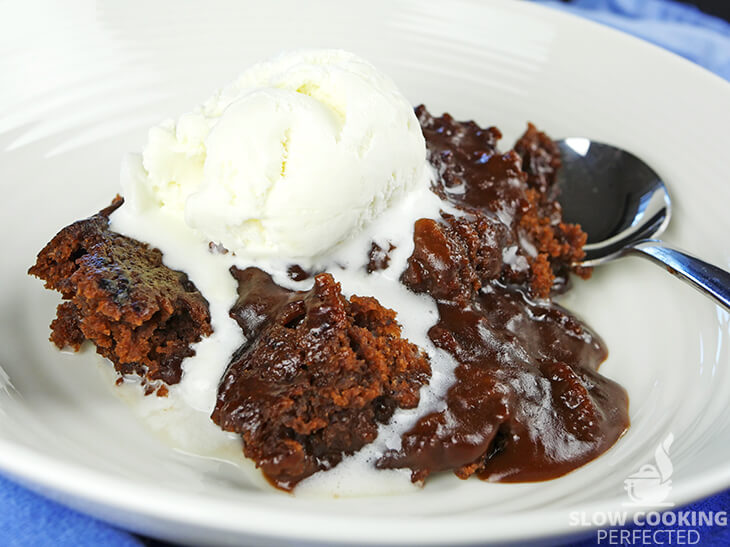 Some warm custard poured over the top of the cake is delicious. The custard matches nicely with the chocolate sauce and creates a flavor combination that will have you going back for seconds. You can make the custard yourself or you can buy it from the supermarket.
I have only touched on a couple of ideas on how you can serve this dessert. If you have any ideas that you would like to share, then please don't hesitate to leave a comment below.
Storing the Leftovers
Make sure you keep the leftovers as they will reheat nicely thanks to the delicious sauce. I always enjoy having the leftovers for breakfast the next day if there is any.
Store the leftovers in either the fridge or freezer until you need them. They will store for roughly three days in the refrigerator and up to six months in the freezer. I do not recommend storing the leftover cake on the bench at room temperature.
If you want to see a video on how to make this delicious chocolate lava cake in the slow cooker, then be sure to check out the one below. It will take you through all the steps to making this delicious recipe.
I hope that you love the video, and if you do, then be sure to subscribe to our YouTube channel, so you're kept up to date on our slow cooker recipes.
Slow Cooker Chocolate Lava Cake Recipe
Ingredients
Cake Mixture
2 cups plain flour
1 cup sugar
1 Tbsp baking powder
1/3 cup cocoa powder
1 tsp salt
¼ cup unsalted butter, melted
1 tsp vanilla extract
1 cup milk
Chocolate "Lava" Sauce
1 cup brown sugar
½ cup unsweetened cocoa powder
3 cups boiling water
Instructions
Lightly grease the slow cooker with butter or oil.
In a bowl, combine the flour, sugar, baking powder, cocoa powder, and salt.
Make a well in the middle and pour in the melted butter, vanilla, and milk.
Stir until well combined.
Pour into the slow cooker.
In another bowl, combine the brown sugar and cocoa powder. Sprinkle this mixture over the cake mixture.
Gently pour the boiling water over the top.
Place the lid on and cook on low for 3-4 hours or until the cake is cooked.
Serve & Enjoy.
Recipe Tips
If you want to make this even richer in chocolate, then try adding about one cup of chocolate chips to the pudding mix. You will get gooey bits of chocolate in the pudding as well as that delicious chocolate sauce.
Pouring the boiling water onto the back of a spoon can help prevent the water from digging up your cake mixture in step seven.
Note: I use a 5.5L (6 Quart) slow cooker for all the recipes that I have on this website unless specified. If you have a smaller or larger slow cooker, then you might need to adjust the ingredients.
Nutrition Information
Serving Size: 213g (7.5 oz)
Servings Per Recipe: 8
Calories Per Serving: 366
Amount Per Serving
Saturated Fat: 4.8g
Trans Fat: 0g
Dietary Fiber: 3.7g
Sugars: 44.3g
Cholesterol: 18mg
Sodium: 358mg
Protein: 6g
The information above is an estimate generated by an online nutrition calculator.
More Chocolate Desserts
There are lots more decadent chocolate desserts that are worth making. Below are just a couple of my favorite desserts that you should give a try.
The gentle heat of the slow cooker is the ideal way of making some delicious chocolate fudge. There are lots of little changes that you can do to the fudge, such as adding M&Ms, or chopped nuts.
If you're feeling like eating some chocolate but not too interested in this dessert, then the amazingly rich slow cooker brownies might interest you. It's a delicious slice that you can eat for dessert or keep in the fridge for later.
I hope this slow cooker chocolate lava cake cooks to be delicious as it did for me. If you have any tips, variations, or anything else that you would love to share, then please don't hesitate to leave a comment below.