This sweet slow cooker banana pudding is a fantastic dessert that cooks to be moist and loaded with flavor.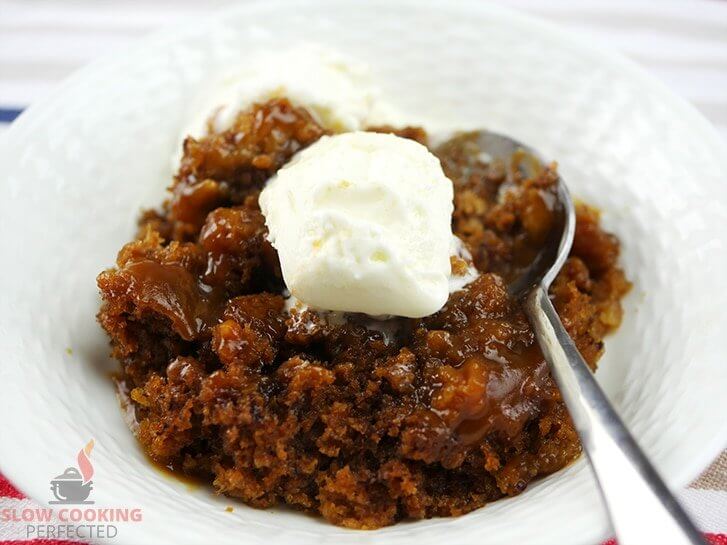 This dessert is far from the traditional banana pudding that you might know and love. Instead, this pudding is self-saucing, so by the end of cooking you will have an incredible "butterscotch" sauce. This sauce saves you from doing extra work when it comes to making accompaniments.
If you have lots of bananas that need using, then this recipe is perfect. I only recommend two in the recipe, but you can go up to four if you want it extra strong in banana flavors.
You should be able to feed four people from a single batch of this dessert. I recommend serving it with some ice cream or cream to help it go a little further. You can double the recipe, but you may need another slow cooker.
Leftovers of this pudding are excellent for breakfast the next day. The sauce helps ensure that the pudding remains moist when you reheat it. Simply keep the pudding in the fridge or freezer until you need it.
What to Serve with this Pudding
There is a ton of extras that you can have with this tasty slow cooker dessert. The sauce is usually more than enough, but if you are looking to go one step further, below are some great ideas.
A scoop or two of vanilla ice cream matches perfectly with the flavors of this delicious pudding. The ice cream will slowly melt and combine with the banana cake and butterscotch sauce. It is a truly amazing addition.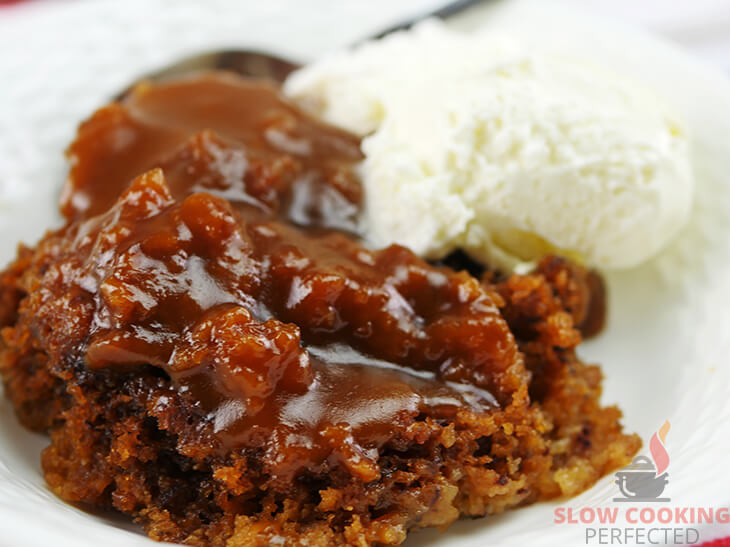 Homemade custard is a delicious option if you have a bit of spare time to spend in the kitchen. The custard is gorgeous, and is even better poured over the top of the pudding. It blends with the rest of the flavors nicely. If you do not have the time, then store-bought custard will work nicely.
The easiest option is to simply drizzle a bit of cream over the pudding. It is my favorite option as it helps cut through some of the sweetness of the pudding and sauce. I highly recommend giving it a try.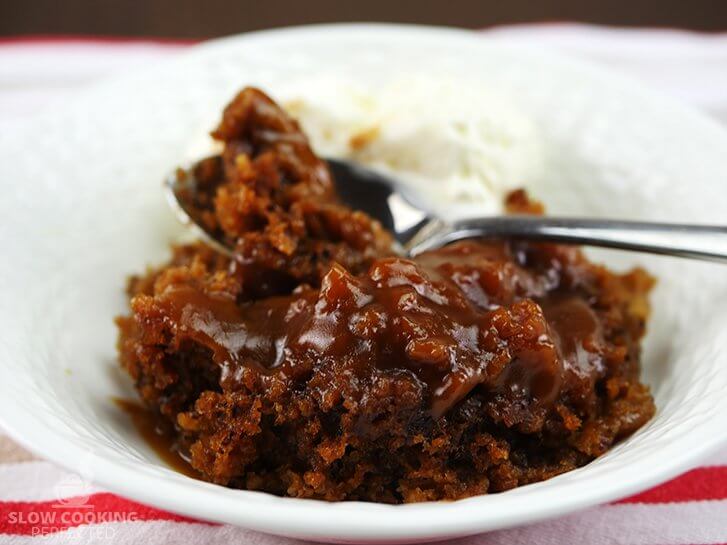 Be sure to watch the video to see how to make this delicious banana pudding in the slow cooker. Alternatively, you can find the full written recipe immediately below the video.
Slow Cooker Banana Pudding Recipe
Ingredients
Pudding Mixture
¼ cup unsalted butter, softened
½ cup sugar
2 eggs
2 bananas, mashed
2 cups self-rising flour
1 tsp bicarb soda
1 tsp vanilla essence
½ cup milk
Sauce
2 tsp cornstarch
3/4 cups brown sugar
¼ cup golden syrup or honey
3 cups boiling water
Instructions
In a bowl, beat together the butter, sugar, and vanilla.
One by one beat in the eggs.
Next, mix in the mashed bananas.
Add all the dried ingredients.
Slowly mix while gently pouring in the milk. Mix until combined.
Lightly grease a slow cooker and pour in the banana pudding mix.
On top of the banana pudding mix scatter the cornstarch, brown sugar and the golden syrup.
Gently pour the boiling water over the top.
Cook on low for 3-4 hours.
Serve & Enjoy.
Recipe Tips
If you love the combination of chocolate and banana, then be sure to add about half a cup of chocolate chips to the banana pudding mix. This extra ingredient will leave you with amazing gooey bits of chocolate in the pudding.
The cornstarch can be left out without impacting this dish too much. The only reason to include it is to help thicken the sauce.
As I mentioned above, you can add more bananas to this recipe if you would like.
Cook on high for two hours if you need the dessert faster.
Note: I use a 5.5L (6 Quart) slow cooker for all the recipes that I have on this website unless specified. If you have a smaller or larger slow cooker, then you might need to adjust the ingredients.
Nutrition Information
Serving Size: 296g (10.4 oz)
Servings Per Recipe: 6
Calories Per Serving: 466
Amount Per Serving
Saturated Fat: 5.8g
Trans Fat: 0.3g
Dietary Fiber: 2g
Sugars: 52g
Cholesterol: 77mg
Sodium: 817mg
Protein: 7g
The information above is an estimate generated by an online nutrition calculator.
More Slow Cooker Desserts
If you end up liking this pudding or just want more desserts, then be sure to check out some of the following recipes.
The slow-cooked chocolate pudding is a delicious dessert that you need to try. The pudding has a chocolate cake mixture and a tasty chocolate sauce. It is incredibly tasty and perfect for when you need to feed a crowd.
You can also make banana bread in the slow cooker. Like this recipe, it is a great way to make use of any overripe bananas you might have.
I hope that you enjoy this slow cooker banana pudding and that you do not run into any issues while making it. If you have some feedback, then be sure to leave a comment below.