This slow cooker lemon delicious pudding is the perfect dessert for anyone who is a fan of citrus.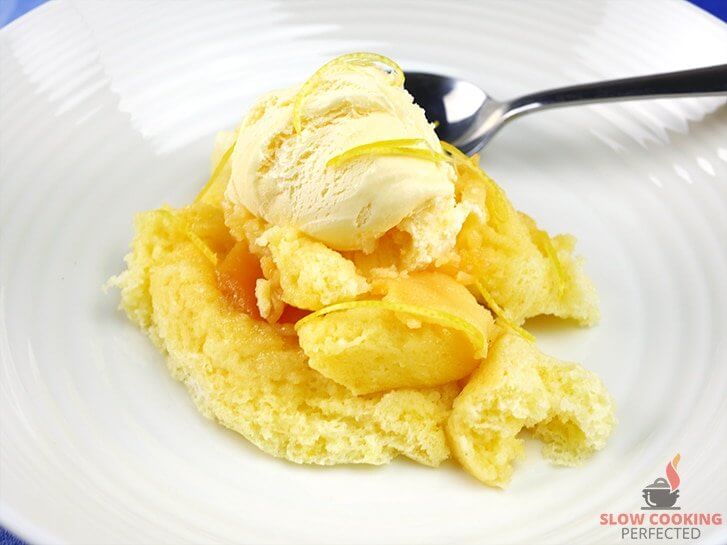 Once this pudding has finished cooking, it should have some delicious sauce on the bottom and a beautiful fluffy cake on the top.
Sometimes if your slow cooker cooks a bit too hot or you leave the slow cooker on for too long, then you will be left with little to no sauce. The pudding is still delicious even without the sauce, so don't stress too much if it looks dry.
This cake is rich in citrus flavors, so it's important that you make this only if you love the flavors of lemon. Something like a chocolate pudding might take your fancy if you're not a massive fan of lemon.
What to Serve with Lemon Delicious Pudding
This gooey pudding is just fine by itself and doesn't need anything extra to go with it.
With that said, if you do want to have something extra than the usual scoop of ice cream goes perfect with this pudding. Ice cream is one of my favorite additions to slow cooker desserts.
If you have a bit of spare time, then a homemade custard is perfect drizzled over the top of this pudding. Alternatively, you can buy some ready-made custard from the supermarket.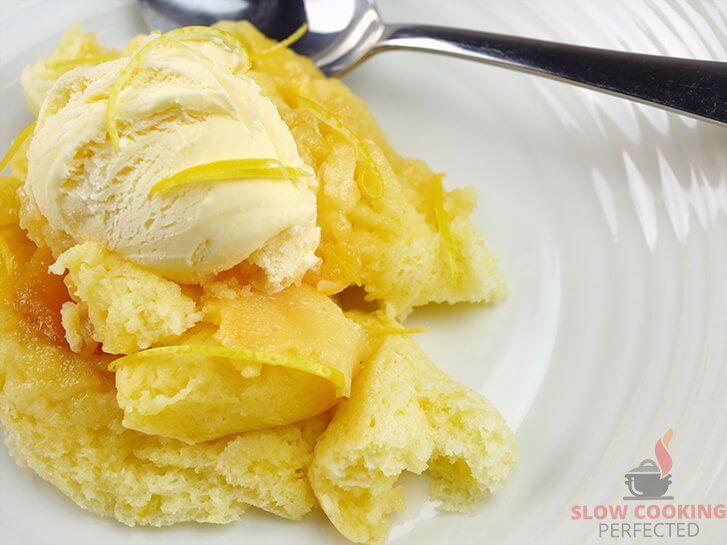 The simplest accompaniment to serve with this pudding is a drizzle of cream. You will find cream is perfect for cutting through some of the sweetness and helps add even more flavor to this dessert.
For even more citrus sauce, you can easily make some over the stove. Heat the juice of four lemons with half a cup of sugar and cook for about ten minutes or until syrupy. Simply pour the syrup over the top of the finished pudding.
The additional syrup is an excellent option if you're worried the pudding won't make enough sauce.
If you have any suggestions on what to serve with this pudding, then be sure to let us know by leaving a comment at the bottom of this page.
Perfecting the Lemon Pudding
You're able to use either fresh lemon juice or bottled; however, for the best results, I highly recommend using fresh. A good lemon juicer will make it easy for getting the most juice out of your lemons.
Be careful mixing the egg whites into the cake mixture as you don't want to lose too much air. If you knock too much air out, then the pudding will be a lot denser, but will still be delicious.
You can try using other types of citrus in this delicious pudding recipe. For example, you can swap the lemons with limes or even oranges. I haven't tried it, but I am sure different citrus fruits will work just as well as lemon.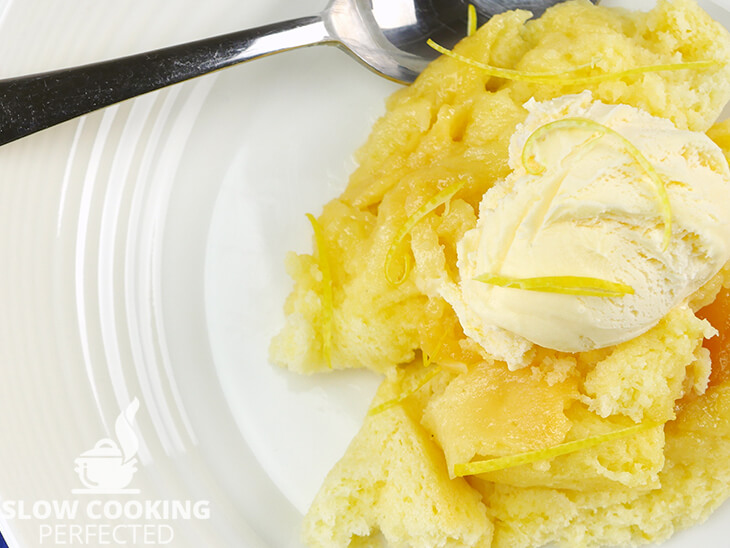 As with any slow cooker pudding, the leftovers of this are well worth keeping as they will reheat the next day nicely. Make sure you keep the leftovers in either the fridge or freezer, depending on what's more convenient for you.
The leftovers should last for roughly three days in the refrigerator or six months in the freezer.
If you prefer to follow along to a video, then be sure to check out the one I have prepared below. It will take you through the entire process of making this lemon delicious pudding in the slow cooker.
Slow Cooker Lemon Delicious Pudding Recipe
Ingredients
150 g (5.3 oz) unsalted butter, softened
1 & 1/2 cups white sugar
4 egg yolks
¾ cup self-rising flour, sifted
1 Tbsp lemon zest
1/3 cup fresh lemon juice
1 & 1/2 cups milk
4 egg whites
Instructions
Beat together the sugar and butter until light and fluffy.
Next, beat the egg yolks into the mixture.
Gently mix in the flour, lemon zest, lemon juice, and the milk.
Beat the egg whites until soft peaks form, once done, gently fold into the cake mixture.
Lightly grease a slow cooker, then pour in the cake batter.
Cover and cook on low for 4 hours or until cooked.
Serve & Enjoy.
Recipe Tips
Try not to knock too much air out of the egg whites when folding them into the cake mixture. This technique will help ensure a fluffier, tastier pudding. If you accidentally knock out too much air, the cake will not be as fluffy but still taste great.
You can alter this slow cooker lemon delicious pudding recipe by replacing half of the lemon juice with lime juice. This change will give you a much different pudding. Perfect for anyone who loves an excellent lemon-lime pudding.
You can cook this pudding on high, but make sure you reduce the cooking time by at least half. You may want to keep an eye on it just in case it starts to burn and overcook.
Note: I use a 5.5L (6 Quart) slow cooker for all the recipes that I have on this website unless specified. If you have a smaller or larger slow cooker, then you might need to adjust the ingredients.
Nutrition Information
Serving Size: 262g (9.2 oz)
Servings Per Recipe: 4
Calories Per Serving: 631
Amount Per Serving
Saturated Fat: 22.6g
Trans Fat: 1.2g
Dietary Fiber: 1g
Sugars: 42g
Cholesterol: 274mg
Sodium: 387mg
Protein: 12g
The information above is an estimate generated by an online nutrition calculator.
More Slow Cooker Puddings
There are so many tasty puddings that you can do in the slow cooker. Because of the moist nature of a slow cooker, they always come out gooey and delicious.
If you love this lemon pudding, then you should certainly check out the self-saucing banana pudding. It is deliciously gooey and perfect when you feel like a treat.
Another pudding that I highly recommend that you try is the sticky date pudding. It produces its own caramel sauce and has some amazing date flavors. I highly recommend giving it a try.
I hope that you enjoy this slow cooker lemon delicious pudding as much as I do. If you have some feedback, tips, or anything else that you would like to say, then please drop a comment below.