This slow cooker tapioca pudding is incredibly tasty and one of the easiest desserts to prepare and cook.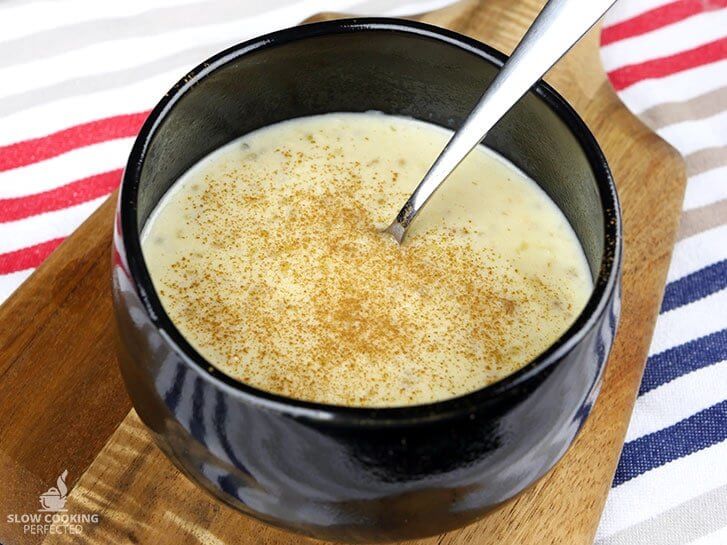 By the time this pudding is ready, it will be thick, creamy, and be vanilla in flavor. The pudding goes great with a sprinkle of cinnamon or nutmeg over the top.
You will find that this pudding is still delicious cold. It makes the dessert great for leftovers, as you do not need to reheat it. The leftovers are also perfect if you just want a cold breakfast that you can eat on the go.
One great reason why using a slow cooker is better than doing it over the stove is you can leave the pudding to slowly cook while you do other chores. I still recommend stirring the pudding every thirty minutes, but it is not completely necessary. However, not stirring might result in it burning, and the texture might not be as good.
Perfecting the Recipe
You can speed up the cooking of this tapioca pudding by soaking the pearls in milk overnight. I would soak them in about one cup of milk. Otherwise, no pre-soaking is required to get a great tasting pudding. If you decide to soak them, be sure to place them in the fridge.
The type of tapioca that you use in this recipe will significantly alter the final dish's outcome. If possible, try to use small tapioca pearls. Alternatively, you can use other varieties, but you may find the texture and taste may not be as nice.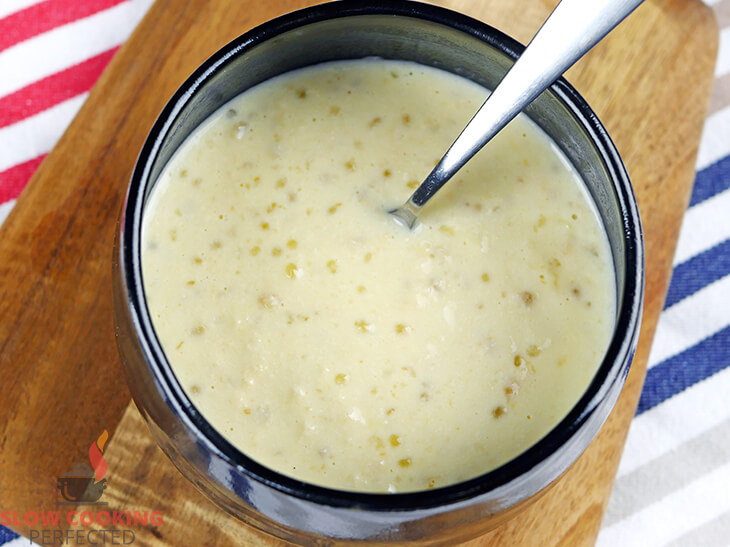 The egg can be left out of this recipe, but you will notice a difference in the texture of the pudding. If you do use an egg, beat it before adding it to the slow cooker.
You can swap the milk for coconut milk for a completely different flavored pudding. This change is also perfect for anyone who is trying to avoid dairy on their diet.
Tapioca Pudding Serving Ideas
The pudding is incredible by itself, but it also matches perfectly with some additional ingredients. Below are a couple of ideas on what you can do.
Fresh fruit is the perfect accompaniment for this dessert. I love to serve it with a variety of fruit, such as sliced banana, raspberries, and strawberries. Stewed fruit such as poached pears will also work very nicely with this pudding.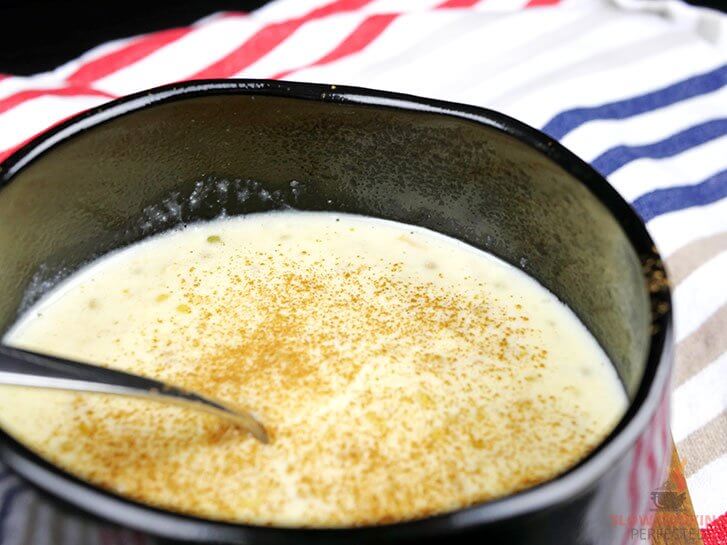 For a bit of variety in textures, you can serve the pudding with biscotti or granola. Both of these will add a lovely crunchy element that will match the creaminess of the pudding nicely.
If you want to see how to make this delicious tapioca pudding in the slow cooker, then be sure to check out the video below. It will take you through all the steps to preparing it.
Slow Cooker Tapioca Pudding Recipe
Ingredients
4 cups milk
½ cup white sugar
½ cup small tapioca pearls
1 egg, lightly beaten
1 tsp vanilla essence
1/8 tsp salt
Instructions
In a slow cooker, mix together the milk, sugar, tapioca, eggs, vanilla, and the salt.
Cook on low for 4 hours. Stir every 30 minutes, if possible.
Serve & Enjoy.
Recipe Tips
You do not have to stir the pudding every thirty minutes, but I recommend stirring if you want a creamier pudding. Stirring also helps prevent the mixture from burning on the bottom of the slow cooker.
Make sure you cook this on low as you will find high is likely to burn the milk and cause other issues.
Note: I use a 5.5L (6 Quart) slow cooker for all the recipes that I have on this website unless specified. If you have a smaller or larger slow cooker, then you might need to adjust the ingredients.
Nutrition Information
Serving Size: 311g (11 oz)
Servings Per Recipe: 4
Calories Per Serving: 318
Amount Per Serving
Saturated Fat: 3.7g
Trans Fat: 0g
Total Carbohydrate: 54.2g
Dietary Fiber: 0g
Sugars: 36.9g
Cholesterol: 102mg
Sodium: 220mg
Protein: 10.8g
The information above is an estimate generated by an online nutrition calculator.
More Slow Cooker Desserts
Below are some delicious dessert recipes that are perfect for the slow cooker.
If you love this pudding, you might also be interested in the tasty slow cooker rice pudding. Much like this recipe, it is incredibly easy to prepare and get cooking in no time at all.
Another dessert that I recommend making is blueberry cobbler. It features deliciously juicy blueberries and a fluffy cake topping. I love the combination and highly recommend giving it a try.
I hope that you enjoy this version of a slow cooker tapioca pudding. If you have some feedback that you would like to share, then please do not hesitate to leave a comment below.