This slow cooker sago plum pudding is an absolute classic and has some incredible flavors. It is undoubtedly one of my favorite desserts.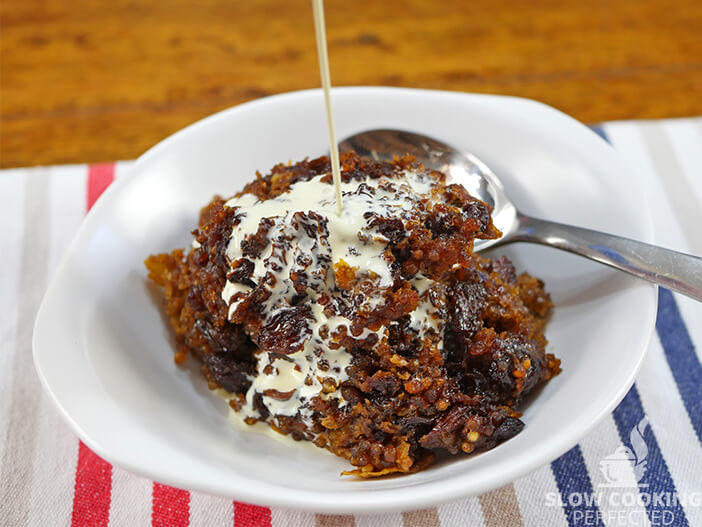 You will be delighted with how light and delicious this pudding is. The combination of dried fruit, jam, and mixed spice helps bring a lot of flavor to the sago, milk, and cornflakes. I could personally eat an entire pudding on my own.
Much like most slow cooker desserts, this pudding is very fulfilling and will easily feed about four adults. If you need a feed quite a few people, you can always double the mixture and split it across two pudding steamers.
You can eat this pudding either hot or cold, so you can always make it a day or two ahead of when you need it. However, I love to have it hot and with some custard or ice cream.
A pudding steamer is the best container for cooking a sago plum pudding. Most sizes will easily fit into the slow cooker as well. If you do not have one, then you can always use a bowl and use foil to seal it.
How to Serve Sago Plum Pudding
There are plenty of extras that go great with this sago plum pudding. Below are a couple of my favorites.
For example, I love serving this pudding with some hot custard. Personally, I think homemade custard is the best, but the store-bought stuff can be pretty good these days. Whatever you choose, it will be amazing with this dessert.
A scoop of ice cream goes exceptionally well with the pudding. I would stick to vanilla ice cream, so you do not end up with a conflict of flavors. The ice cream is best served when the pudding is still hot.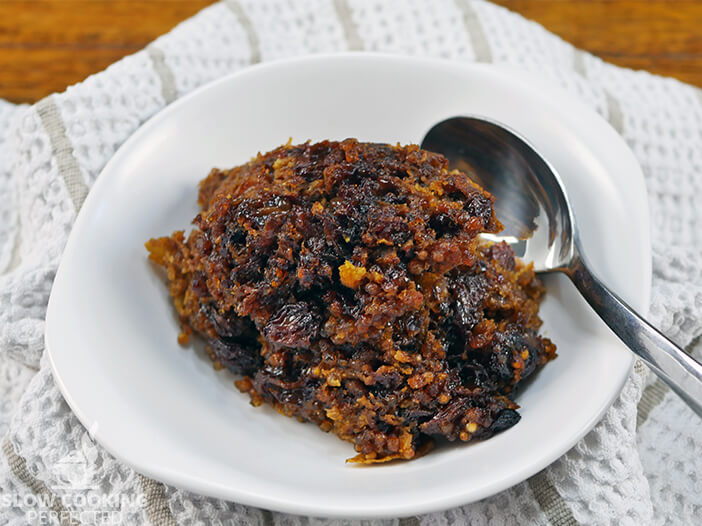 Lastly, a drizzle of cream works perfectly with this pudding. The cream helps cut through some of the sweetness of the pudding and is an excellent accompaniment.
If you love to see how to make recipes, then be sure to check out the video I have prepared below. The video will take you through all the steps to making this sago plum pudding in the slow cooker. Alternatively, the full written recipe is below the video.
Slow Cooker Sago Plum Pudding Recipe
Ingredients
4 Tbsp sago
1 cup milk
1 cup cornflakes
1 Tbsp raspberry jam
1 cup mixed fruit
½ tsp mixed spice
1 egg
1 tsp bicarb soda
1 Tbsp butter, softened
1 Tbsp hot water
Instructions
Soak the sago in the milk for a minimum of 6 hours in the fridge.
Dissolve the bicarb soda in the butter and hot water.
Mix all the ingredients until well combined.
Pour the ingredients into a greased pudding steamer and seal with the lid.
Place the pudding steamer into the slow cooker and slightly fill with water. Roughly 5 cm (2 in).
Cook on low for 4 hours or until the pudding is set.
Serve & Enjoy.
Recipe Tips
To ensure that this sago plum pudding is gluten-free, make sure you buy some gluten-free cornflakes.
If you do not have a pudding steamer, you can use a ceramic bowl instead. Simply cover tightly with foil so that moisture will not get in.
Feel free to change the type of jam that you use in the recipe. For example, an apricot jam will work just as well as the raspberry jam.
Tapioca pearls are an excellent substitution for sago if you are unable to get your hands on any.
Note: I use a 5.5L (6 Quart) slow cooker for all the recipes that I have on this website unless specified. If you have a smaller or larger slow cooker, then you might need to adjust the ingredients.
Nutrition Information
Serving Size: 192g (6.8 oz)
Servings Per Recipe: 4
Calories Per Serving: 272
Amount Per Serving
Saturated Fat: 4.8g
Trans Fat: 0.1g
Dietary Fiber: 7g
Sugars: 16g
Cholesterol: 168mg
Sodium: 395mg
Protein: 8g
The information above is an estimate generated by an online nutrition calculator.
More Slow Cooker Desserts
There are many different types of pudding that you can do in the slow cooker. One of my favorites is the delicious sticky date pudding. It even produces its own butterscotch sauce.
Another sweet dish that I highly recommend that you try is the apple and rhubarb crisp. The topping is surprisingly crisp, and the filling is sweet and gooey. It is an excellent combination that is worth the time and effort.
I love this slow cooker sago plum pudding, and I hope that you do too. If you have some feedback, then please leave a comment below.