This sweet slow cooker sticky date pudding is the perfect way to finish off a busy day. It is relatively easy to get cooking and tastes amazing.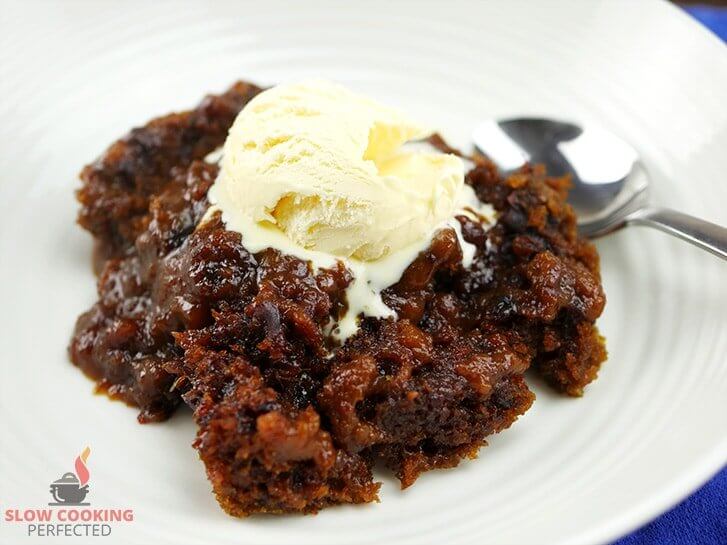 This delicious pudding cooks to be incredibly moist and fluffy. By the end of cooking, you should also have a thick sweet sauce that matches the pudding perfectly. To top this dish off, I highly recommend serving it with a scoop of vanilla ice cream.
Self-saucing puddings turn out absolutely great when they are cooked in a slow cooker. It is mainly due to how slow cookers keep the majority of the moisture inside the pot. The result is an incredibly moist and gooey pudding that will please anyone who loves sweets.
You will be able to feed six people with this delicious pudding. So, it is the perfect way to feed a crowd without needing lots of baking dishes.
The cooking times for this pudding is very forgiving thanks to the sauce. Just keep in mind the longer you cook it, the less sauce you will have by the end of cooking as the pudding will absorb it.
Accompaniments for Sticky Date Pudding
This pudding is perfect on its own and does not need anything extra to go with it. With that said, below are some delicious ideas on what you can do.
A scoop of ice cream goes perfectly on top of the pudding. It helps cool the pudding while also cutting through some of the sweetness. It is my favorite accompaniment, as you can tell in the photos.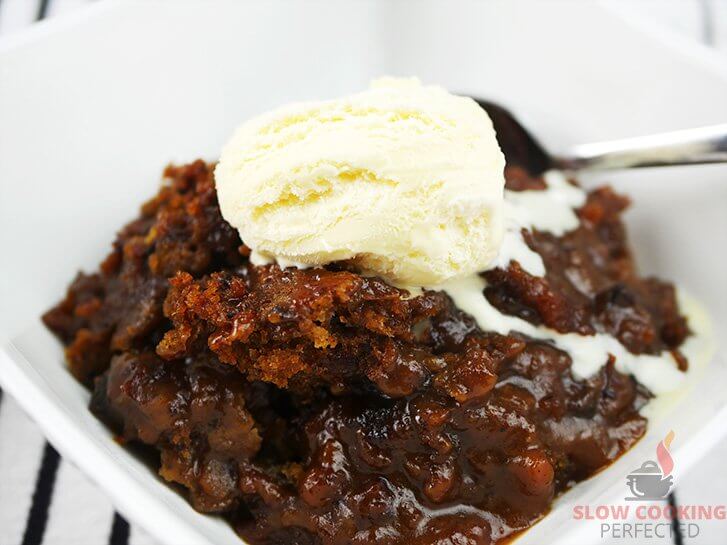 Homemade custard is perfect drizzled over the top of the pudding. It matches nicely with the pudding sauce and helps takes the dish to another level. If you do not have the time, then use store-bought custard.
The extra accompaniments comes down to personal preferences, so pick whatever you like the most. Keep in mind that extras will add more calories to any slow cooker dessert.
Keeping Leftovers
Make sure you do not throw out any leftovers as they will reheat perfectly. Thanks to the pudding being really moist, you will not end up with dry leftovers.
Keep the leftovers stored covered in the fridge or freezer and reheat in the microwave or oven. If you cannot be bothered reheating the pudding, you will find that it is still surprisingly good cold.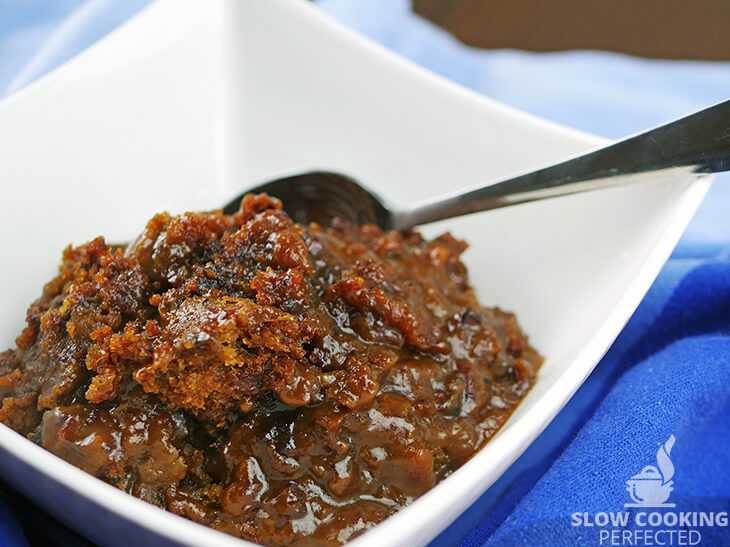 The pudding should last for roughly three days in the refrigerator or three months in the freezer. These are rough estimates, so you may find it will spoil faster.
All the steps on how to make this sticky date pudding in the slow cooker are right below. Alternatively, be sure to check out the video below. It will take you through all the steps to making this delicious dessert.
Slow Cooker Sticky Date Pudding
Adblock removing the video? Support us by going ad-free or whitelist us in your ad-blocker.
Ingredients
250 g (8.8 oz) pitted dates, chopped
1 tsp baking soda
300 ml (10.1 fl oz) boiling water
100 g (3.5 oz) unsalted butter, softened
1 tsp vanilla essence
200 g (7.1 oz) brown sugar
2 eggs at room temperature
375 g (13.2 oz) self-rising flour
Sauce
150 g (5.3 oz) brown sugar
80 g (2.8 oz) golden syrup
750 ml (25.4 fl oz) boiling water
Instructions
In a bowl, combine the dates with the baking soda and boiling water.
In a different bowl, add the butter, sugar, vanilla and beat together until light and fluffy.
Beat in the eggs one by one until well combined.
Add the flour, dates (including the water), and mix until well combined.
Lightly grease a slow cooker and pour in the sticky date pudding mix.
On top of the pudding mix, scatter the brown sugar and golden syrup.
Slowly pour in the boiling water.
Cook on low for 4 hours.
Serve & Enjoy.
Recipe Tips
To avoid having the eggs and butter split, make sure both your butter and eggs are at room temperature. If they do split, then do not be afraid to continue, there will be very little difference at the end of cooking.
You can make this sticky date pudding gluten-free by merely exchanging the self-rising flour for a gluten-free version.
If you do not like chunks of dates in your puddings, then you can blend the date mix before adding it to the flour.
You can make this pudding in the slow cooker without the sauce. However, it might not be nearly as moist and gooey.
The golden syrup can be replaced with honey or something similar. Be careful of molasses as it can be quite bitter.
Note: I use a 5.5L (6 Quart) slow cooker for all the recipes that I have on this website unless specified. If you have a smaller or larger slow cooker, then you might need to adjust the ingredients.
Nutrition Information
Serving Size: 367g (12.9 oz)
Servings Per Recipe: 6
Calories Per Serving: 641
Saturated Fat: 6.3g
Trans Fat: 0g
Dietary Fiber: 4g
Sugars: 97g
Cholesterol: 72mg
Sodium: 556mg
Protein: 7g
The information above is an estimate generated by an online nutrition calculator.
More Slow Cooker Puddings
If you are not feeling like dates, then there is a ton of other delicious puddings that you can cook in the slow cooker. For example, self-saucing chocolate pudding is one of my favorites and perfect for anyone who is a huge fan of chocolate desserts.
Another pudding that makes its own sauce is the banana pudding. It is very similar to this dessert but instead has an incredible banana flavor. There is a delicious caramel sauce to accompany the cake.
Personally, I absolutely love this slow cooker sticky date pudding, and I do hope that you will like it. If you have any feedback, tips, variations, then please feel free to leave a comment below.