This slow cooker stuffed pepper soup is an incredibly delicious dish that can easily feed a crowd. It is loaded with vegetables, beef, rice, and much more.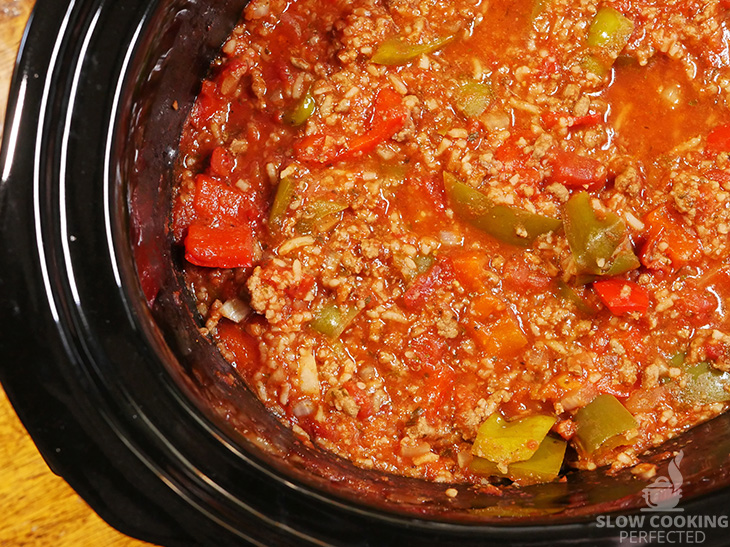 This soup has a huge range of wonderful flavors thanks to the various ingredients. The soup is loaded with beef, rice, herbs, tomato, and bell peppers. If you love the traditional stuffed peppers, you will likely love this recipe too.
If you rather have actual stuffed peppers, I highly recommend checking out our slow-cooked stuffed peppers recipe, as they are absolutely delicious. They are very similar to this recipe and will impress most people.
Below we will touch on some of the different ways you can serve this soup and a few ideas on how you might want to adjust the recipe.
Serving Ideas for Stuffed Pepper Soup
This soup is delicious enough that it does not require extra side dishes or garnishes. However, if you want to go one step further, I have a few suggestions below.
This soup will go down a treat with a couple of slices of homemade bread. If you do not have the time, then an artisan loaf of sourdough from a bakery is a good choice. Otherwise, plain bread or croutons will also be nice.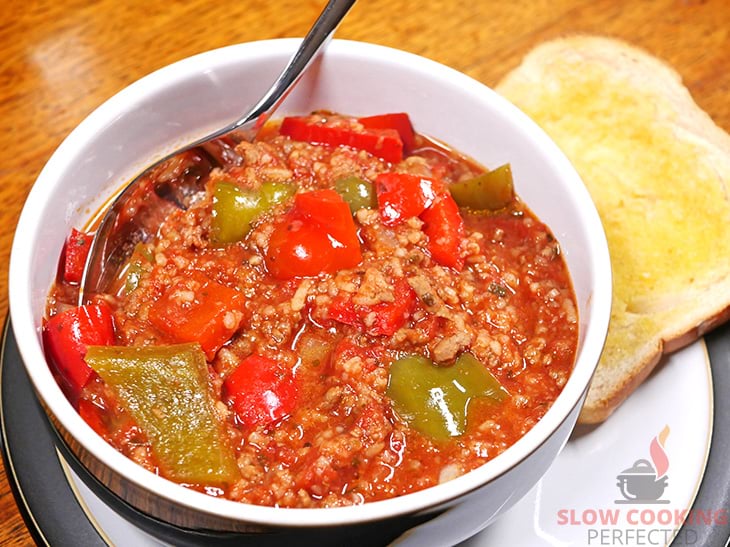 After serving the soup, you can top it with shaved parmesan or cheddar cheese. The cheese will add a delicious cheesy element to the soup, but not everyone may like it. Another idea is to top the soup with a dollop of sour cream or double cream.
If you have any serving suggestions, let us know by leaving a comment at the bottom of this page.
Adjusting the Recipe
There are a few things that you can do to adjust the recipe to make it easier or more to your liking. I will go through a few suggestions on what you can do below.
You can try adding more vegetables to the soup for even more flavor, for example, mushrooms, celery, carrots, or even chickpeas. I recommend dicing any extra vegetables rather than cutting them into chunks.
Browning the beef is an optional but recommended step. By browning the beef, you can reduce the amount of fatty liquid in the soup. However, it is one extra dish and step which you can easily skip if you do not mind a bit of extra greasy liquid in your soup.

You do not need to use ground beef in the recipe. Other options, such as ground pork, chicken, or lamb, will work fine in the recipe. You could even use chickpeas as a replacement for the ground meat.
I add the rice at the start, but this may cause the rice to go a bit mushy and thicken the soup beyond what you prefer. If this is the case, add the rice fifteen minutes before serving. Also, if you are looking for a low-carb option, try using cauliflower rice instead.
Below is the full written recipe for our slow-cooked stuffed pepper soup. We also have a video below that you might want to check out if you rather see how to prepare this delicious soup quickly.
Slow Cooker Stuffed Pepper Soup Recipe
Ingredients
500 g (1.1 lb) ground beef
1 onion, finely diced
4 bell peppers, chopped
2 tsp garlic, crushed
2 Tbsp Worcestershire sauce
2 tsp parsley, dried
1 tsp oregano, dried
1/2 tsp basil, dried
350 ml (11.8 fl oz) beef stock
2 Tbsp tomato paste
800 g (1.8 lb) crushed tomatoes (Canned)
1 cup cooked rice
Instructions
In a frypan over high heat, add the ground beef and cook until browned. Once browned, drain the excess fluid and transfer the beef to a slow cooker.
Next, add the onion, bell peppers, garlic, Worcestershire sauce, parsley, oregano, basil, beef stock, tomato paste, crushed tomatoes, and cooked rice.
Cook on low for 6-8 hours.
Season with salt and pepper.
Serve & Enjoy.
Recipe Tips
I add the rice at the start of cooking to help thicken the liquid. However, if you prefer your soup to be more liquid and less grainy, you can add the rice fifteen minutes before serving.
Ground beef is also known as beef mince or hamburger in some countries.
You may need to season the soup generously but be careful not to go overboard with the salt and pepper. I recommend tasting it as you season so you can get it to the perfect taste.
Other types of ground meat will work in this recipe. For example, ground pork, chicken, or even lamb will work nicely with the other flavors in this recipe.
I recommend using cooked rice, as uncooked rice may turn the soup too thick. Ensure the cooked rice is fresh or has been stored correctly in the refrigerator before use.
Note: I use a 5.5L (6 Quart) slow cooker for all the recipes that I have on this website unless specified. If you have a smaller or larger slow cooker, then you might need to adjust the ingredients.
Nutrition Information
Serving Size: 474g (1 lb)
Servings Per Recipe: 6
Calories Per Serving: 307
Amount Per Serving
Saturated Fat: 3.8g
Trans Fat: 0.3g
Dietary Fiber: 6g
Sugars: 12g
Cholesterol: 73mg
Sodium: 248mg
Protein: 27g
The information above is an estimate generated by an online nutrition calculator.
More Delicious Soup Recipes
You can cook many more soups in the slow cooker with very little effort. Below are two of my favorite soup recipes that I recommend giving a try.
One of my favorite soups for the slow cooker is cheeseburger soup. However, it is not the healthiest soup around. It is loaded with beef, cheese, mustard, vegetables, and more.
I love a classic homemade tomato soup as it is super easy to make and can easily feed a hungry family. The soup has a wonderful range of ingredients, including basil, tomatoes, oregano, bell peppers, and even a touch of cream.
I hope you enjoy this slow cooker stuffed pepper soup and plan on making it again. If you have some tips, thoughts, or just anything else that you would like to say about this recipe, then feel free to leave a comment below.