You have got to try this slow cooker cheeseburger soup as it's loaded with flavor and will be an absolute hit with your family.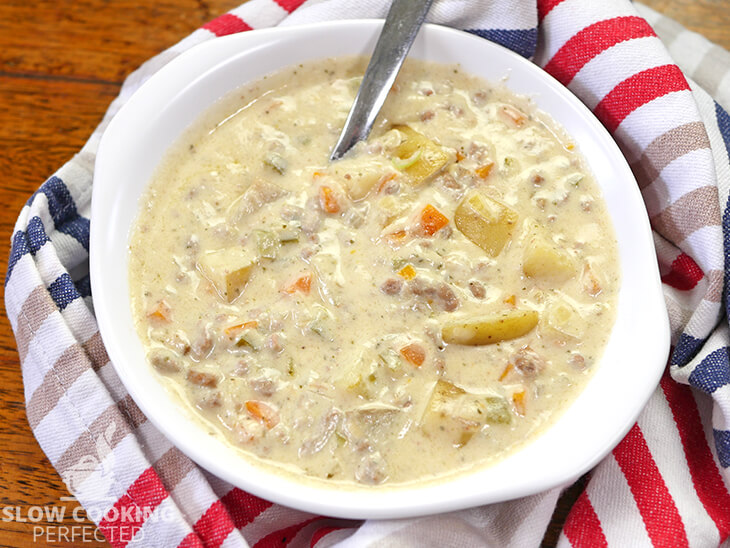 Once this soup is ready to eat, it will be creamy, cheesy, and loaded with flavor. It has delicious chunks of carrots, potato, onion, and ground beef throughout it. It's the perfect comfort food that can be enjoyed all year round.
You will find that this soup is best enjoyed chunky, so I don't recommend trying to puree it. If you prefer pureed soups, we have lots of other soups for the slow cooker that might take your fancy.
This delicious soup should be able to feed roughly six to eight people, but this can vary heavily. You can feed more people from a single batch by making some side dishes. Alternatively, you can double or triple the recipe.
What to Serve with Cheeseburger Soup
There are lots of different side dishes that go nicely with cheeseburger soup, so I am just going to point out a couple of my favorites.
One of my all-time favorites to have with this soup is some sliced fresh bread. It's perfect dipped into the soup as you get all the cheesiness along with the incredible flavors.
If you have a bit of spare time, then some homemade croutons go perfectly with this soup. Much like the sliced bread, they soak up lots the flavor and become coated with the cheese.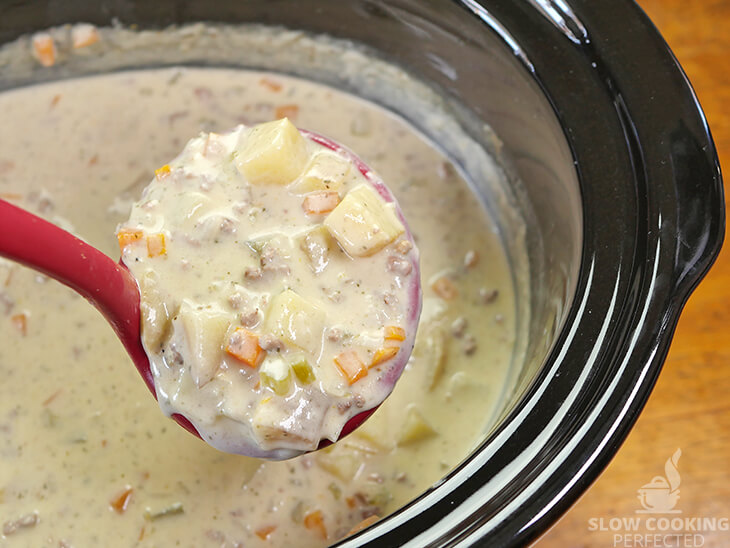 For even more cheesy goodness, you can make some cheese twists to dip into the soup. They're easy to make and will go down a treat. This cheesy side dish is always a massive hit in our household.
There is a range of toppings that you can scatter over the soup once it is ready. A few of my favorites include chopped crispy bacon, pickles, spring onions, or even more cheese.
Be sure to let us know any of your serving ideas as we love to hear them.
Personalizing this Recipe
There are lots of small tweaks that you can make to this slow cooker cheeseburger soup recipe so that it is better suited for your taste buds. Below are just a couple of my suggestions on what you can do.
The type of stock that you use doesn't hugely matter. I made use of beef stock, as I think it will add more flavors that are similar to a traditional cheeseburger. However, chicken stock or vegetable stock will also work.
You can double the amount of ground beef if you love lots of meat in your soup. Alternatively, some diced bacon is always a great addition. Both options are a great way of bulking out this recipe a little.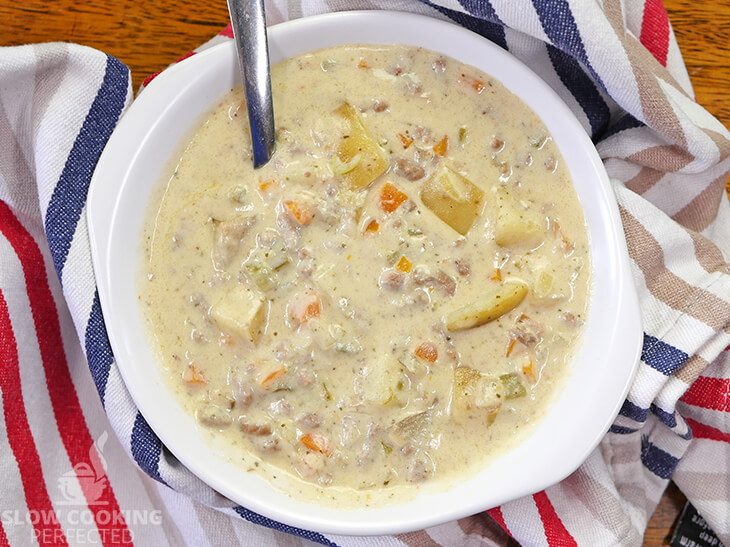 Some chopped tomatoes or cherry tomatoes can be added to this soup. It will introduce some new flavors and textures to the soup. Half a cup should be more than enough, but feel free to experiment a little.
To make things slightly healthier, you can use milk instead of cream. I prefer a creamier soup, so I recommend opting for the cream instead. It's not exactly a soup that's ideal for staying healthy anyway.
We love to hear of any changes that you have made, so please don't hesitate to share by leaving a comment at the bottom of this page.
Leftover Soup & Dessert
If you somehow end up with leftovers, then they're perfect as a quick and easy lunch the next day. The leftovers will last for roughly three days in the refrigerator, sometimes longer.
A dessert that I highly recommend to have after this soup is the blueberry cobbler. The cake mixture cooks to be fluffy, flavorsome and packed with delicious juicy blueberries. It's an absolute-must-try.
If you're interested in watching how to make this cheeseburger soup in the slow cooker, then you can find a very handy video below. Alternatively, right underneath the video is the full recipe.
Slow Cooker Cheeseburger Soup Recipe
Ingredients
500 g (1.1 lb) ground beef
2 onions, chopped
2 tsp garlic, crushed
2 carrots, diced
2 stalks of celery, diced
4 potatoes, chopped
1 tsp parsley, dried
1 Tbsp Dijon mustard
750 ml (25.4 fl oz) beef stock
250 g (8.8 oz) cream cheese, softened
300 g (10.6 oz) cheddar cheese, shredded
125 ml (4.2 fl oz) cream
Thickener
3 Tbsp cornstarch
3 Tbsp water
Instructions
In a frypan over high heat, add the ground beef and cook until browned. Once browned, drain the excess fluid and transfer to a slow cooker.
Next, add the onion, garlic, carrot, celery, potato, parsley, Dijon mustard, and beef stock to the slow cooker.
Cook on low for 8 hours.
Turn the slow cooker to high and add the cheddar cheese and cream cheese. Stir until melted.
Next, mix the cornstarch and water until it forms a paste. Pour this into the slow cooker along with the cream.
Cook on high for 30 minutes or until the soup is thickened.
Season with salt and pepper.
Serve & Enjoy.
Recipe Tips
To ensure that this recipe is gluten-free, double-check that you're using gluten-free cornstarch.
Browning the beef isn't hugely important, but it helps reduce the amount of fatty liquid in your soup.
The cheese can easily be replaced with something else. For example, a lot of people like to use Velveeta cheese rather than cheddar.
I recommend slightly warming the cheese and cream before adding it to the slow cooker. Doing this will help the slow cooker keep its heat so you will have your soup sooner rather than later.
Ground beef is also known as beef mince or hamburger. The naming can vary heavily from country to country.
Note: I use a 5.5L (6 Quart) slow cooker for all the recipes that I have on this website unless specified. If you have a smaller or larger slow cooker, then you might need to adjust the ingredients.
Nutrition Information
Serving Size: 411g (14.5 oz)
Servings Per Recipe: 8
Calories Per Serving: 559
Amount Per Serving
Saturated Fat: 19.3g
Trans Fat: 0.7g
Dietary Fiber: 4g
Sugars: 5g
Cholesterol: 143mg
Sodium: 656mg
Protein: 33g
The information above is an estimate generated by an online nutrition calculator.
More Slow Cooker Recipes
We have lots more slow cooker recipes, so be sure to check them out if you're interested. Below are just a couple of similar recipes that you might like.
The tater tot casserole is a delicious dish that you need to try. It features taco seasoned ground beef, tater tots, bell peppers, cheese, and so much more. It's amazing comfort food that's great all year round.
For another creamy soup like this one, I highly recommend trying the potato soup. It's super easy and can feed a crowd. It's the ideal soup if you're on a budget.
I hope that you enjoy this slow cooker cheeseburger soup as much as I did. If you have any feedback, then please don't hesitate to leave a comment below.