This slow cooker broccoli cheese soup is an absolute must-try. It's incredibly cheesy and has that amazing broccoli taste we all know and love.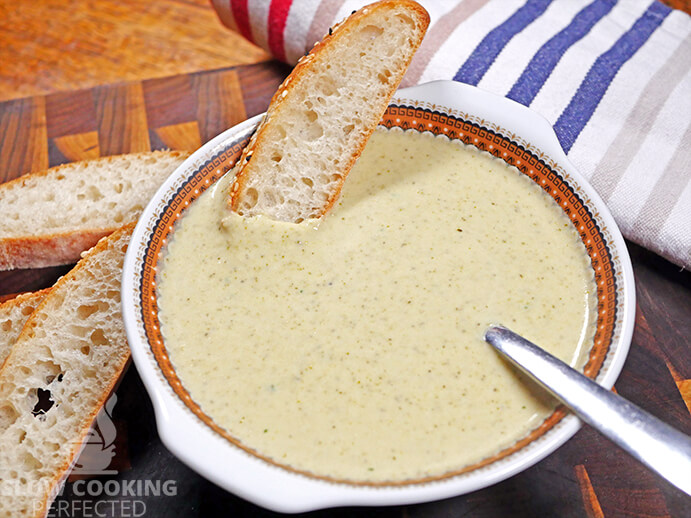 If you're ready for some comfort food, then this soup will satisfy. It's got a delicious amount of cheese in it and will have you going back for seconds.
One thing I love about this broccoli and cheese soup recipe is how easy it is to prepare. I love making it and getting it slowly cooking in the morning, so it has all day to develop both a fantastic flavor and aroma.
Tweaks worth Trying
The standard recipe might not please everyone, so if you're feeling adventurous feel free to read some of my suggestions to help change the soup to be more to your liking.
Adding some crumbled blue cheese into the soup is a great way to add a ton of flavor. If you're not a fan of blue cheese, then it's best not to add it as it's got such a strong flavor.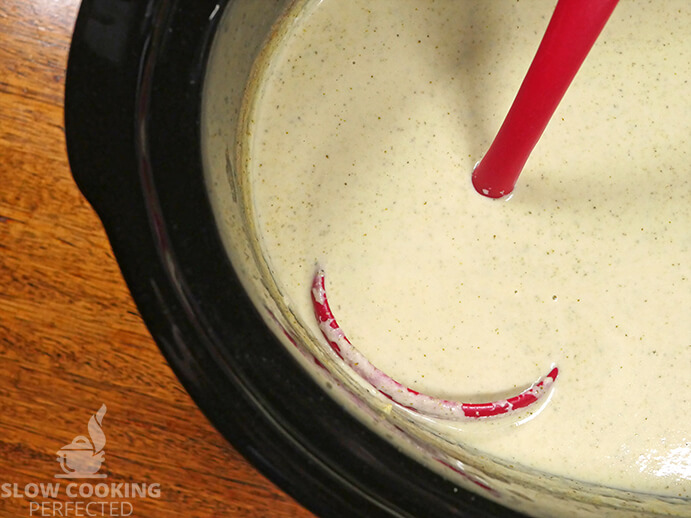 Crispy bits of bacon is another excellent addition that you can make to this delicious soup. You can use it as a garnish at the end, or you can have it slow cook with the rest of the broccoli cheese soup ingredients.
There are dozens of more tweaks that you can make to this soup. If you have any that you would like to share, then please leave a comment towards the bottom of this page.
A Good Soup will Feed a Crowd
Feeding a crowd is easy with this soup as it will feed roughly six to eight people without any adjustments. If you need to feed more, then simply double or triple the recipe. However, you might need a bigger slow cooker.
To feed more people of a single batch of soup then you might want to consider making some side dishes to go with the soup.
Sides to have with Cheesy Broccoli Soup
This soup is fantastic on its own and doesn't really need any extras on the side. However, there is nothing better than dipping some fresh bread into this cheesy soup. Trust me; it's so deliciously good.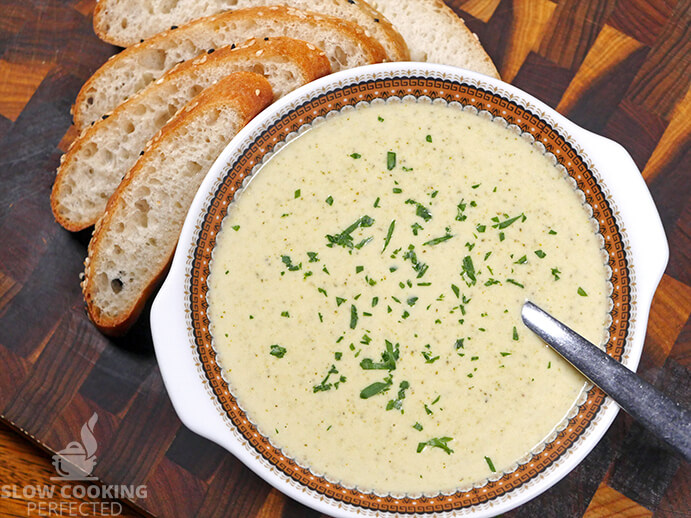 Some fried cheese sticks are delicious dipped in this cheesy soup. It's the perfect combination if you can never get enough cheese. I love it and highly recommend it if you have some spare time.
There are many other side dishes that you can have with soup. If you have a perfect side to have with this recipe, be sure to let us know.
Dessert to have Afterwards
A dessert that I love to make to have after this soup is an apple and rhubarb crisp. It's the perfect comfort food to have after a meal like this soup. However, you will need to use two slow cookers to be able to make both at the same time.
As with any soup, this makes for a great lunch or dinner the next day. So, if you end up with any leftovers, make sure you keep them in the fridge. It should last a couple of days before needing to be thrown out.
To see how to make this delicious broccoli cheese soup, be sure to check out the video below. Alternatively, there is a full written recipe to follow underneath the video.
Slow Cooker Broccoli Cheese Soup Recipe
Ingredients
1 onion, diced
2 tsp garlic, crushed
750 g (1.7 lb) broccoli florets, chopped
1 l (1.1 qt) chicken stock
250 ml (8.5 fl oz) cream
120 g (4.2 oz) cream cheese
2 cups cheddar cheese, shredded
Instructions
Add the onion, garlic, broccoli, and chicken stock to a slow cooker.
Cook on low for 6 hours.
Blitz the soup until smooth.
Mix in the cream cheese, and the cheddar cheese. Stir until melted.
Gently pour in the cream and stir until combined.
Season to taste with salt and pepper.
Cook on high for 30 minutes or until hot.
Serve & Enjoy
Recipe Tips
You can also make broccoli cheese soup over the stove if you're running low on time. I prefer using the slow cooker as it tastes so much better.
Both fresh and frozen broccoli will work fine in this soup. If it's available fresh at a reasonable price, then I recommend using that.
The chicken stock can be swapped for something else, such as vegetable stock or water.
You can leave this soup chunky, but you may need to thicken it slightly using some cornstarch.
Note: I use a 5.5L (6 Quart) slow cooker for all the recipes that I have on this website unless specified. If you have a smaller or larger slow cooker, then you might need to adjust the ingredients.
Nutrition Information
Serving Size: 303g (10.7 oz)
Servings Per Recipe: 8
Calories Per Serving: 303
Amount Per Serving
Saturated Fat: 12.4g
Trans Fat: 0.3g
Dietary Fiber: 3g
Sugars: 6g
Cholesterol: 67mg
Sodium: 463mg
Protein: 15g
The information above is an estimate generated by an online nutrition calculator.
More Recipes
If you're looking for more creamy or cheesy soups, then be sure to check out the tasty potato soup. It's a soup that I found myself having seconds.
The beef and broccoli recipe is certainly worth trying if you have some broccoli that needs using. The beef cooks to be tender, and the broccoli has that perfect crunch. It's a must-try recipe.
In my opinion, this is the best slow cooker broccoli cheese soup recipe, but I am a little biased. If you have some feedback, tips or anything else, then please don't hesitate to leave a comment below.