If you love the flavors of cauliflower, then you have got to try this slow cooker cauliflower cheese soup. It's flavorsome, cheesy, and incredibly addictive.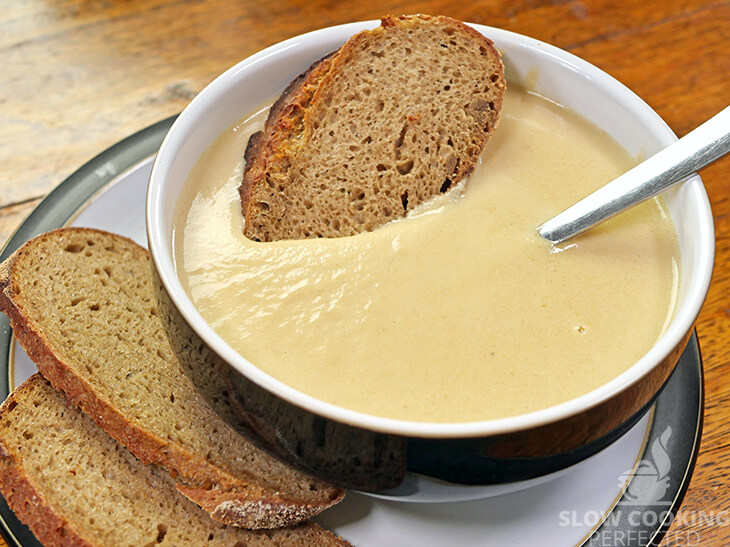 By the end of cooking, you will have a deliciously smooth soup that's packed with wonderful flavors from the mustard, cream, cheddar cheese, and of course, the cauliflower.
This soup is great all year round, but it's particularly delicious in wintertime. It's the perfect comfort food for when you just want to sit back and relax. I highly recommend giving it a try.
Tweaking the Soup Recipe
As with any recipe, there are hundreds of different tweaks that you can make to this soup. I will go through just a couple of suggestions that I have come across.
There is no such thing as too much cheese, so if you feel like just going all out with the cheese, then feel free to add more. I often like to add a bit of cream cheese into the soup as it helps make it silky smooth. Blue cheese is also perfect if you want to add a ton of more flavor.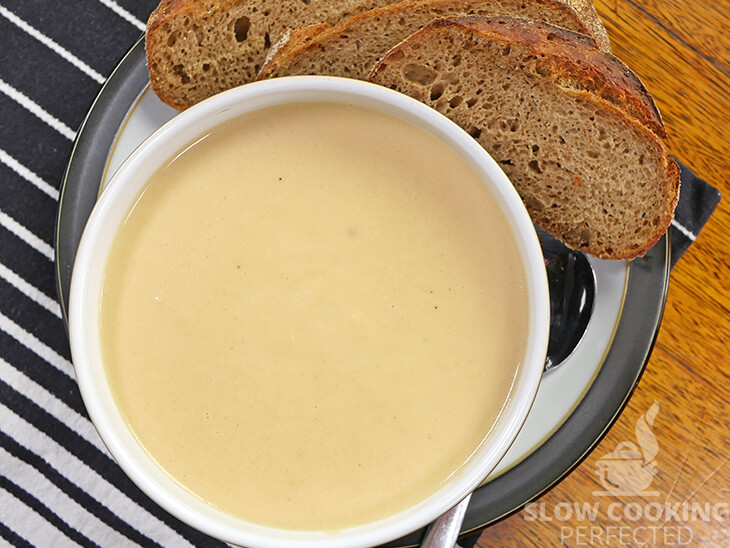 Bacon and cheese are the perfect match, so some crispy bacon is the perfect addition to this soup. Simply add roughly a quarter of a cup of crispy bits of bacon to the soup after you have pureed it. The amount of flavor it adds is amazing and fantastic if you love bacon.
There are more flavorings that you can add to the soup, such as thyme, nutmeg, chives, or even cayenne pepper. Feel free to experiment a little to get the best recipe.
Of course, these are just a couple of changes that you can make. If you come across a tweak that you think elevates this dish, then don't be afraid to share it with us in the comments section.
Feeding a Crowd with a Soup
Soups are perfect for feeding a crowd as you can easily make large quantities without much extra effort. A few extra side dishes also help a lot.
I got roughly six servings out of a single batch of this recipe, but you can easily double or triple the recipe if you need to feed a lot of people. Keep in mind that you might need a bigger slow cooker.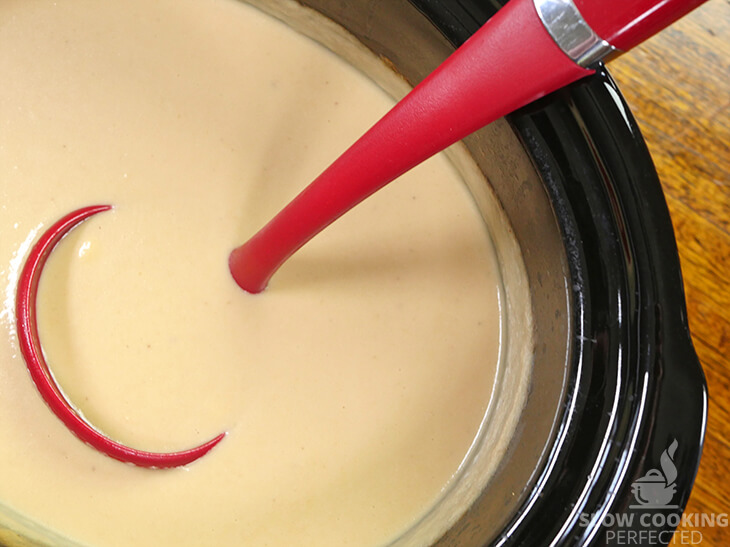 Just like the broccoli cheese soup, I love dipping some puff pastry cheese sticks into this soup. It's absolutely delicious and perfect if you can never get enough cheese.
If you're time-limited, then some fresh white bread is perfect for dipping into the soup. I absolutely love doing this and is pretty addictive.
There are dozens of more sides that can help you feed a crowd, so if you have any suggestions, be sure to let us know.
Leftovers & Dessert
Leftover soup is always great for lunch or dinner the next day. Simply keep it in the fridge until required. It should last at least three days in the refrigerator.
Alternatively, you can freeze the leftovers and eat them later. The soup should last at least three months stored in the freezer.
Lastly, a dessert that I think goes perfectly after this delicious cauliflower soup is an apple cobbler cooked in a slow cooker. It's a little different, but undoubtedly delicious.
Right below is the recipe on how to make this excellent cauliflower cheese soup in the slow cooker. There is also a super handy video that takes you through all the steps to making this delicious soup.
Slow Cooker Cauliflower Cheese Soup Recipe
Adblock removing the video? Support us by going ad-free or whitelist us in your ad-blocker.
Ingredients
1 onion, chopped
2 tsp garlic, crushed
2 tsp Dijon mustard
750 g (1.7 lb) cauliflower florets, chopped
1 l (1.1 qt) chicken stock
250 ml (8.5 fl oz) cream
500 g (1.1 lb) cheddar cheese, shredded
Instructions
In a slow cooker, add the onion, garlic, mustard, cauliflower, and chicken stock.
Cook on low for 6 hours.
Puree the soup using a food processor or stick blender.
Once smooth, add the cheese and stir until melted.
Stir in the cream.
Season to taste using salt and pepper.
Cook on high for 30 minutes or until the soup is hot.
Serve & Enjoy.
Recipe Tips
Much like most recipes for the slow cooker, you can also make this over the stove. Perfect if you want to try this recipe but running low on time.
You can easily replace the type of stock that I use in this recipe. For example, vegetable or beef stock are both excellent alternatives.
If you like your soups chunky, then you can skip on blitzing the soup or just blitz it slightly. You may need to thicken it using a mixture of cornstarch and water.
You can use either fresh or frozen cauliflower and still get a great result. I highly recommend fresh if you're able to buy it locally.
Note: I use a 5.5L (6 Quart) slow cooker for all the recipes that I have on this website unless specified. If you have a smaller or larger slow cooker, then you might need to adjust the ingredients.
Nutrition Information
Serving Size: 439g (15.5 oz)
Servings Per Recipe: 6
Calories Per Serving: 522
Saturated Fat: 22g
Trans Fat: 1g
Dietary Fiber: 3g
Sugars: 8g
Cholesterol: 118mg
Sodium: 834mg
Protein: 28g
The information above is an estimate generated by an online nutrition calculator.
More Delicious Soup Recipes
The slow cooker is perfect for making soups, so it isn't a surprise that there are so many that you're able to make. Below I go through a couple of my absolute favorites that I highly recommend that you try.
Another cheesy soup that I reckon you will like is the broccoli and cheese soup. It's very similar to this soup but focuses on having the broccoli as the star ingredient.
For something a little healthier, the vegetable chicken soup is one that you need to try. It features a delicious range of vegetables, shredded chicken, and a flavor-packed chicken broth. It's certainly a must-try if you love soups.
That's all I have to say about this slow cooker cauliflower cheese soup, but I would love to hear what you have to say. So, if you do have some thoughts, feedback, or anything else, then please don't hesitate to leave a comment.