This slow cooker parsnip and blue cheese soup is an incredible combination of flavors.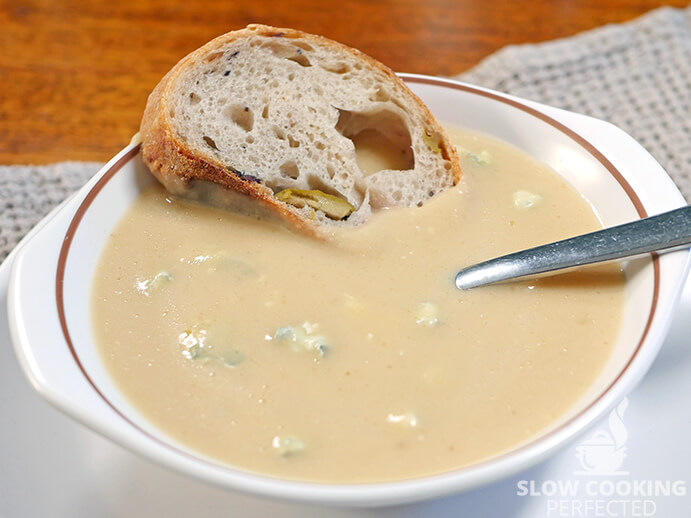 This soup is incredibly flavor-packed thanks to the delicious combination of ingredients. It has a strong flavor of parsnip and a subtle hint of blue cheese. However, the strength of the blue cheese can heavily depend on the type you buy.
Blue cheese is quite a strong-flavored cheese, so I only recommend making this soup if you're a fan of blue cheese. Otherwise, you can swap the blue cheese for a different cheese or just not make the soup at all.
Feeding a Crowd
A slow cooker soup is an excellent way of feeding a crowd as you can make large batches very easily.
A single batch of this recipe should be enough to feed about six to eight people. However, you can easily double or triple the recipe to feed even more. Just make sure your slow cooker is large enough.
Another way to feed more people without adjusting the amount of soup you make is to do some side dishes. I have some great suggestions on what you can do below.
Sides to go with this Blue Cheese and Parsnip Soup
As with any soup, there is plenty of side dishes that go great with it. I will quickly list some of my favorites.
Sliced bread is excellent accompaniment to have with a bowl of soup. I love to dip the bread into the soup and soak up all those lovely flavors. I highly recommend that you give it a go.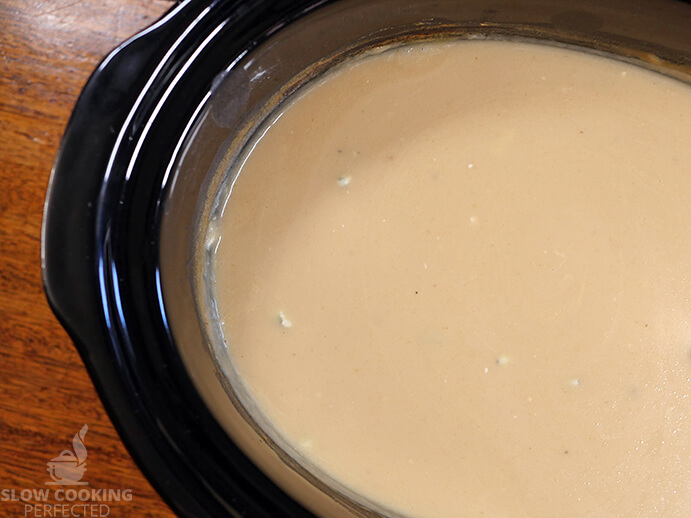 There are dozens of different types of salad that goes great as a side dish to a bowl of soup. I haven't got any personal suggestions for this soup, but I am sure any salad will work nicely.
For something a little more substantial, baked baby potatoes will work well on the side. However, I recommend something a little lighter as this is a fulfilling soup.
If you have any suggestions on sides to go with soup, then I will be thrilled to hear them. Simply leave us a comment at the bottom of this page.
Tweaks Worth Trying
There are some adjustments that you can make to this soup to make it more to your liking. I will just go through some of my top tweaks that you can do.
To make the soup extra cheesy, you can add a cup of shredded cheddar cheese or your favorite cheese. It's the perfect tweak if you're a huge fan of incredibly cheesy soups.
Feel free to add more vegetables for a bit of extra flavor. For example, carrots and celery would be an excellent addition, just be prepared for a slightly different color and taste.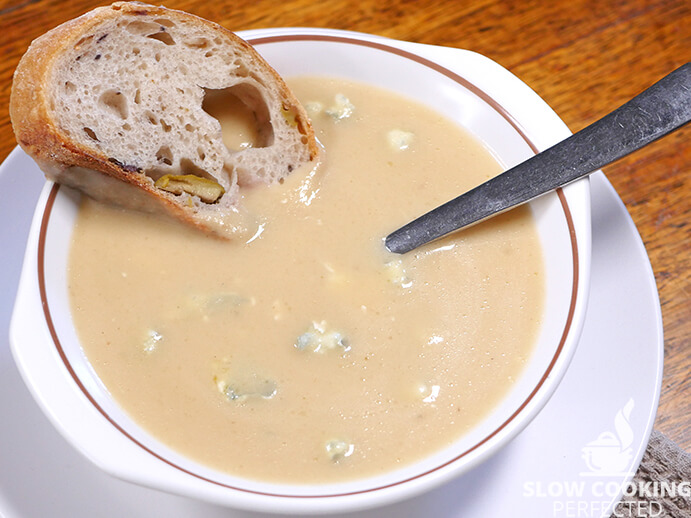 Some wine can be added to the recipe as well, and the best type to use for this soup is dry white wine. Simply add a splash at the same time you add the chicken stock.
There are lots more changes that you can make to the recipe. The suggestions above are changes people have made to the soup and recommend to me. I think the soup is perfect as is so don't feel the need to change it.
Right below is the video that will take you through all the steps of making this parsnip and blue cheese soup in the slow cooker. Immediately beneath the video is the written recipe.
Slow Cooker Parsnip and Blue Cheese Soup Recipe
Ingredients
1 onion, diced
4 parsnips, peeled and cubed
2 potatoes, peeled and cubed
1 bay leaf
2 l (2.1 qt) chicken stock
250 ml (8.5 fl oz) heavy cream
125 g (4.4 oz) blue cheese, crumbled
Thickener
2 Tbsp water
2 Tbsp cornstarch
Instructions
In a slow cooker, add the onion, parsnips, potatoes, bay leaf, and chicken stock.
Cook on low for 8 hours.
Remove the bay leaf.
Blitz the soup until smooth.
In a bowl, combine the water, cornstarch and mix until smooth.
Add the cream and the cornstarch mixture into the soup and stir.
Cook on high for 30 minutes or until hot and thickened.
Stir in the crumbled blue cheese.
Season to taste.
Serve & Enjoy.
Recipe Tips
The brand of blue cheese that you use can profoundly impact the outcome of this soup. Too mild and it will not have enough flavor and too strong may make it have an unbearable taste of blue cheese. It's best to pick the brand that you know and love.
You might not need to add the cornstarch and water mixture if you're finding the soup is already thick enough.
Be careful when seasoning the soup as the blue cheese might make it salty. So, taste before you go to season the soup to ensure that you don't add too much salt.
To make this dish vegetarian-friendly use vegetable stock instead.
Heavy cream is also known as thickened cream in some countries, such as Australia.
Note: I use a 5.5L (6 Quart) slow cooker for all the recipes that I have on this website unless specified. If you have a smaller or larger slow cooker, then you might need to adjust the ingredients.
Nutrition Information
Serving Size: 487g (1.1 lb)
Servings Per Recipe: 8
Calories Per Serving: 389
Amount Per Serving
Saturated Fat: 11.1g
Trans Fat: 0g
Dietary Fiber: 5g
Sugars: 10g
Cholesterol: 63mg
Sodium: 586mg
Protein: 13g
The information above is an estimate generated by an online nutrition calculator.
More Soups Worth Trying
There are so many more different soups that you can make in the slow cooker. I will go through just a couple that I highly recommend that you try.
If you love cheesy soups, then you have got to try the broccoli cheese soup. It's super easy and perfect for the slow cooker. It's fantastic comfort food that I love all year round.
A creamy corn chowder is another soup that you need to try. It's a chowder, so it's loaded with chunks of potato, bacon, carrot and of course corn kernels. Again, I highly recommend that you give this a try.
I really hope that you like this slow cooker parsnip and blue cheese soup as much as I do. If you have some feedback, then please don't hesitate to leave a comment below.