This incredible slow cooker corn chowder is the perfect comfort food that you can easily prepare and have cooking in no time at all.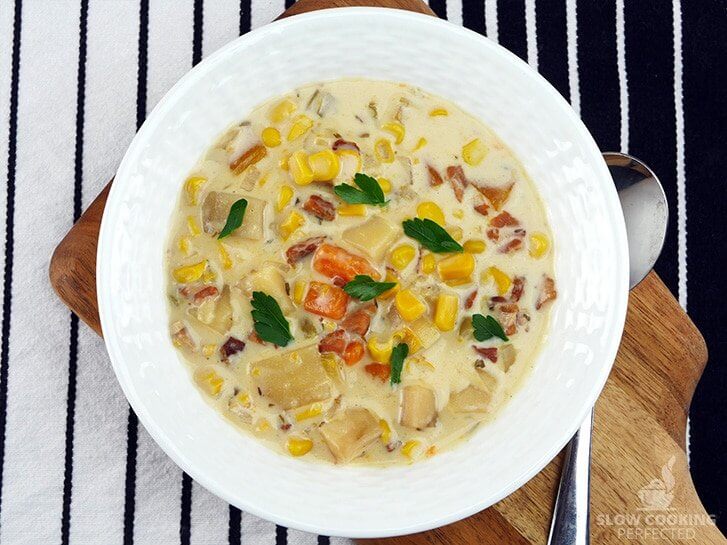 This dish cooks to be creamy and packed full of flavor. The crispy bits of bacon, corn kernels, herbs, and most of the vegetables will add a ton of flavor. The potatoes help bulk out the dish, so you can feed quite a few people.
A single batch of this chowder should be enough to feed roughly eight people. I recommend making some side dishes to ensure that everyone is as full as possible. Alternatively, you can easily double or triple the recipe.
The chowder will reheat nicely, so make sure you keep the leftovers. It is perfect for lunch the next day, and all you need to do is reheat in either a microwave or over the stove. Just make sure you store in the fridge as it contains ingredients that will spoil.
Perfecting the Recipe
You can swap the evaporated milk for something like cream for a much creamier chowder. Of course, this will make it slightly unhealthier but so much more delicious.
There are a few different types of potatoes that you can use for this chowder. For the best results, I recommend a white or yellow variety, but you can also try sweet potato instead.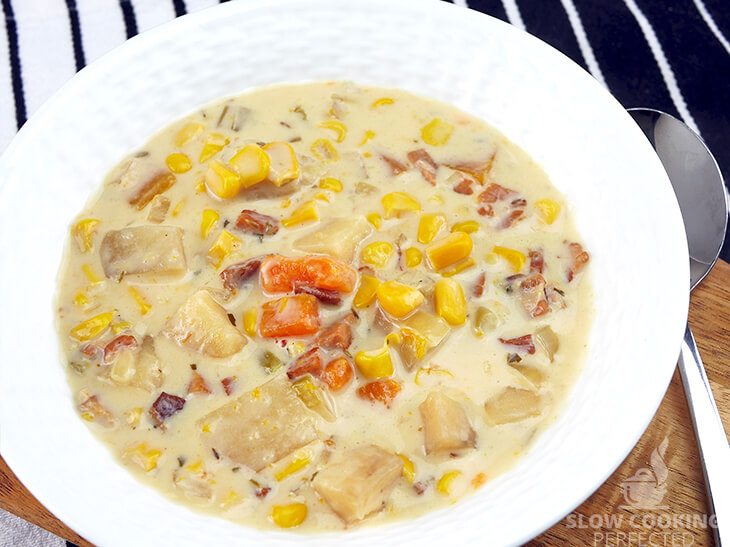 The cornstarch can be left out if you do not mind your chowder being a little runny. However, for the best result, I recommend that you add it or use a different method of thickening the liquid.
You can add the bacon in raw, but for the best result, I would fry it first. Frying the bacon will ensure that you get lovely crispy bits of bacon in the chowder.
What to Serve with this Corn Chowder
Corn chowder is just like any soup and is perfect on its own and does not need any extra side dishes. However, if you are looking for something to go with it, then below are a couple of suggestions.
A good loaf of fresh bread is perfect to go with this chowder. Spread the bread with some butter and dip into the chowder for a combination that tastes truly-amazing.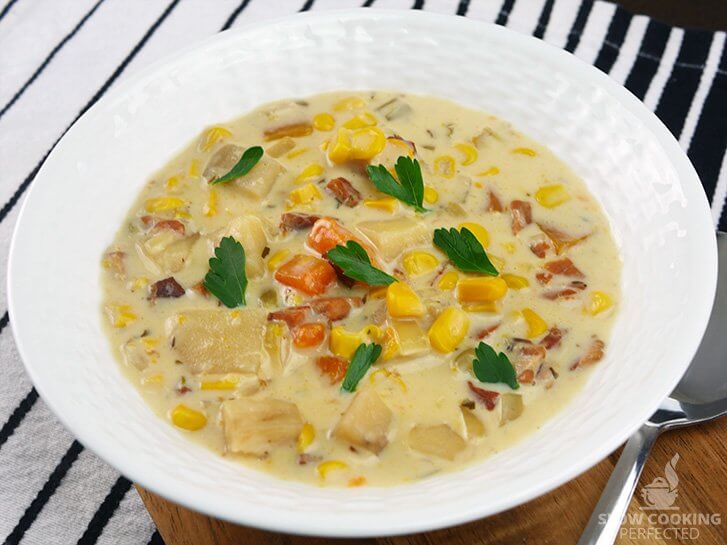 To go one step further, you can bake a homemade cornbread to go with this delicious dish. It requires a little bit of extra time in the kitchen, but I think it is worth every minute.
Check out the video below to see how to make this corn chowder in the slow cooker. It is short, snappy, and straight to the point, so it will not take up too much of your time. Alternatively, there is a full written recipe underneath the video.
Slow Cooker Corn Chowder Recipe
Ingredients
500 g (1.1 lb) potatoes, peeled and cubed
2 onions, chopped
2 carrots, diced
3 stalks celery, diced
2 tsp garlic, crushed
500 g (1.1 lb) diced ham or crispy bacon
500 g (1.1 lb) corn kernels
1 tsp parsley
1 tsp thyme
500 ml (16.9 fl oz) chicken stock
500 ml (16.9 fl oz) evaporated milk
Thickener
Instructions
In a slow cooker, add the potatoes, onions, carrots, celery, garlic, ham, corn kernels, parsley, thyme, and the chicken stock.
Cook on low for 6-8 hours or until the potatoes are tender.
In a separate bowl, mix 2 Tbsp of the evaporated milk with the cornstarch.
Mix the cornstarch into the slow cooker. Once mixed in, stir in the rest of the evaporated milk.
Cook for a further 15-30 minutes until heated and slightly thickened.
Season to taste with salt and pepper.
Serve & Enjoy
Recipe Tips
It is important not to add the evaporated milk at the start of cooking as dairy sometimes curdles after being heated for a long time.
You can cook this dish on high for three to four hours if you need it faster.
Note: I use a 5.5L (6 Quart) slow cooker for all the recipes that I have on this website unless specified. If you have a smaller or larger slow cooker, then you might need to adjust the ingredients.
Nutrition Information
Serving Size: 364g (12.8 oz)
Servings Per Recipe: 8
Calories Per Serving: 239
Amount Per Serving
Saturated Fat: 0.7g
Trans Fat: 0g
Dietary Fiber: 4g
Sugars: 11g
Cholesterol: 28mg
Sodium: 1233mg
Protein: 20g
The information above is an estimate generated by an online nutrition calculator.
More Slow Cooker Recipes
Below are some slow cooker recipes that I highly recommend checking out.
There are so many other types of soups that you can do in the slow cooker. For example, one of my all-time favorites is spiced pumpkin soup, and it is the perfect soup for both the summer and winter.
If you are not feeling like eating some chowder, something like flavor-packed creamed corn might take your fancy. It is delicious comfort food that is just packed full of flavor and worth making if you have the free time.
I hope that you do enjoy this slow cooker corn chowder recipe. If you have a variation that makes this even better, please do not hesitate to let me know by leaving a comment. Any other feedback is also much appreciated.