A slow cooker pumpkin soup is perfect for a healthier dinner that you can prepare and get cooking ahead of time.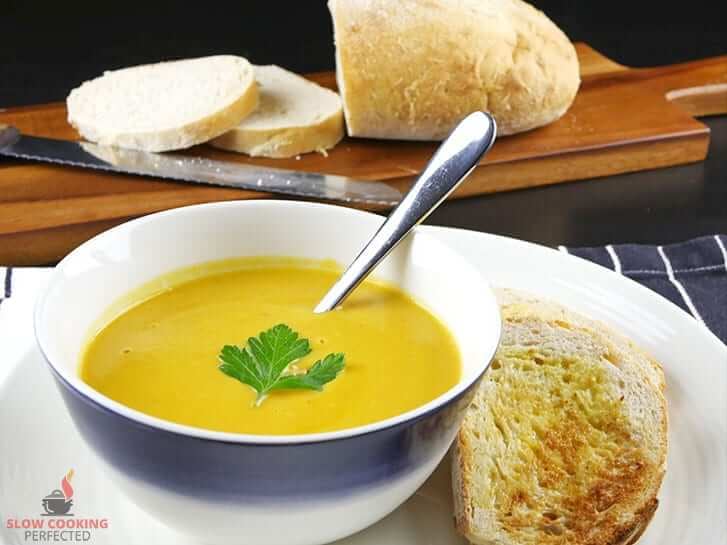 This creamy soup is loaded with all the flavors that you expect in a good pumpkin soup. It features a blend of onion, garlic, carrots, pumpkin, cream, and a few spices. I absolutely love it and recommend it.
You should be able to feed roughly eight people from a single batch of this soup. You may need to double the recipe if you need to feed more. Just make sure you will be able to fit it all into your slow cooker.
Soups are one of my favorite types of meals as you will usually have leftovers. The leftovers are great for an easy lunch the next day.
Make sure you keep any leftovers in an airtight container in the refrigerator or freezer. This soup will last about three to four days stored in the fridge, and if you want it to last longer, I recommend freezing it.
Perfecting the Recipe
I recommend using a stick blender to make your life a lot easier when it comes to making soups in either a slow cooker or crockpot. Using a stick blender means you can blitz the soup without needing to remove it from the device. It is less clean-up, which is always a good thing.
The type of pumpkin you use for this soup is not hugely important. Still, for the best flavors, I highly recommend butternut pumpkin. Depending on where you live, butternut pumpkins may not be cheap or even available, so alternatives might be the only option.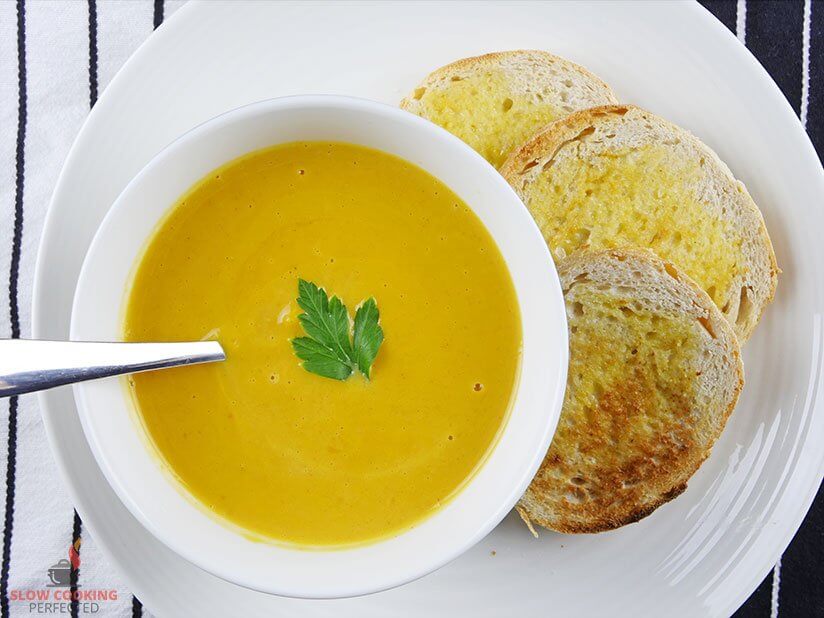 If you do not have any fresh chicken or vegetable stock, then the powders or cartons that you can buy from the supermarket are just as good. I would avoid using water instead of stock as you will miss out on quite a bit of flavor.
You can use potato instead of carrot if you do not like the flavors of the carrot. Potato is also a great way to bulk out a soup without overpowering it with additional flavors.
What to Serve with Pumpkin Soup
There are a ton of side dishes that go well with pumpkin soup, but for me, nothing beats a nice fresh loaf of bread. Sliced, buttered, and dipped into the soup is the best way to have it.
I love to make homemade croutons and sprinkle them over the top of the soup. They are perfect for soaking up all those delicious flavors and adding a bit of crunch to the soup.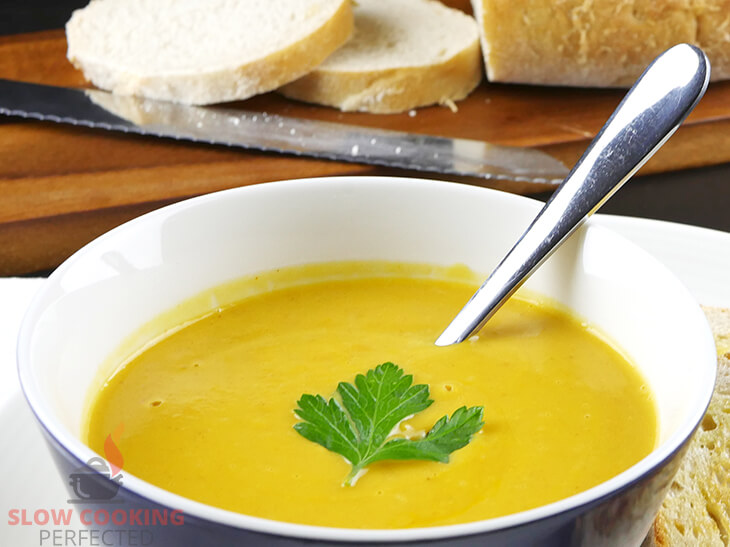 If you love bacon, I recommend adding some sliced crispy bacon after you blitz the soup. Not only will it add some flavor but will also add some crunchy bits to the soup.
The video below will take you through all the steps on how to make pumpkin soup in the slow cooker. It is short, snappy, and straight to the point so you can quickly see if this soup is for you or not.
Slow Cooker Pumpkin Soup Recipe
Ingredients
1 onion, chopped
1 tsp garlic, crushed
2 carrots, cubed
6-7 cups pumpkin, cubed
1 tsp cumin, ground
1 tsp paprika
3 cups chicken stock
1 cup cream
Instructions
Add the onion, garlic, carrot, pumpkin, cumin, paprika, and the chicken stock to the slow cooker.
Cook on low for 6 hours or until the vegetables are tender.
Using a stick blender, blitz until smooth.
Add the cream. Season with salt and pepper.
Cook for 30 minutes to allow for the soup to heat.
Serve & Enjoy.
Recipe Tips
I used butternut pumpkin for this recipe, but basically, any type of pumpkin will work just fine.
You can easily double this recipe if you need to, just make sure your slow cooker is big enough to hold it all.
The cream is optional, and you certainly do not need to add it if you are avoiding dairy. It will make the soup slightly healthier by leaving it out, but it will be less creamy.
You may find you will need to thin the soup slightly with some chicken stock if you are not adding the cream.
Note: I use a 5.5L (6 Quart) slow cooker for all the recipes that I have on this website unless specified. If you have a smaller or larger slow cooker, then you might need to adjust the ingredients.
Nutrition Information
Serving Size: 343g (12.1 oz)
Servings Per Recipe: 8
Calories Per Serving: 110
Saturated Fat: 1.4g
Trans Fat: 0g
Total Carbohydrate: 21.7g
Dietary Fiber: 7g
Sugars: 9.3g
Cholesterol: 6mg
Sodium: 319mg
Protein: 3.2g
The information above is an estimate generated by an online nutrition calculator.
More Slow Cooker Recipes
If you do not feel like eating pumpkin soup, then there is a ton of other slow cooker recipes that you can make.
One delicious meal that you need to try is the Hungarian inspired goulash. It is a rich tomato stew with tender pieces of beef, certainly worth checking out.
A soup that I reckon you will love is the slow-cooked carrot soup. It is the perfect soup to have for when you want something healthy and tasty. I highly recommend giving it a try.
I hope that you enjoy slow cooker pumpkin soup as much as I did. If you have some feedback or an amazing variation that you want to share, then please do not hesitate to leave a comment below.