This slow cooker sweet potato soup is perfect as a delicious nutritious meal. It has loads of flavor and is super easy to prepare.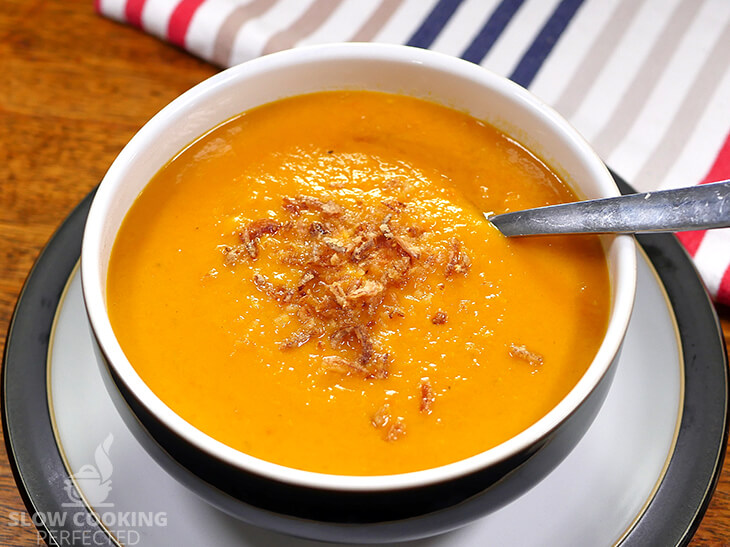 If you love the flavors of sweet potato, then you are going to love this soup. Apart from the sweet potato, there are slight hints of cumin and coconut cream in the soup. It is a delicious combination that will have you going back for seconds or thirds.
Without adjusting this soup recipe, you should be able to feed roughly six to eight people. I recommend making some extra side dishes to go along with the soup if you plan on eating it as a meal. You can easily double or triple the recipe if you need to feed a crowd.
Any leftover soup will be great for lunch or dinner the next day. Storing the soup in the fridge should make it last for three days. Alternatively, the soup can be frozen and kept for up to three months.
Serving Ideas for Sweet Potato Soup
There are loads of side dishes that will work nicely with the flavors of this soup. Below are just a couple of my favorite choices.
My favorite side dish to have with any type of soup is some fresh bread. I love to dip the bread into the soup and soak up all those delicious flavors. It is also a great way to feed more people without having to make more soup.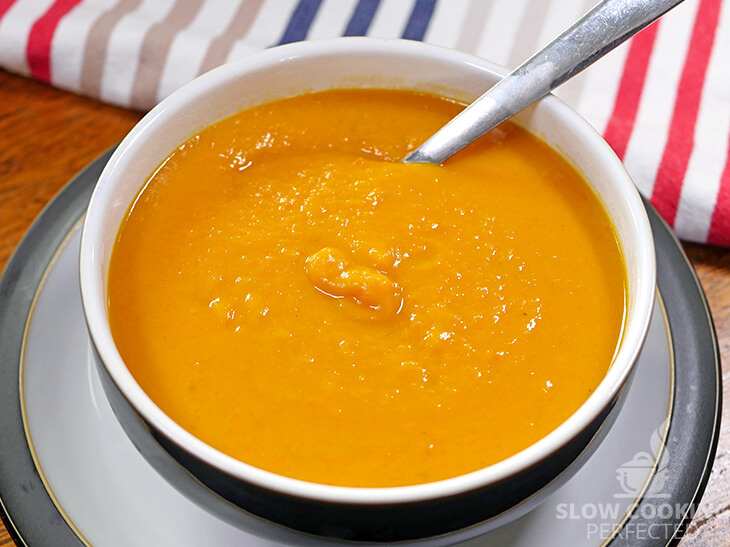 Some croutons will work very nicely scattered over the top of the soup. You will need to make these from scratch or buy them from the supermarket. They are a great way of adding a little bit of crunch to the soup.
If you love meat in your soups, then feel free to add some. I love adding some crispy bits of bacon to the soup. However, shredded chicken, pulled pork, or even pulled beef will work very nicely with the soup's flavors. I recommend adding the meat after you have blended the soup.
Perfecting the Soup
To make your life easy, I recommend using a stick blender to blend the soup. Using a stick blender allows you to blend the soup in the slow cooker without pouring it out. It also means a lot less clean up as you do not need to clean another large kitchen appliance.
I recommend using chicken stock, but other stocks such as vegetable or beef will work fine. Avoid using water as you will miss out on quite a bit of flavor. Powdered stocks are an excellent alternative if you do not have anything fresh around.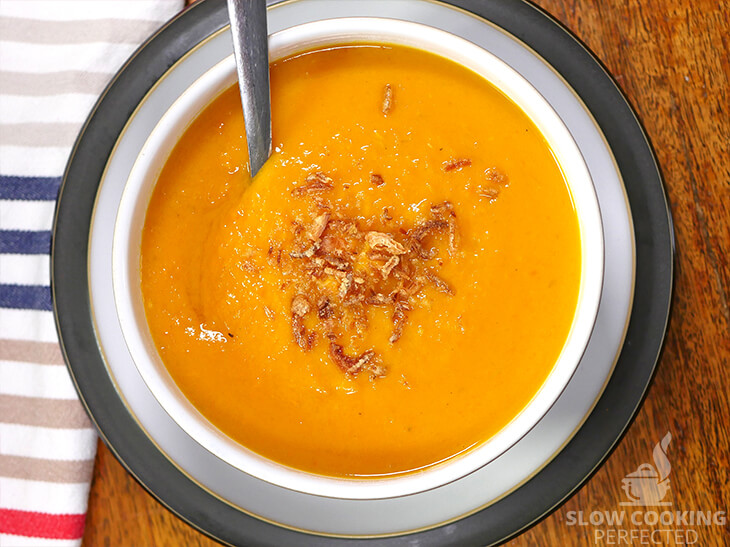 The carrot can be replaced with white potatoes if you want to reduce the number of additional flavors in the soup. One large potato should be more than enough.
More spices can be added into the soup, but be careful you do not overpower the sweet potato. Spices like nutmeg, cinnamon, cloves, or even cayenne pepper will work very nicely with the soup's flavors.
The video below will take you through all the steps to making a sweet potato soup in the slow cooker. If you prefer written recipes, then you can find one below the video.
Slow Cooker Sweet Potato Soup Recipe
Ingredients
1.5 kg (3.3 lb) sweet potatoes, peeled and cubed
1 onion, chopped
2 tsp garlic, crushed
2 carrots, chopped
2 celery stalks, chopped
1 tsp cumin ground
750 ml (25.4 fl oz) chicken stock
250 ml (8.5 fl oz) coconut cream
Instructions
Place the sweet potatoes, onion, garlic, carrots, celery, cumin, and chicken stock into the slow cooker.
Cook on low for 6-8 hours or until the sweet potatoes are tender.
Using a blender, blend the soup until it is smooth.
Stir in the coconut cream.
Season with salt and pepper.
Cook on high for 30 minutes or until the soup is hot.
Serve & Enjoy.
Recipe Tips
Do not stress about cutting the vegetables accurately as we will be blending the soup.
Heating the coconut cream before adding it to the slow cooker will reduce the time it takes for the soup to reheat.
If you are not a fan of coconut cream, then simply swap it for regular cream instead. Either option will work fantastic with the flavors of this soup.
Note: I use a 5.5L (6 Quart) slow cooker for all the recipes that I have on this website unless specified. If you have a smaller or larger slow cooker, then you might need to adjust the ingredients.
Nutrition Information
Serving Size: 463g (1 lb)
Servings Per Recipe: 6
Calories Per Serving: 420
Amount Per Serving
Saturated Fat: 13.5g
Trans Fat: 0g
Dietary Fiber: 10g
Sugars: 14g
Cholesterol: 4mg
Sodium: 338mg
Protein: 9g
The information above is an estimate generated by an online nutrition calculator.
More Soup Recipes
I love this soup, but there are many more great soups that you can make in the slow cooker. Below are a couple of recipes that I highly recommend giving a try.
The cheeseburger soup is a little on the unhealthy side but is one of the most delicious soups I have tried. It has loads of ground beef, cheese, mustard, and vegetables. If you are after comfort food, then this is a soup that you need to try.
I have got to recommend the delicious pumpkin soup. It is the perfect winter soup and will easily feed a crowd. The soup features flavors from butternut pumpkin, spices, and a few extra vegetables.
This slow cooker sweet potato soup is one of my favorites, and I hope that you like it. If you have some feedback, then please do not hesitate to leave a comment below.