These slow cooker baked sweet potatoes cook to be absolutely perfect. They are great on their own, but are even better with a delicious topping.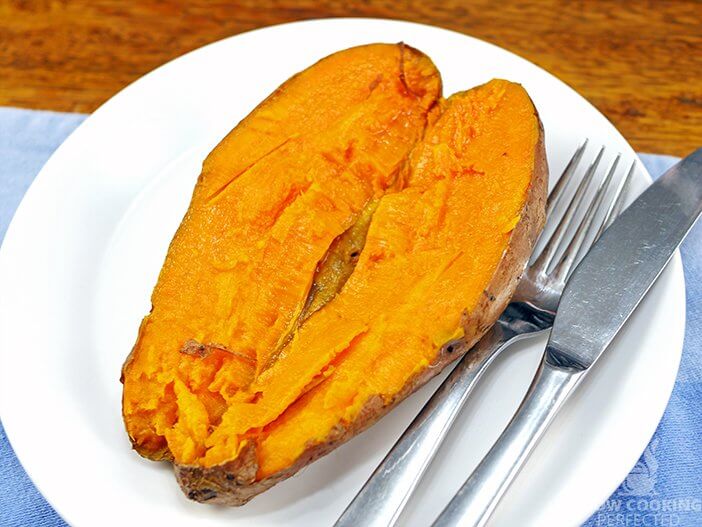 The slow cooker is the ideal way to get some potatoes cooking early in the day so that they are ready for when you get home. When you pull them out of the slow cooker, they should be crispy on the outside but incredibly tender on the inside. They are an absolute treat.
This recipe asks for four sweet potatoes, which should be enough to feed four people. If you need to feed more, then you can easily add more to the slow cooker. It should be able to handle as many as you can fit.
Any leftover baked sweet potato can be heated again and still be delicious. So, make sure you keep any leftovers stored covered in the refrigerator. When you are ready, heat the leftovers in either the microwave or a nice hot oven.
Baked Sweet Potato Toppings
There is a ton of toppings that you can have with these potatoes. Below are a couple of my favorites
I love to serve these potatoes topped with some shredded buffalo chicken, cheddar cheese, and a dollop of sour cream. I recommend having two slow cookers to cook the chicken and the sweet potatoes at the same time.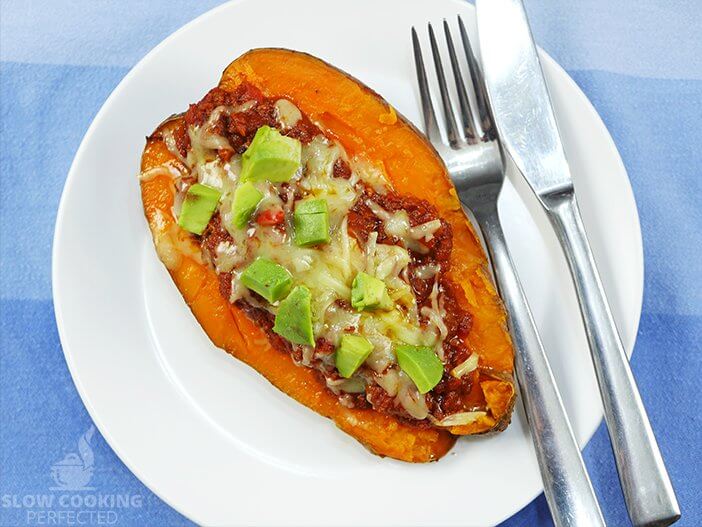 The topping in the photos is some slow cooker chili topped with shredded cheddar cheese and avocado. It is a delicious combination, and I highly recommend giving it a try.
One last combination that I have to recommend is some delicious slow-cooked pulled pork, red onion, BBQ sauce, and a generous amount of cheese. It is one of my favorite topping combinations.
If you have a topping combination that you love, then be sure to share it by leaving a comment at the bottom of this page.
Perfecting the Recipe
To make these sweet potatoes paleo-friendly, simply make sure the oil is one of the following; olive oil, coconut oil, lard, bacon fat, or something similar. Using something like bacon fat will add even more flavor to the sweet potatoes.
You can use foil if you prefer, but the potatoes will cook without issue if you decide not to use any. The sweet potatoes were evenly tender all the way through after eight hours of cooking with no foil.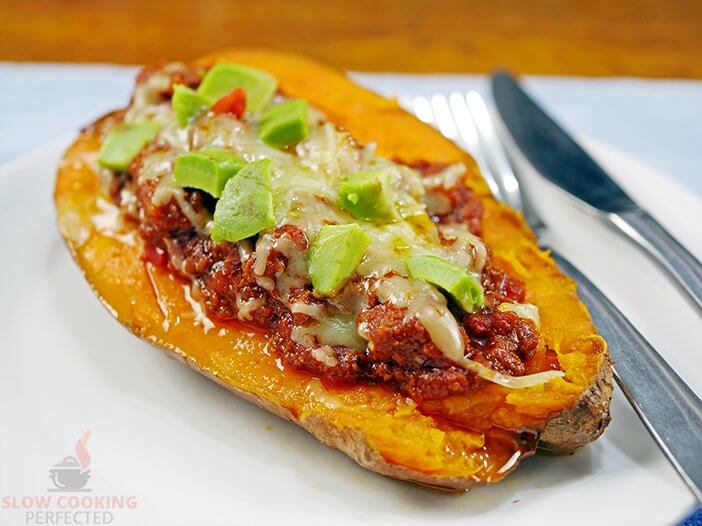 It is hard to overcook your food if you have the slow cooker on low. So, do not stress if the sweet potatoes are a bit small and you want to cook for the full eight hours.
The slow cooker is perfect if you need to cook baked sweet potatoes in bulk. However, you may want to move them around half-way through the cooking process to ensure that they will be cooked evenly.
This recipe is incredibly easy to make. The video below will show you how to bake sweet potatoes in the slow cooker. Alternatively, there is a full written recipe right under the video.
Slow Cooker Baked Sweet Potatoes Recipe
Ingredients
4 medium sweet potatoes, scrubbed and dried
1 Tbsp olive oil
Salt
Instructions
Prick the sweet potatoes all over with a fork or skewer.
Lightly rub in oil and season with salt.
Place the sweet potatoes into the  slow cooker.
Cook on low for 8 hours.
Serve & Enjoy.
Recipe Tips
The size of the sweet potato can heavily impact the cooking time. If you have very large sweet potatoes, then they might take longer to cook. You can cut them into smaller sizes to help them cook faster.
You can try using different variations of salt for different flavors. The same can be said with the oil, for example, you can try using bacon fat, or something similar.
Note: I use a 5.5L (6 Quart) slow cooker for all the recipes that I have on this website unless specified. If you have a smaller or larger slow cooker, then you might need to adjust the ingredients.
Nutrition Information
Serving Size: 117g (4.1 oz)
Servings Per Recipe: 4
Calories Per Serving: 132
Amount Per Serving
Saturated Fat: 0.5g
Trans Fat: 0g
Dietary Fiber: 4g
Sugars: 7g
Cholesterol: 0mg
Sodium: 41mg
Protein: 2g
The information above is an estimate generated by an online nutrition calculator.
More Slow Cooker Potato Recipes
Below are some delicious potato dishes that you can cook in the slow cooker.
If you like these sweet potatoes, you might also like the regular baked potatoes in the slow cooker. They are prepared pretty much the same way and taste absolutely amazing. Totally worth it if you just love baked potatoes.
Another potato dish that is worth checking out is the herby baby potatoes. These potatoes cook in an herb mixture for a few hours. The result is absolutely delicious.
I love sweet potato, and it cooks well in the slow cooker. If you agree, then you might also like the mashed sweet potato that you can do in the slow cooker. It is super easy and perfect if you need to cook in bulk.
I hope that the slow cooker baked sweet potatoes cook to be as great as they did for me. If you have tips, variations, or anything else that you would like to mention, then please leave a comment below.