This easy slow cooker chili is the perfect dish for anyone who wants a nice meal that has a bit of heat to it. It is also the perfect dinner dish if you need to feed a crowd.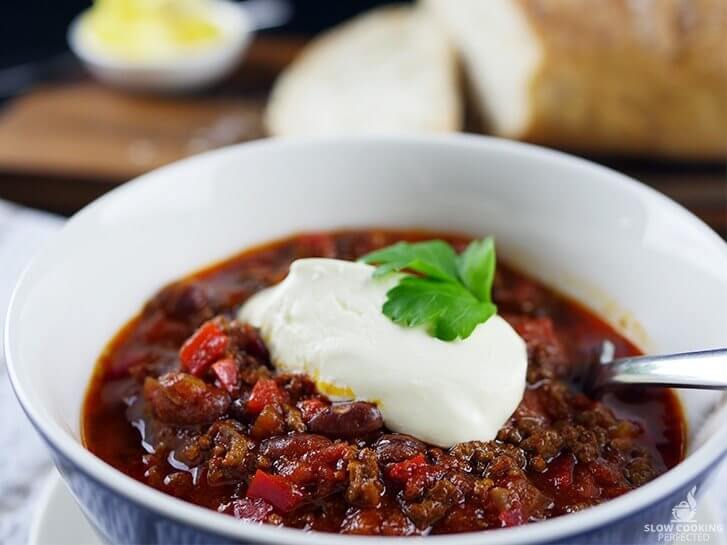 By the time this chili is ready to eat it will have a lovely deep red color and have an aroma that makes your belly grumble. When you take your first bite, you should be greeted with a fantastic range of flavors and a slight hint of chili.
As you probably already know a good chili always goes amazing with some sour cream on top. Another thing I also love to have with my chili is some fresh bread which is usually some fantastic Turkish bread from the local bakery.
This dish is excellent for feeding a crowd, a single batch will feed roughly eight people, and that's without any side dishes. You can also easily double or triple this recipe if you need to.
Chili Side Dishes
There are just so many meals and delicious side dishes that chili compliments well. For example, some great sides include mashed potato, rice, garlic bread, fresh bread, and so much more.
Meals that make use of chili as the main ingredient include tasty nachos, chili cheese fries, chili con queso, and much more.
If you have a recipe that makes use of chili that you would like to share, then please don't hesitate to leave a comment at the bottom of this page.
Personalize this Chili Recipe
You're able to make a lot of changes to this recipe that will radically change the flavor profile and texture. I will just mention some ways that you can personalize this tasty chili.
Replacing the beans is one of the most popular changes to this recipe. You can either leave them out entirely or swap them for something like chunks of carrot or potato. Both will work just fine.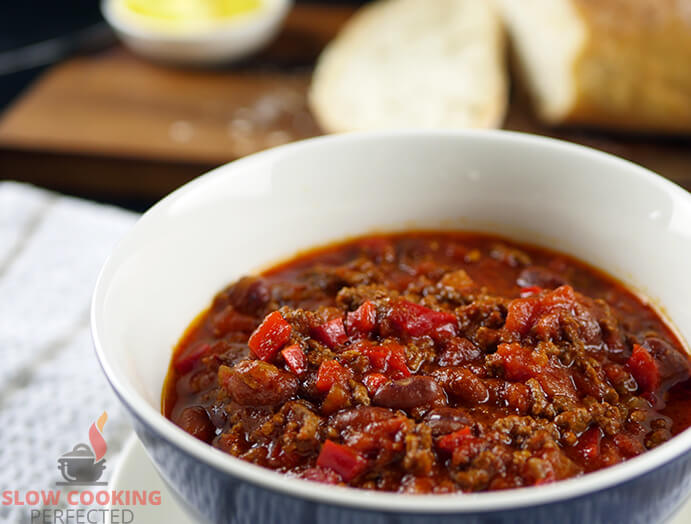 Another change that you can make is to play around with the amount and type of chili. Replacing the chili flakes with some fresh chili is a great way of changing the heat and flavor of this recipe.
For a radically different dish, you can replace the ground beef for shredded chicken instead. This change results in an incredible chicken chili that looks and tastes great.
If you have any alterations that you have made and has worked great then be sure to let us know in the comments section towards the bottom of this page.
What to do with Leftover Chili
Chili con carne is one of those awesome ground beef dishes that you can quickly reheat from either the fridge or freezer. So make sure you don't throw the leftovers out and instead store them in an airtight container.
The chili will keep for just a few days in the fridge. Otherwise, the freezer will be the best way to go. If you're looking to spice up the leftovers, then try one of the combinations mentioned above as it's well worth it.
If you want to see a quick video on how to cook this delicious chili in the slow cooker, then check out the one below. It's short, snappy and straight to the point. Alternatively, there is a full written recipe that you can follow.
Slow Cooker Chili Recipe
Ingredients
500 g (1.1 lb) ground beef
1 onion, diced
2 tsp garlic, crushed
1 red bell pepper, diced
800 g (1.8 lb) diced tomatoes
400 g (14.1 oz) can red kidney beans
2 Tbsp tomato paste
1 Tbsp sugar
1 tsp paprika
1 tsp cumin, ground
2 tsp chili flakes
Instructions
In a frying pan over high heat, fry the ground beef, garlic & onion. Once browned, drain the excess fluid (optional) & transfer to the slow cooker.
Add the red bell pepper, diced tomatoes, red kidney beans, tomato paste, sugar, paprika,  ground cumin and chili to the slow cooker.
Cook on low for 8 hours.
Season with salt and pepper.
Serve & Enjoy.
Recipe Tips
It's always good to brown the ground beef and then discard excess fluid before adding it to the slow cooker. However, if you're running low on time, there is no harm in just skipping it and throwing all the ingredients straight into the slow cooker.
The sugar helps take away the bitterness of the tomatoes, and you don't need much of it. However, if you find one tablespoon is not enough, then feel free to add a bit more.
If you're not of a fan of beans and would prefer chili without beans, then simply leave them out. If you want something to replace them with, then something like a couple of diced carrots works well.
Now, if you love things spicy, then don't be afraid to increase the amount of chili in this dish. You should find an extra couple of tablespoons of chili will get things spicy.
If you need this chili fast, then turn the slow cooker to high and only cook for 3-4 hours instead.
Note: I use a 5.5L (6 Quart) slow cooker for all the recipes that I have on this website unless specified. If you have a smaller or larger slow cooker, then you might need to adjust the ingredients.
Nutrition Information
Serving Size: 249g (8.8 oz)
Servings Per Recipe: 8
Calories Per Serving: 326
Saturated Fat: 1.6g
Trans Fat: 0g
Total Carbohydrate: 39.6g
Dietary Fiber: 9.8g
Sugars: 6.9g
Cholesterol: 56mg
Sodium: 65mg
Protein: 31.8g
The information above is an estimate generated by an online nutrition calculator.
Other Slow Cooker Recipes Worth Trying
The tasty beef goulash is another excellent stew-like dish that you should check out. After the beef has been slow-cooked for several hours, it will be amazingly tender and packed full of flavor.
The hearty meatballs in a rich tomato sauce are yet another fantastic slow cooker ground beef recipe that you should certainly give a try. This dish goes terrific with some freshly cooked pasta.
If you want to leave some feedback or have a variation on this super easy slow cooker chili that you would like to share, then please be sure to leave a comment below.