This slow cooker turkey chili recipe is a nice change from the regular ground beef recipe. It's got a good bit of bite and a whole heap of flavor.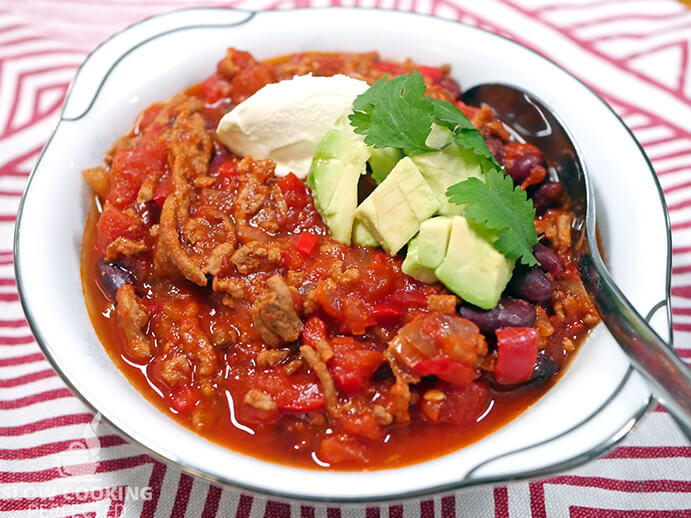 This chili cooks to be absolutely packed with flavor and has a slight bite that you expect from a good chili. It is perfect on its own, but some sour cream, and avocado takes it to the next level.
Turkey is an excellent alternative to ground beef in chili. It's healthier as it is a lot leaner than ground beef. Ground turkey also works well with all the flavors of traditional beef chili.
What to Serve with Turkey Chili
A good chili is perfect on its own and doesn't really need any extras. With that said, this turkey chili goes great with so many different side dishes.
Just a few side dishes that you can serve with this turkey chili include guacamole, sweet potato fries, cornbread, potato skins, and so much more. Feel free to let us know any of your recommendations.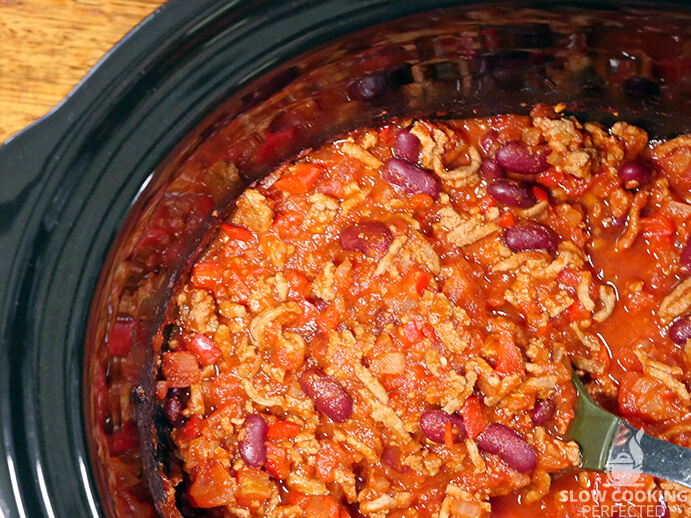 You can also use chili as the main ingredient in many different recipes. For example, you can use it as the meat component of nachos, jacket potatoes, or chili cheese fries. There is just so much you can do with a good chili.
There are lots of other recipes that match perfectly with a tasty chili, so if you have a suggestion, be sure to let us know.
Tweaking the Recipe
There are lots of different tweaks that you can make to this recipe. I will list a couple below that might make this recipe more appealing to you.
Chunks of sweet potato, carrot, or even pumpkin are an excellent addition to this recipe. They not only add a ton of flavor but also lots of nutrition and more color to the chili.
Quinoa can also be added to the chili for some extra nutrition. I would roughly add a quarter of a cup of quinoa to the standard batch of this recipe.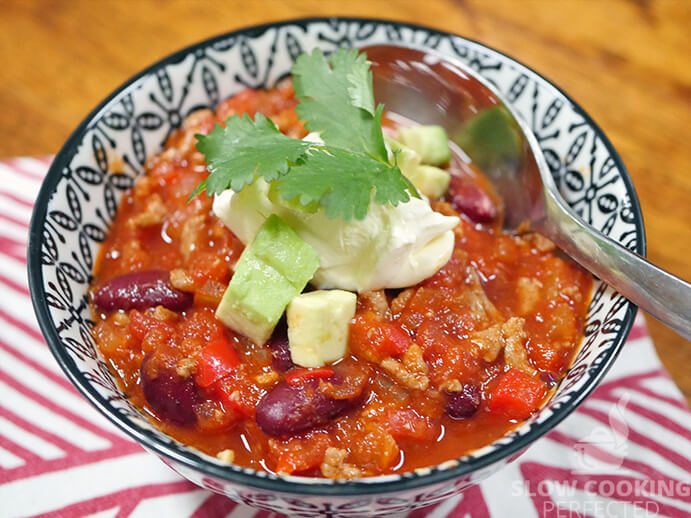 For a little bit of extra flavor and color, some corn kernels can also be added to this chili. I highly recommend this if you love the taste of corn.
If you're not a fan of beans, then you can easily turn this into a no bean chili by leaving them out. It will still be super delicious, and you could always add one of the suggestions above to make up for the lack of beans.
Be sure to share any of your tweaks that you have made to this delicious turkey chili in the comment section further down the page.
Leftovers & Dessert
As with most slow cooker recipes, the leftovers of this meal are worth keeping as they will heat the next day nicely. Just make sure you keep the leftovers stored in the fridge or freezer.
An excellent dessert to have after this chili is the apple cobbler. It's comfort food and really tops off this delicious meal.
I have put together a short video that takes you through how to make this turkey chili in the slow cooker. It's straight to the point, and I hope that you enjoy it. You can check it out below.
Slow Cooker Turkey Chili Recipe
Ingredients
500 g (1.1 lb) ground turkey
1 onion, diced
2 tsp garlic, crushed
1 red bell pepper, diced
2 Tbsp tomato paste
800 g (1.8 lb) diced tomatoes
400 g (14.1 oz) kidney beans
1 tsp chili powder
2 tsp cumin, ground
½ tsp paprika
1 red chili, diced
Instructions
In a frying pan over high heat, cook the ground turkey.
Once browned, drain the excess fluid and transfer it to a slow cooker.
Add the rest of the ingredients to the slow cooker and stir.
Cook on low 8 hours.
Season to taste with salt and pepper.
Serve & Enjoy.
Recipe Tips
The beans can be left out of the recipe if you don't like them. Some chunky diced carrots are an excellent alternative to beans, especially if you want a decent no bean chili. It's also perfect if you're going to make it Paleo friendly.
Frying the turkey will help reduce the amount of oily liquid in the slow cooker. If time is an issue, then you can easily skip this step. Your chili will still be delicious.
I find that the amount of chili in this recipe is more than enough. However, if you like things really spicy, then I highly recommend that you increase the amount. Some people find two teaspoons works quite well.
Simply halve the amount of time and cook on high if you want to have this turkey chili cooked faster.
Note: I use a 5.5L (6 Quart) slow cooker for all the recipes that I have on this website unless specified. If you have a smaller or larger slow cooker, then you might need to adjust the ingredients.
Nutrition Information
Serving Size: 494g (1.1 lb)
Servings Per Recipe: 4
Calories Per Serving: 406
Amount Per Serving
Saturated Fat: 3g
Trans Fat: 0.1g
Dietary Fiber: 13g
Sugars: 12g
Cholesterol: 86mg
Sodium: 681mg
Protein: 37g
The information above is an estimate generated by an online nutrition calculator.
More Delicious Recipes
While I love this recipe, there are so many more recipes that you can do in your slow cooker or crock-pot. Below is just a couple of recipes that I think will interest you.
There are plenty more variations on the traditional chili that you can make. One of my favorites is chicken chili, and it is well worth putting the effort into making it.
If you love spicy food, then look at some of our curries. One of the spiciest curries is probably the beef Madras curry. I highly recommend it if you love a good spicy curry.
I hope that I have covered everything you need to know about this slow cooker turkey chili. If you have any feedback that you would like to share, then please don't hesitate to leave a comment below.