You have got to try slow cooker turkey breast as it's one of the tastiest and succulent meats you will ever try.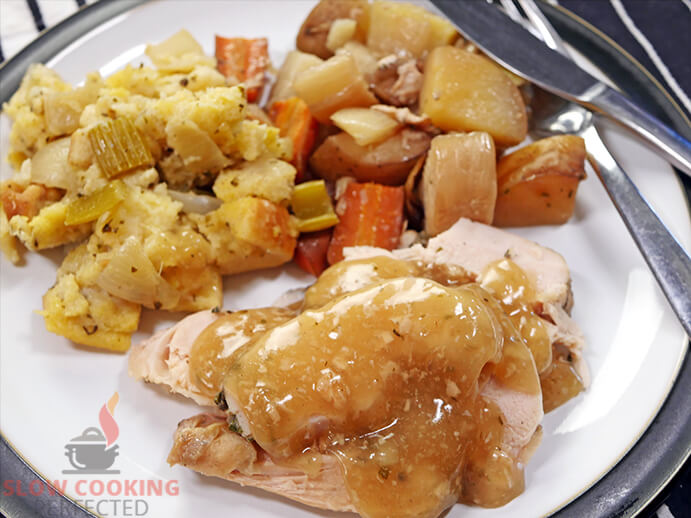 This recipe not only provides you with a delicious cooked turkey breast, but it also has some delightful vegetables. The vegetables slowly cook in the juices of the turkey, so they're guaranteed to be flavorsome.
I love making this dish for Thanksgiving, but it's great for any time of the year. It's certainly on my favorite slow cooker recipe list.
Even though this recipe will provide you with a full meal, you may still want to make some side dishes. Especially if you need to feed a crowd as this recipe will likely only feed four to six people.
Side Dishes & Accompaniments
There are quite a few different side dishes and accompaniments that work great with turkey. I will go through just some of my favorites.
As with most turkey meals, cranberry sauce is an excellent match. You can buy some from the store, or you can make it at home. You can even make cranberry sauce in the slow cooker if you wanted to.
Some creamy scalloped potatoes are an excellent side dish to this delicious meal. You will need a second slow cooker to cook them. Otherwise, you can always bake it in the oven instead.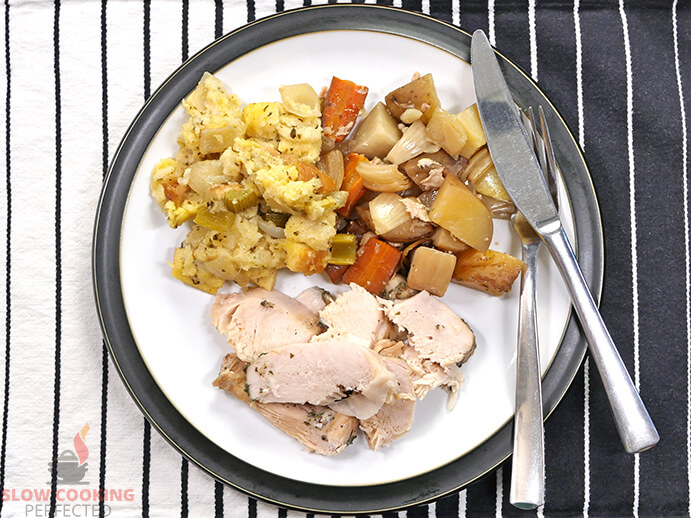 For a super simple side dish, you can cook some buttered baby potatoes in the slow cooker. The result is tender potatoes with a very butter and herb sauce. It's so easy to make, so it's worth it if you have the time.
You might want some classic stuffing to alongside the turkey breast. Luckily, you can also make this in a slow cooker. The downside is you will need to have two slow cookers if you want to cook it at the same time as the turkey.
Some of these side dishes may change the ingredients you use in this recipe. For example, if you're making a potato side dish, then you probably don't want to double up on potatoes, so it's best to just leave them out of the slow cooker.
Be sure to let us know any of your favorite foods to have with turkey.
Tweaks to this Turkey Breast Recipe
There lots of different tweaks that you can make to this boneless turkey breast recipe for the slow cooker. I like the recipe how it already is, but you might like things a little different.
A ton of different vegetables will work nicely in this recipe, so feel free to mix it up a bit. A few examples include using pumpkin, sweet potato, or even brussels sprouts. There are just so many different options.
The dry rub will help add even more flavor to the turkey breast. If you don't like the sound of it, then simply do not add it. You can also make some adjustments to it if you would like. For example, some people like to add a bit of sugar to their dry rubs.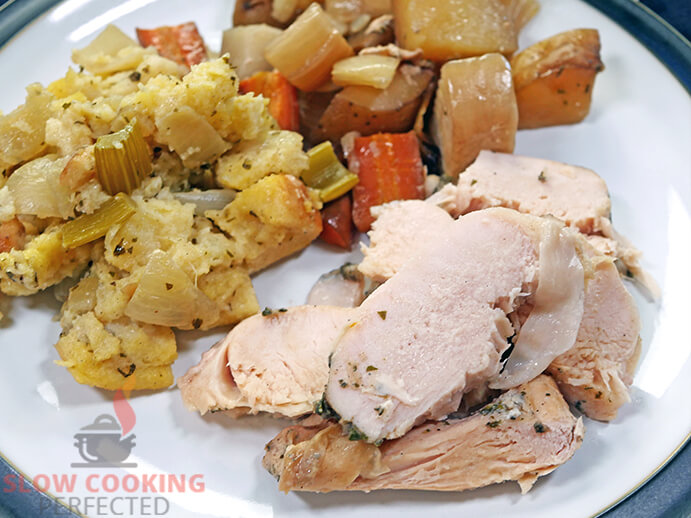 A delicious gravy is an excellent addition to this recipe, and the fluids left in the slow cooker is the perfect base for it. If you prefer a gravy made from powder such as Gravox, you can instead make this on the side. Otherwise, a bit of cornstarch and water into the slow cooker fluids will produce an amazing homemade gravy.
You can use a raw or brined turkey breast as the recipe will work great with both. Depending on the availability of turkey, you may only be able to get your hands on brined, so don't be afraid to use it.
There are dozens of more tweaks that you can make to this recipe. If you have any that you would like to share, then please don't hesitate to leave a comment at the bottom of this page.
Leftover Turkey
Any leftover turkey breast will be fine stored in the fridge for about three days. You can freeze the meat if you don't plan on using it anytime soon.
There are lots of ways you can use leftover turkey. For example, you can slice it then have it in some sandwiches. It's perfect for some packed lunches.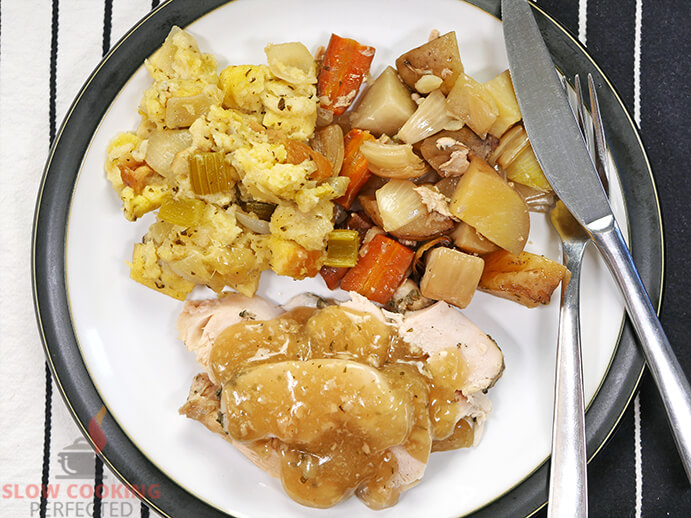 You could use the leftover turkey in a variety of other meals such as on pizza, pasta, and so much more. Whatever you do, keep the leftovers as they really are a great easy meal.
Right below is our full recipe for making this fantastic slow cooker turkey breast dish. We also have a video that will take you through all the steps to perfecting this yummy recipe.
Slow Cooker Turkey Breast Recipe
Ingredients
1 kg (2.2 lb) turkey breast
4 potatoes, chopped
4 carrots, chopped
1 onion, chopped
½ cup chicken stock
Rub
1 tsp garlic powder
1 tsp onion powder
2 tsp parsley, chopped
2 tsp thyme, chopped
1 tsp salt
½ tsp pepper
Thickener
2 Tbsp cornstarch
2 Tbsp water
Instructions
In a bowl, combine the garlic powder, onion powder, parsley, thyme, salt, and pepper. Rub this mixture into the turkey breast.
Add the turkey breast to the slow cooker and surround with the vegetables. Lastly, pour over the chicken stock.
Cook on low for 6 hours.
Remove the turkey and vegetables from the slow cooker and keep warm.
Transfer the liquid to a pot and heat over a stove.
Combine the cornstarch and water and pour it into the liquid in the pot.
Cook on high heat for 5 minutes or until thick and gravy-like.
Serve & Enjoy.
Recipe Tips
If you need this meal faster, then you can turn the slow cooker to high and cook it for 3 hours instead.
As I mentioned earlier, you can tweak the dry rub to make it more to your liking. For example, you can try adding some lemon rind for a bit more of a citrus flavor.
Make sure your turkey is thawed if you're using a frozen one.
The vegetables can be left out if you want to cook them using a different method or slow cooker.
I made use of a boneless turkey breast for this slow cooker recipe. However, you can use a bone-in cut if you want.
Note: I use a 5.5L (6 Quart) slow cooker for all the recipes that I have on this website unless specified. If you have a smaller or larger slow cooker, then you might need to adjust the ingredients.
Nutrition Information
Serving Size: 502g (1.1 lb)
Servings Per Recipe: 6
Calories Per Serving: 497
Amount Per Serving
Saturated Fat: 3.3g
Trans Fat: 0g
Dietary Fiber: 7g
Sugars: 5g
Cholesterol: 109mg
Sodium: 559mg
Protein: 43g
The information above is an estimate generated by an online nutrition calculator.
You should try these Slow Cooker Recipes
There are so many more recipes that you can make in the slow cooker. I will some that you might be interested in making next time.
A similar recipe to this would be the tender whole chicken. It's the perfect slow cooker recipe that's packed with flavor and looks terrific. It's always a hit whenever I make it.
If you want a dessert to go after this recipe, then I highly recommend trying the poached pears in white wine. It's a lighter dessert than your typical pudding but still has some incredible flavors. I highly recommend trying it, especially if you have never had poached pears before.
The honey mustard chicken breasts are also a meal that's worth making in the slow cooker. The chicken cooks to be tender, and the sauce is amazing. It's certainly a family favorite in our household.
I hope that you enjoy cooked turkey breasts from the slow cooker. I certainly found them to be very flavorsome and tender. If you have some feedback, tips, or anything else, then please don't hesitate to leave a comment below.