A delicious slow cooker chicken cacciatore is a fantastic dish if you want a rich tomato sauce with tender bits of chicken.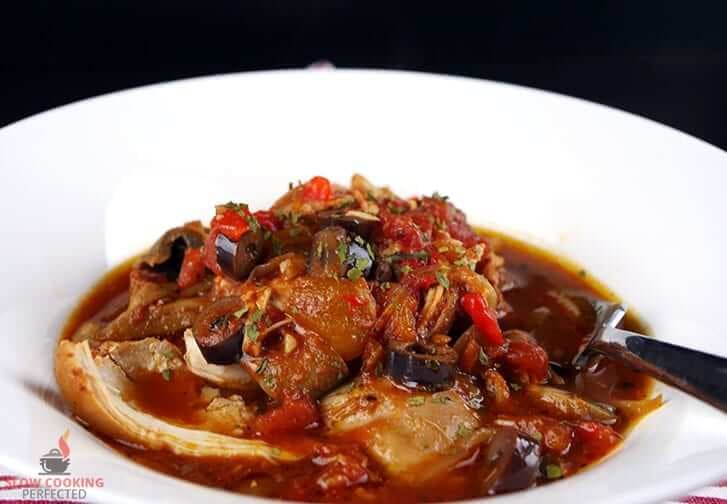 By the time you go to serve this delicious dish, you will have tender chicken in a flavor-packed tomato sauce. It's hearty and is the perfect comfort food to sit down and relax with.
In Italian, cacciatore means hunter. So when it comes to cooking cacciatore, we are making a hunter inspired dish. Therefore, we don't usually cut the chicken smaller and instead keep everything relatively chunky.
If you're following something like the paleo diet or another diet that prohibits alcohol, then you can remove the red wine from the dish to make the chicken cacciatore paleo-friendly. This dish is also completely gluten-free.
What to Serve with Chicken Cacciatore
Traditionally this dish is eaten just by itself, but if you're looking to bulk it out, then there some side dishes that work well with it.
The most popular accompaniments to have with this dish is some mashed potatoes and extra vegetables such as braised greens. You can make the potatoes in the slow cooker to help reduce the workload in the kitchen.
Pasta is also excellent cooked and mixed through the chicken cacciatore. I recommend using a pasta such as fettuccine or similar. However, most kinds of pasta will work fine with this dish.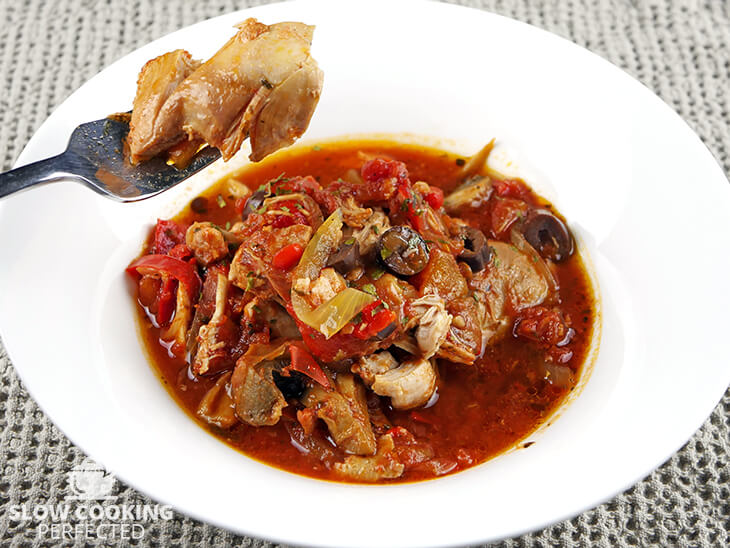 For something a little different, you can make some polenta as a side dish. Making polenta will involve a bit more work in the kitchen, but the result is totally worth it.
Of course, there are dozens of more combinations that you can have, but I hope these suggestions help. If you have anything that you would like to add, then be sure to leave a comment at the bottom of this page.
Tweaking the Recipe
For a bit more flavor, you can use chicken cuts that still have the bone-in. For example, drumsticks, wings, or even thighs with the bone-in are excellent choices. Boneless cuts will still work fine, so don't fret if you can't get your hands on bone-in chicken cuts.
You can easily add more vegetables into this dish if you want to add more flavor and bulk it out a little. Potatoes are one of the more popular additions, but other vegetables such as carrot will work nicely as well.
If, for some reason, you want to thicken the sauce, then simply stir in a cornstarch paste towards the end of cooking. Roughly two tablespoons should be more than enough.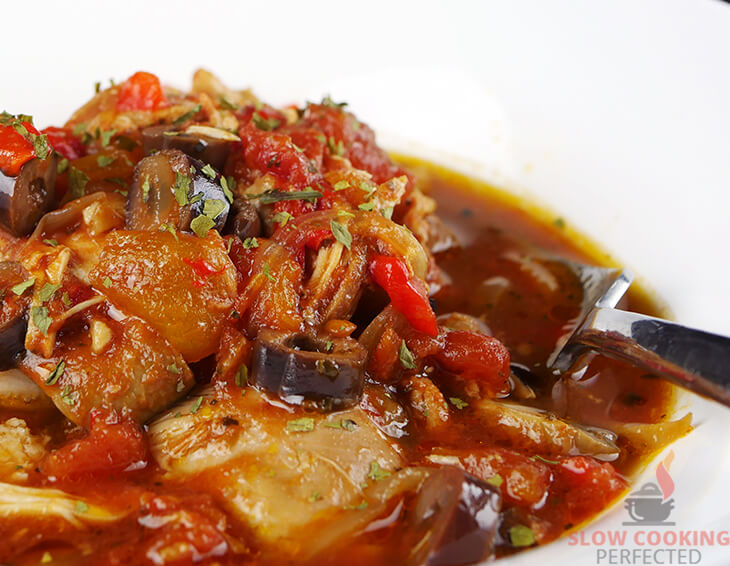 Make sure you don't throw out the leftovers as they will keep just fine in the fridge. The leftovers make for a fantastic lunch that you can quickly reheat at work or at home.
If you want to see how you make chicken cacciatore in the slow cooker, then be sure to check out the super short video below. It's straight to the point and will show you exactly how to prepare and cook this dish.
Slow Cooker Chicken Cacciatore Recipe
Ingredients
1 kg (2.2 lb) of chicken pieces
1 onion, sliced
2 tsp garlic, crushed
1 red bell pepper, sliced
2 cups mushrooms, quartered
¼ cup red wine
1 tsp sugar
2 Tbsp tomato paste
800 g (1.8 lb) crushed tomatoes
½ Tbsp basil, dried
½ cup kalamata olives, pitted
Instructions
In a slow cooker, add all the ingredients except for the olives.
Cook on low for 8 hours or until the chicken is cooked.
Add the olives and season with salt & pepper.
Serve & Enjoy.
Recipe Tips
You can replace the red wine for white wine, or you can leave the wine out altogether.
Slow-cooked chicken cacciatore is easy to leave and forget since it's unlikely to overcook. It's perfect for those days when you're worried you might be held back at work or have something else on that might prevent you from being able to keep an eye on the slow cooker.
A quarter of a cup of wine might seem too little, but it's important to remember that in a slow cooker, the taste of wine will remain quite strong even after cooking for eight hours. If you don't like the taste, then it might be worth leaving it out of this dish.
The olives are optional but do add a lot of flavor to the dish. Keep in mind olives are sometimes quite salty, so you might not need to add any extra salt at the end.
Tomato passata or tomato puree are excellent substitutions for crushed tomatoes.
The cut of chicken you use is entirely up to you. Personally, I prefer chicken off the bone, such as thigh or breast, but you will find that chicken with the bone in will work better.
Note: I use a 5.5L (6 Quart) slow cooker for all the recipes that I have on this website unless specified. If you have a smaller or larger slow cooker, then you might need to adjust the ingredients.
Nutrition Information
Serving Size: 292g (10.3 oz)
Servings Per Recipe: 8
Calories Per Serving: 315
Saturated Fat: 2.7g
Trans Fat: 0g
Total Carbohydrate: 13.4g
Dietary Fiber: 4.4g
Sugars: 8.4g
Cholesterol: 111mg
Sodium: 384mg
Protein: 39.8g
The information above is an estimate generated by an online nutrition calculator.
More Slow Cooker Chicken Recipes
There are a ton of other slow cooker chicken dishes that you're able to make.
For example, the honey and garlic chicken is a delicious dish that is incredibly addictive. It's also super easy to quickly prepare and get slow cooking.
If you like this hearty dish, then you should also try the shredded chicken chili. It has lovely flavors from the tomatoes, spices, and herbs. It's undoubtedly a must-try if you love tomato-based chicken dishes.
I hope that this slow cooker chicken cacciatore comes out as good as it did for me. If you have any feedback, tips, or anything else that you would like to share, then please don't hesitate to leave a comment below.