This creamy slow cooker chicken carbonara is so easy to prepare and get cooking. The result tastes amazing and will please anyone who loves good pasta.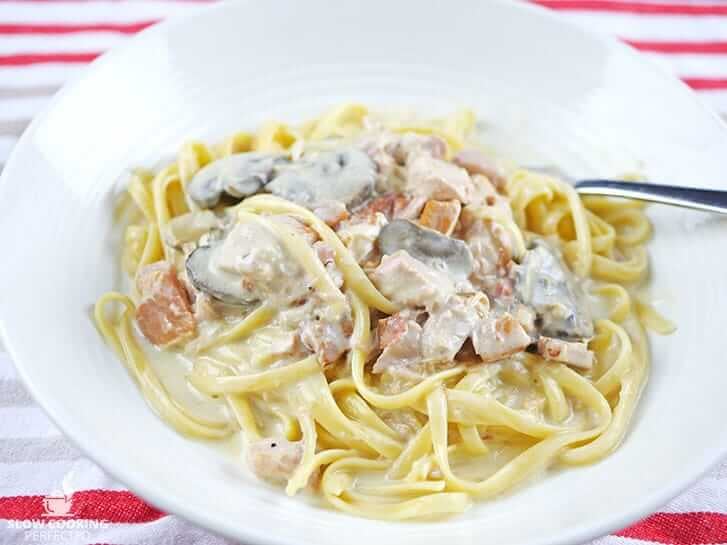 By the time this pasta sauce is ready, it will be deliciously creamy and loaded with flavor, thanks to the chicken, mushroom, and bacon. If you are looking for a good pasta sauce, I recommend this one.
This recipe is certainly not a traditional carbonara. However, it will still please anyone who wants a creamy pasta sauce that you can cook in the slow cooker or crockpot. The creamy sauce will delight anyone who loves a good pasta sauce that is packed full of flavor.
One great thing about this dish is that you can feed quite a few people with it. A single batch of this recipe will feed four to six people, depending on whether they are big eaters. You can easily double the recipe if you need to feed more people.
If you do not have the time to wait around for a slow cooker and want an easy pasta recipe to cook, then this lazy carbonara recipe turns out pretty nice.
Chicken Carbonara Serving Ideas
As with any pasta dish, some homemade garlic bread will work fantastic with this delicious dish. Store-bought garlic bread is also an excellent option if you want to keep things easy.
Grated parmesan is the perfect way to finish this dish. Sprinkle the cheese over the pasta once you have served it. You can also mix a quarter cup of parmesan cheese through the sauce for incredibly tasty and cheesy pasta.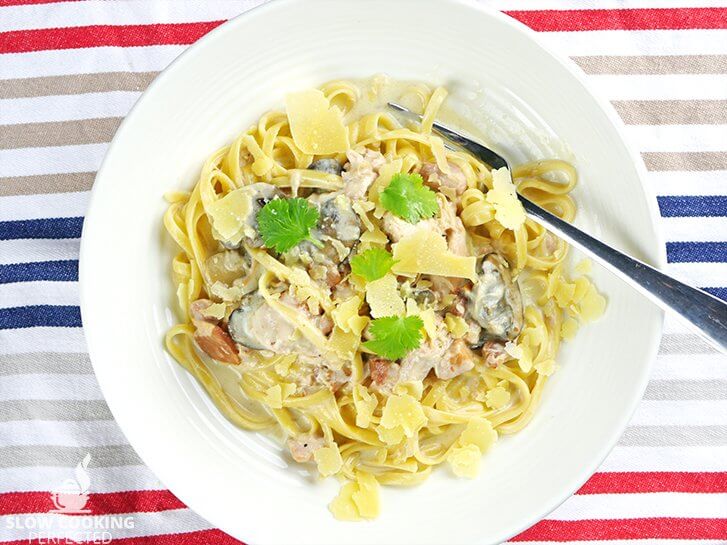 Depending on what you prefer, you can cook the pasta separately or in the slow cooker. If you want to cook it in the slow cooker, check out the cooking tips below, as the cooking instructions will vary slightly.
Even though I recommend serving this sauce with pasta, you can instead serve it with something else. For example, the creamy sauce will work perfectly with some delicious steamed rice. Feel free to choose whatever you like the most.
If you would like to see how to cook carbonara sauce in the slow cooker, then be sure to check out the video below. Alternatively, the full-text recipe is right below.
Slow Cooker Chicken Carbonara Recipe
Ingredients
250 g (8.8 oz) bacon, diced
500 g (1.1 lb) chicken thigh, cubed
1 onion, diced
2 tsp garlic, crushed
200 g (7.1 oz) button mushrooms, sliced
300 ml (10.1 fl oz) chicken stock
300 ml (10.1 fl oz) heavy cream
2 Tbsp cornstarch
250 g (8.8 oz) pasta, cooked
Instructions
In a frying pan, quickly cook the bacon until crispy. Once crispy, drain on some paper towel.
In a slow cooker, add the chicken thighs, onion, garlic, mushrooms, bacon, and chicken stock. Mix together slightly.
Cook on low for 6 hours.
In a small bowl, mix the cornstarch with 2 Tbsp water before mixing it into the slow cooker with the heavy cream.
Add the cooked pasta and heat for 5-10 minutes.
Serve & Enjoy.
Recipe Tips
If you would rather cook the pasta in the slow cooker, switch the slow cooker to high for the last fifteen minutes and add the pasta. Also, do not add the cornstarch, as the pasta will thicken the sauce quite a bit. I find cooking the pasta in the slow cooker will make the sauce a bit too thick for my liking but saves on washing up and extra messing around.
You do not have to fry the bacon first, but I highly recommend that you do so for the best taste and texture.
Please do not add the cream at the start as it may split and make the dish not as enjoyable.
Heavy cream is also known as thickened cream in Australia or whipping cream in the United Kingdom.
Chicken breast is a great replacement for chicken thigh, so pick whatever type you like the most.
Note: I use a 5.5L (6 Quart) slow cooker for all the recipes that I have on this website unless specified. If you have a smaller or larger slow cooker, then you might need to adjust the ingredients.
Nutrition Information
Serving Size: 310g (10.9 oz)
Servings Per Recipe: 6
Calories Per Serving: 564
Amount Per Serving
Saturated Fat: 9g
Trans Fat: 0g
Total Carbohydrate: 31.7g
Dietary Fiber: 0.8g
Sugars: 2.4g
Cholesterol: 158mg
Sodium: 1277mg
Protein: 46.1g
The information above is an estimate generated by an online nutrition calculator.
More Slow Cooker Pasta Recipes
If you feel like making a good pasta recipe but would prefer something else, then below are a couple of ideas.
I have got to recommend the slow-cooked beef ragu as it is loaded with flavor. The pulled beef, along with the tomato sauce, creates an irresistible pasta dish. It is one of my favorite slow cooker recipes.
The slow cooker beef stroganoff is simply amazing and has some incredible tender pieces of beef that just melt in your mouth. I highly recommend giving it a try.
I hope this deliciously creamy slow cooker chicken carbonara came out to be amazing. If you have any feedback that you would like to share, then please do not hesitate to drop a comment below.