This slow cooker lamb ragu is an incredibly tasty dish that is perfect if you are looking for a fantastic pasta recipe.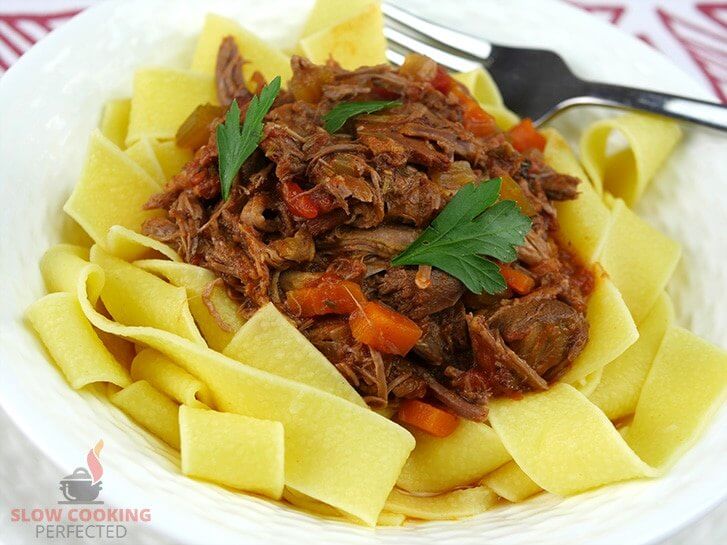 By the end of cooking, the lamb is incredibly tender and the sauce is loaded with flavor. To complete this dish, sprinkle some shaved Parmesan cheese over the top.
You should get six to eight serves by following this recipe exactly. If you need to feed more, then you can easily double or triple the recipe. Also, some side dishes are a great way of feeding more people.
Make sure you keep the leftovers as they will reheat nicely in the microwave or over the stove. I do not recommend heating leftovers in the slow cooker as it can take too long to reheat, which can lead to food poisoning.
For safe storage, keep the leftovers in the fridge or freezer until required. They will last months in the freezer or just a few days in the refrigerator.
Adjusting the Recipe
There are quite a few ingredients required to make this lamb ragu, but it is undoubtedly worth it. Below are some ideas on how you can tweak the recipe.
If you cannot get your hands on some lamb but have access to lamb sausages, then these make for a great replacement. Follow the recipe the same but slice them after you have finished browning them in the pan. Obviously, you will not be shredding sausages so you can skip that step as well.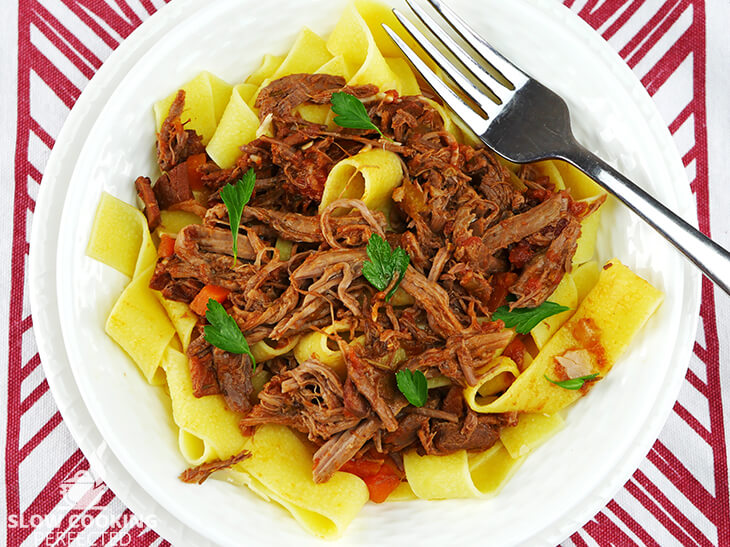 The type of pasta that you use is entirely up to you. I recommend using pappardelle pasta, but other types will work just as well. For example, ragu goes great with gnocchi, rigatoni, linguini, and so many more.
Using beef is an excellent alternative to lamb and is typically much more readily available. The final dish will be much different in flavor and texture if you decide to use beef instead.
You might be able to get away with leaving a few ingredients out. Still, for the best result, I highly recommend leaving the recipe alone.
Serving Ideas for Lamb Ragu
As with any good pasta dinner, some garlic bread will go amazingly on the side. I love to make homemade garlic bread, but the store-bought varieties are also pretty good.
For something a little different, you could serve this ragu over the top of some mashed potatoes. If you want to be a little healthier, you could make mashed sweet potatoes instead. Both are excellent choices.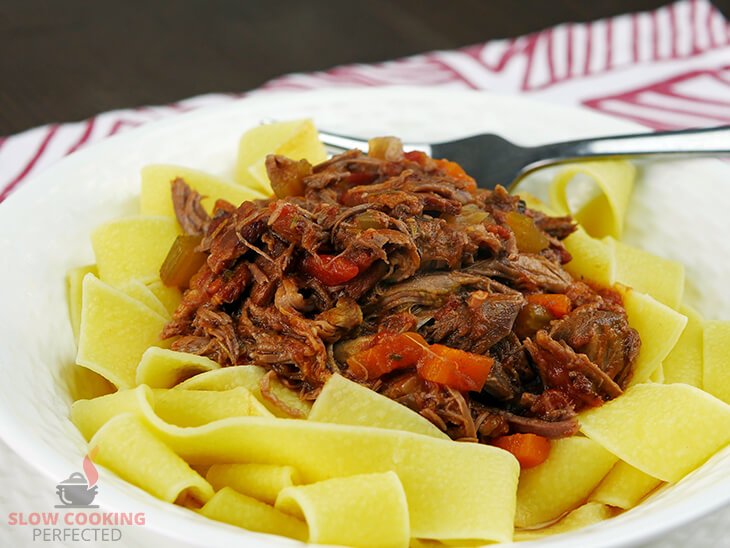 This recipe will create quite a bit of food, so you will likely not need any side dishes. However, side dishes are a great idea if you need to feed a crowd.
The video below will take you through all the steps to making this delicious lamb ragu in the slow cooker. Alternatively, the full written recipe is below the video.
Slow Cooker Lamb Ragu Recipe
Ingredients
200 g (7.1 oz) bacon
1 kg (2.2 lb) lamb roast (1.5kg/3.3 lb if bone-in)
½ cup red wine
1 onion, diced
2 tsp garlic, crushed
2 carrots, large dice
2 celery stalks, large dice
2 tsp rosemary, dried
2 tsp thyme, dried
2 Tbsp tomato paste
800 g (1.8 lb) crushed tomatoes
2 bay leaves
1 cup beef stock
500 g (1.1 lb) pappardelle pasta, cooked
Instructions
Season the lamb with salt and pepper.
In a frying pan over medium-high heat, add the bacon and fry until crispy. Once crispy, remove and put to the side.
Add the lamb and brown on all sides. Once browned, put to the side.
In the same frypan, add the red wine and cook for 2-3 minutes, continually stirring. Make sure you are scraping the bottom of the pan.
In the slow cooker, add the lamb, bacon, red wine, onion, garlic, carrots, celery, rosemary, thyme, tomato paste, crushed tomatoes, bay leaves and lastly the beef stock.
Cook on low for 8 hours.
Remove the lamb from the slow cooker and shred using two forks. Once shredded, return the shredded lamb to the slow cooker.
Season with salt and pepper.
Serve & Enjoy.
Recipe Tips
It is hard to find lamb stock for sale at the supermarket, so unless you make some at home, you will need to use beef stock.
I recommend using pappardelle pasta, but you can use any type of pasta that you would like.
Cook the pasta in a pot of boiling water just before you serve rather than cooking it in the slow cooker. If you want, you can cook the pasta in the slow cooker, but be prepared to add more water as the pasta will thicken the sauce.
You can leave the bacon out if you do not want to eat it. You will lose a bit of flavor, but the dish should be just fine without it.
Lamb shoulder is the perfect cut of meat for this recipe.
The bacon can be substituted with pancetta.
Note: I use a 5.5L (6 Quart) slow cooker for all the recipes that I have on this website unless specified. If you have a smaller or larger slow cooker, then you might need to adjust the ingredients.
Nutrition Information
Serving Size: 395g (13.9 oz)
Servings Per Recipe: 8
Calories Per Serving: 484
Amount Per Serving
Saturated Fat: 6.5g
Trans Fat: 0g
Dietary Fiber: 3g
Sugars: 5g
Cholesterol: 121mg
Sodium: 358mg
Protein: 39g
The information above is an estimate generated by an online nutrition calculator.
More Slow Cooker Recipes
If you are looking for more delicious pasta dishes that you can cook up in a slow cooker, then be sure to check out the recipes below.
A pasta dish that I absolutely love is the creamy chicken carbonara. The carbonara sauce is far from traditional, but it certainly will not disappoint. It is the perfect dish if you need to feed a crowd or have some fussy eaters.
The beef stroganoff is another slow cooker pasta recipe that I reckon you will love. It has delicious tender pieces of beef and an incredibly creamy sauce. I love making this dish quite often.
I hope that you enjoy this slow cooker lamb ragu and that it cooks out to be as good as it was for me. If you have a fantastic variation, tips, or something else that you would love to say, then please do not hesitate to leave a comment below.