This gorgeous slow cooker shepherd's pie is the perfect hearty meal to feed a hungry family.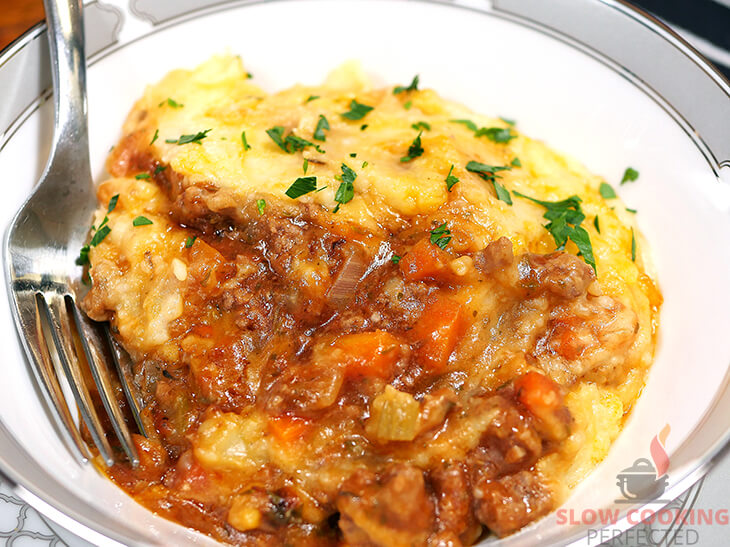 This delicious pie cooks entirely in the slow cooker and is absolutely delicious. The rich lamb pie filling is loaded with flavor thanks to the delicious herbs, tomato paste, vegetables, and more. The mashed potato is light, fluffy, and absolutely delicious. It is almost better than oven-baked shepherd's pie.
The shepherd's pie is remarkably like a cottage pie. The only difference is shepherd's pie uses ground lamb, and a cottage pie uses ground beef. This delicious dish originated in England and is now available to enjoy all over the world.
A single batch of this pie should feed roughly six people. However, if you make some side dishes and serve smaller portions, you could feed even more people.
The leftovers of this dish are best kept in the fridge and will last for roughly three days. You can also keep the leftovers in the freezer for about three months. I love eating the leftovers for a quick and easy meal.
Serving Ideas for Shepherd's Pie
There are loads of different side dishes that will go great with a shepherd's pie. Below are just a couple of my favorite combinations.
I always think a good pie needs a generous serving of delicious steak fries. If you want to be healthier, you can always make some sweet potato fries instead.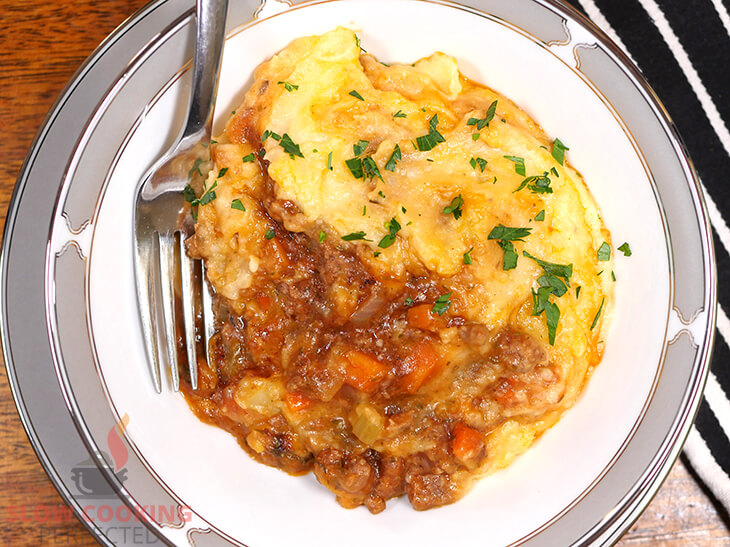 A refreshing green salad works surprisingly well with the fries. A salad is great for taking a break from the heavier pie and fries. I love a simple combination of lettuce, red onion, tomatoes, cucumber, and avocado.
Another side dish that will go great with this pie is steamed peas, sweet corn, or even sweet carrots. They are a bit healthier and will not take long to prepare.
Tinkering with the Recipe
Below is a few ideas on how you can tinker with the recipe.
To be a little healthier, you can replace the topping with mashed cauliflower instead. The process of making the cauliflower is pretty much the same way you would make regular mashed potatoes.
You can replace the ground lamb with larger chunks of lamb. I recommend shredding the lamb after four hours of cooking, then topping the final mixture with mashed potatoes. It is a little more time-consuming but well worth it if you want a delicious pie.
Cheese can be added to the mashed potato for an extra flavorsome topping. I recommend something like cheddar or gouda cheese for the best result.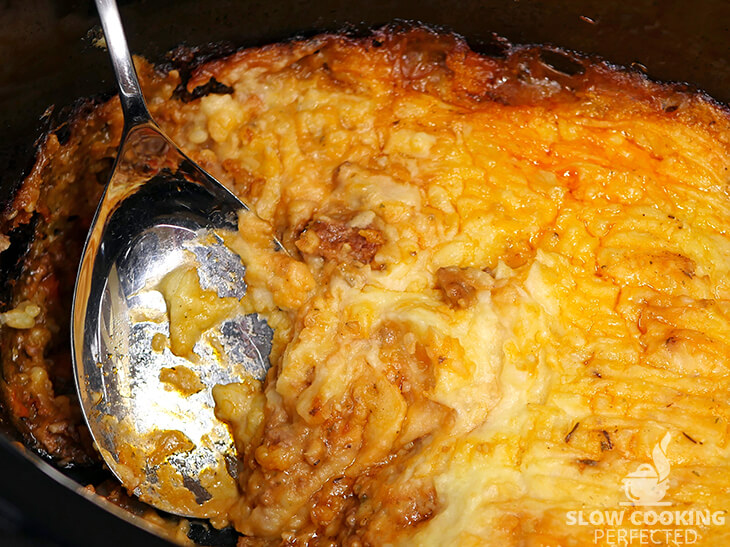 For a crispy topping, you will need to place it under a broiler. Most slow cooker pots should be able to handle the heat, but I still recommend doing it with care.
More vegetables can be added to the pie mixture. For example, peas and corn are great additions. The long cooking time may make the green peas turn grey.
Below is the full recipe that will take you through all the steps of making this delicious shepherd's pie in the slow cooker.
Slow Cooker Shepherd's Pie Recipe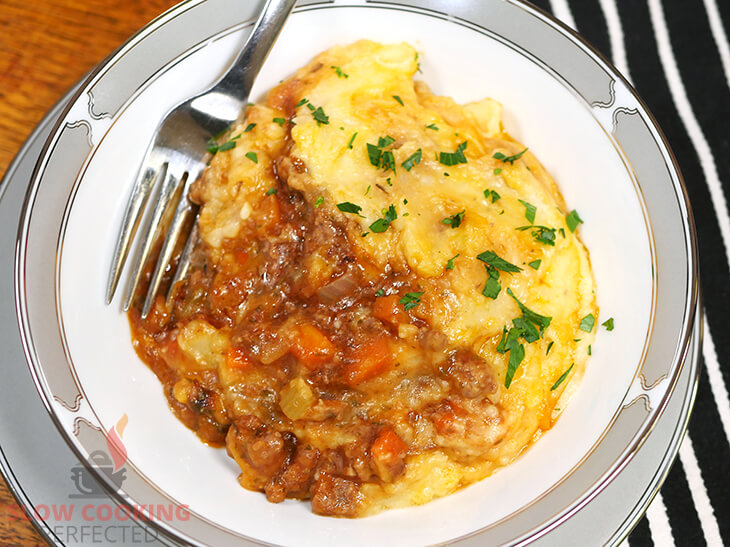 Ingredients
Mashed Potato Topping
1 kg (2.2 lb) potatoes, peeled and quartered
60 g (2.1 oz) unsalted butter
2 Tbsp cream
Lamb Filling
1 Tbsp oil
1 onion, diced
2 tsp garlic, crushed
2 celery stalks, diced
1 carrot, diced
500 g (1.1 lb) ground lamb
50 ml (1.7 fl oz) red wine
1 tsp Worcestershire sauce
2 Tbsp tomato paste
2 tsp thyme, chopped
2 tsp parsley, chopped
250 ml (8.5 fl oz) beef stock
2 Tbsp cornstarch
Instructions
Mashed Potatoes
Place the potatoes in a deep pot and cover with water. Bring to a boil and reduce to a simmer. Cook for 15 minutes or until tender.
Drain the potatoes and transfer to a bowl. Mash the potatoes while slowly adding in the butter and cream.
Season to taste with salt and pepper.
Put aside.
Lamb Filling
In a large frying pan over medium heat, add the oil.
Once hot, add the onion, garlic, celery, and carrot. Cook until onion is translucent.
Add the ground lamb and cook until browned. Add the red wine and simmer for 2 minutes.
In a slow cooker, add the lamb mixture, Worcestershire sauce, tomato paste, thyme, parsley, and beef stock. Season to taste.
Combine the cornstarch with two tablespoons of water. Stir into the slow cooker.
Top the lamb mixture with the mashed potatoes.
Cook on low for 6 hours.
Serve & Enjoy.
Recipe Tips
To turn this dish into a cottage pie simply replace the ground lamb with ground beef.
The wine is optional and does not need to be added.
Ground lamb is known as lamb mince in some countries.
Note: I use a 5.5L (6 Quart) slow cooker for all the recipes that I have on this website unless specified. If you have a smaller or larger slow cooker, then you might need to adjust the ingredients.
Nutrition Information
Serving Size: 360g (12.7 oz)
Servings Per Recipe: 6
Calories Per Serving: 384
Amount Per Serving
Saturated Fat: 8.2g
Trans Fat: 0.4g
Dietary Fiber: 5g
Sugars: 4g
Cholesterol: 66mg
Sodium: 172mg
Protein: 22g
The information above is an estimate generated by an online nutrition calculator.
More Slow Cooker Lamb Recipes
We have a few more lamb recipes that you might be interested in trying out. Below are a couple of recipes that I reckon you might like.
A lamb ragu is an absolute classic and is an ideal dish for the slow cooker. At the end of cooking, you are left with deliciously tender lamb in a rich flavor-packed sauce. It is an absolute must-try if you love lamb.
Another dish that I absolutely love is lamb shanks. Our recipe cooks the lamb shanks in a beautiful mixture of tomatoes, carrots, onion, and more. It is an utterly delicious combination of flavors that I reckon you will love.
I hope that you love this slow-cooked shepherd's pie as much as I do. If you have some feedback, then please do not hesitate to leave a comment below.