Slow cooker glazed carrots are the perfect side dish to go alongside your next meal.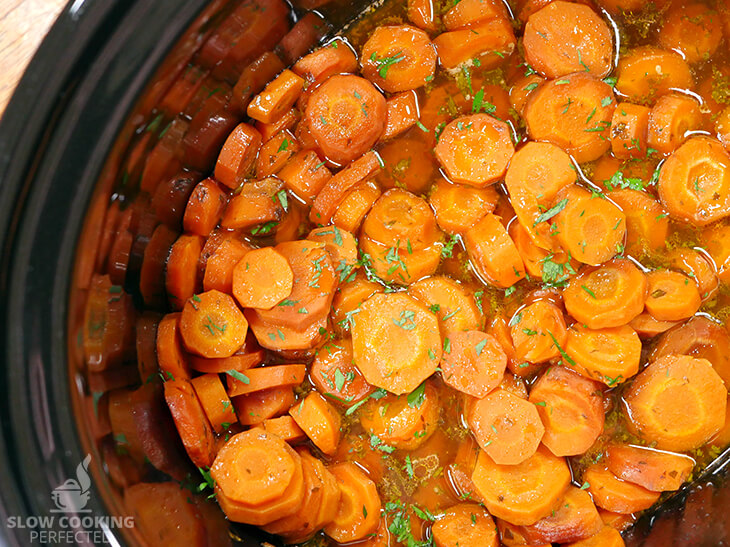 I love serving these carrots with a spoon or two of the sweet butter and brown sugar sauce. I find that it is a great way to get the kids to eat some vegetables. It is a simple side dish that will easily please fussy eaters.
You should be able to feed roughly sixpeople from a single batch of this recipe. I recommend serving it as a side dish to another meal. If you need to feed a huge crowd, then you can simply double or triple the recipe.
If you happen to end up with leftovers, they are great for lunch or part of another meal. For example, the carrots work very nicely chopped up and mixed into a frittata or something similar. The leftovers should last for a few days in the refrigerator or three months in the freezer.
Serving Ideas for Glazed Carrots
There are loads of different slow cooker meals that go great with this delicious side dish. Below is a couple of ideas that I highly recommend giving a try.
One dish that I reckon these carrots will work very nicely with is the ranch pork chops. The pork chops have a deliciously creamy sauce but lack any vegetables. These carrots will complement the dish nicely and help cut through some of the richness.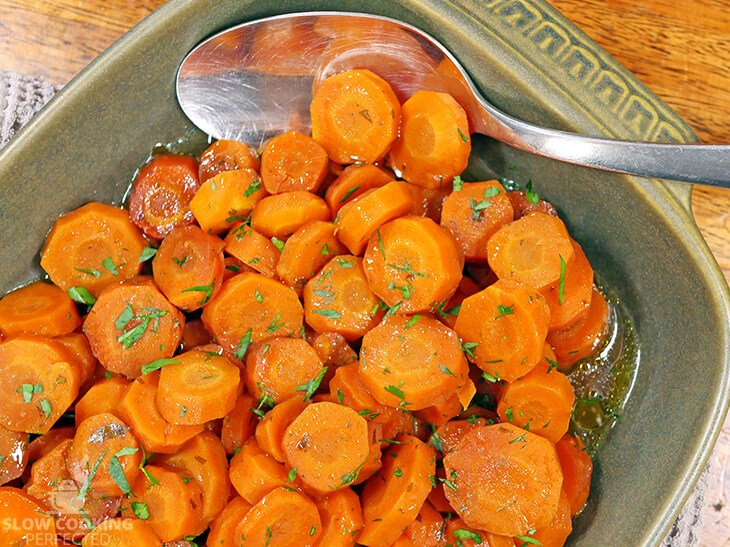 Almost any type of roast will pair very nicely with this dish. One of my favorites is a slow-cooked lamb roast. You cook some carrots with the lamb, but you can easily leave them out and cook these glazed carrots in another slow cooker instead.
One last dish that I have got to recommend is sausages and gravy. I love serving the sausages with a side of potato fries, peas, and these glazed carrots. It is an excellent combination and I highly recommend that you give it a try.
Tweaking the Recipe
There are plenty of ways to adjust this recipe so that it is more to your liking. Below are a couple of ideas that you might like the sound of.
The type of carrots you use is entirely up to you. I use regular carrots and cut them into slices as it cooks better and is easier to eat. With that said, whole baby carrots will also work great as a replacement.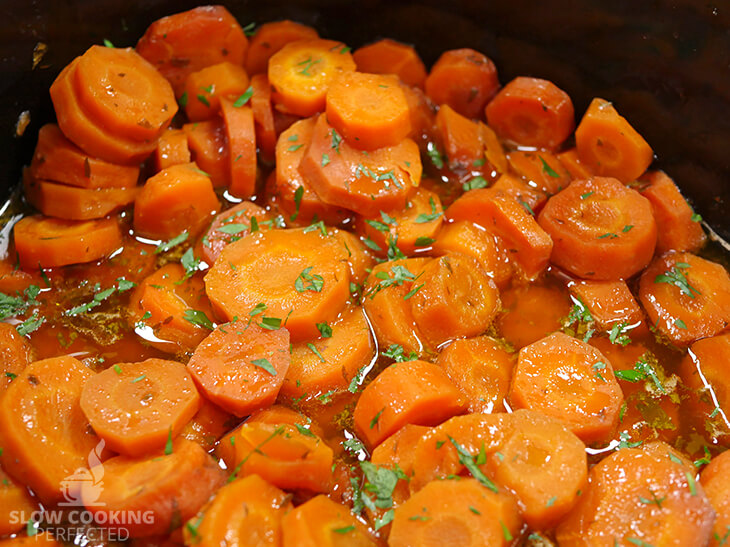 More spices and herbs can be added to the sauce mixture if you want even more flavor. For example, a pinch of cinnamon and nutmeg will work great with the brown sugar sauce. Personally, I prefer to keep everything simple.
You can add other vegetables with the carrots, but you will only want to add vegetables that work nicely with a sweet sauce. For example, potatoes or sweet potatoes will be an excellent addition.
The super-short video below will take you through the few basic steps to making glazed carrots in the slow cooker. Alternatively, there is the full written recipe immediately below the video.
Slow Cooker Glazed Carrots Recipe
Ingredients
1 kg (2.2 lb) carrots, sliced
125 g (4.4 oz) brown sugar
60 g (2.1 oz) unsalted butter, chopped
125 ml (4.2 fl oz) chicken stock
1 Tbsp parsley, chopped
Instructions
Add all the ingredients into the slow cooker and stir.
Cook on low for 6 hours.
Serve & Enjoy.
Recipe Tips
You can leave the carrots whole, but I recommend cutting them into bite-sized pieces.
Chicken stock can be replaced with plain water. You will lose a bit of flavor, but the result will still be delicious.
If you need these carrots faster, simply reduce the cooking time from six hours to three hours. You will also need to turn the slow cooker up to the high setting.
Note: I use a 5.5L (6 Quart) slow cooker for all the recipes that I have on this website unless specified. If you have a smaller or larger slow cooker, then you might need to adjust the ingredients.
Nutrition Information
Serving Size: 219g (7.7 oz)
Servings Per Recipe: 6
Calories Per Serving: 207
Amount Per Serving
Saturated Fat: 3.6g
Trans Fat: 0g
Dietary Fiber: 5g
Sugars: 29g
Cholesterol: 11mg
Sodium: 149mg
Protein: 2g
The information above is an estimate generated by an online nutrition calculator.
More Side Dish Recipes
There are so many more side dishes that you can make in the slow cooker. Below are a couple of favorites that I highly recommend that you check out.
The garlic mushrooms are an excellent side dish to have cooking in another slow cooker. The mushrooms are cooked in garlic, herbs, white wine, and a touch of butter.
Another slow cooker side dish that you need to try is the bread stuffing. It is the perfect way to make stuffing in bulk for your next Thanksgiving feast. The stuffing is loaded with delicious herbs, seasonings, vegetables, and a lot of bread. I highly recommend giving it a try.
I hope that you love these slow cooker glazed carrots as much as I do. If you have some feedback, please do not hesitate to leave a comment below.