This sweet slow cooker applesauce is perfect if you need to feed a crowd.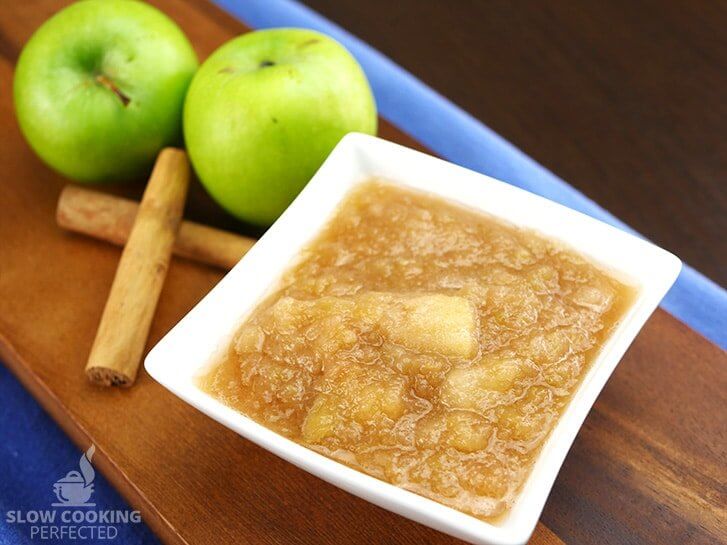 By the time this sauce is ready, the apples should be smooth and loaded with flavor. You will get a slight hint of cinnamon and lemon, but the main flavor should be from the apple. It is a delicious sauce that will match perfectly with your next roast.
One of the best things about this recipe is that you only need five straightforward ingredients. It is the perfect recipe if you have a ton of apples but not many other ingredients.
You will get roughly eighteen servings out of a single batch of this sauce. We assume a serving is approximately eight tablespoons, so you might be able to serve even more people if you do not need so much. I find it great if I am cooking for a large number of people and need a lot of applesauce.
Much like the apple butter or the tasty apple crisp, this dish is a great way to use up some apples if you have too many. You can store this sauce in the fridge for roughly five days, or you can freeze it and reheat when needed.
Applesauce Uses
It is unlikely you will want to eat this sauce by itself, luckily it goes great with a ton of other dishes. Below are a couple of ideas on what you can pair this applesauce with.
If you have multiple slow cookers, you can cook a delicious pork loin to go with this applesauce. Alternatively, a whole chicken is a pretty good alternative to the pork.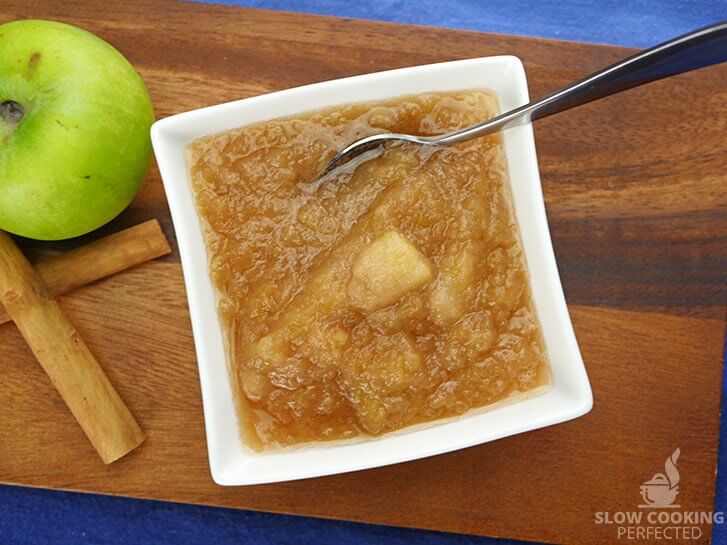 I love to add this applesauce into a bread and butter pudding for some extra flavor. It helps add a little bit of sweetness and some lovely apple flavors. I highly recommend giving it a try.
You can also use this sauce in a lot of different desserts where you need an apple filling. So, it is perfect if you need to make a ton of apple pies, tarts, apple turnovers, or anything similar.
Best Type of Apple to Use
There are certain types of apple that you can use to get better results. For example, something like granny smith or Jonagold are two suitable types of apple.
Personally, I use any type of apple, and this recipe works perfectly for me. If you are worried, look for good stewing or baking apples, you can usually get these at any good supermarket.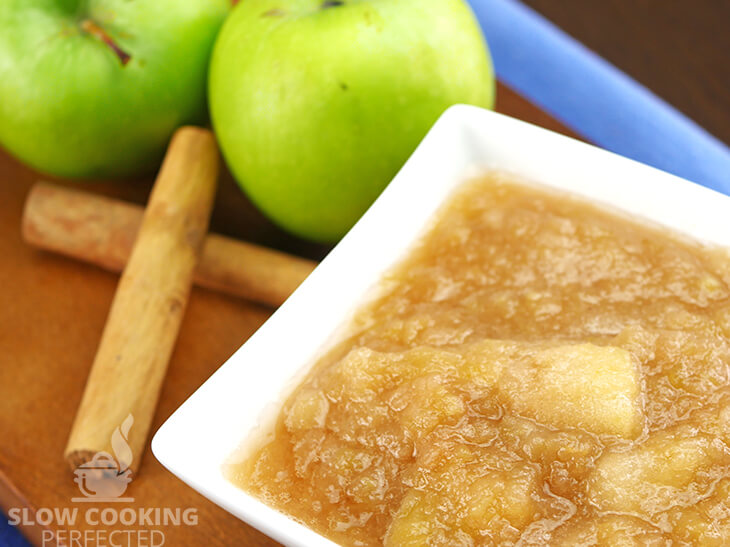 If you want to see how to make applesauce in the slow cooker, then be sure to check out the short, snappy video I have prepared below. It will take you through all the steps to making this sauce, including what it should look like.
Slow Cooker Applesauce Recipe
Ingredients
2 kg (4.4 lb) apples, cored, peeled, and cubed
¼ cup sugar
2 cinnamon sticks
½ cup water
1 Tbsp lemon juice
Instructions
Add all the ingredients to the slow cooker and cook on low for 8 hours
Remove the cinnamon sticks.
Using an immersion blender, blend the ingredients until you get the consistency you want. You can skip this if you prefer chunky applesauce.
Serve & Enjoy.
Recipe Tips
To store the applesauce in the cupboard, you will need to seal it in a jar correctly first. This handy guide will take you through the steps to correctly store the sauce in a jar so that it is sterilized. If done correctly, the sauce will last a lot longer and can be stored in the fridge or cupboard.
You do not have to peel the apples. The most significant difference is the texture as you will have bits of apple skin in your sauce.
If you prefer things to be more on the sweet side, simply increase the amount of sugar to half a cup. You can probably go up to a cup, but to be safe, I would stay at half a cup. On the flip side, you can just leave the sugar out altogether.
Do not puree the apples if you want chunky slow cooker applesauce.
Reduce the time by half and turn the slow cooker to high if you need to cook this faster.
Note: I use a 5.5L (6 Quart) slow cooker for all the recipes that I have on this website unless specified. If you have a smaller or larger slow cooker, then you might need to adjust the ingredients.
Nutrition Information
Serving Size: 120g (4.2 oz)
Servings Per Recipe: 18
Calories Per Serving: 64
Amount Per Serving
Saturated Fat: 0g
Trans Fat: 0g
Dietary Fiber: 3g
Sugars: 13g
Cholesterol: 0mg
Sodium: 1mg
Protein: 0g
The information above is an estimate generated by an online nutrition calculator.
More Slow Cooker Recipes
There is plenty of slow cooker recipes that you need to try. Below are just a couple of recipes that I reckon you will love, especially if you like this applesauce.
A delicious apple dessert that I highly recommend that you try is the slow-cooked apple cobbler. You get some incredibly tender sweet apples along with a fluffy cake mixture. It is the ultimate combination that will have you going back for seconds.
For even more apple goodness, I recommend the baked apples. They feature a lovely oat and raisin filling. I absolutely love them, and I think they are the perfect dessert to have in the wintertime.
I hope that this slow cooker applesauce cooks out to be as great as it did for me. If you have any issues, feedback, variations, or anything else that you would love to say, then please feel free to leave a comment below.