This slow cooker apple crisp is the perfect dessert that you can get cooking ahead of time. If you love tender apples topped with a crunchy oat mix, you will enjoy it.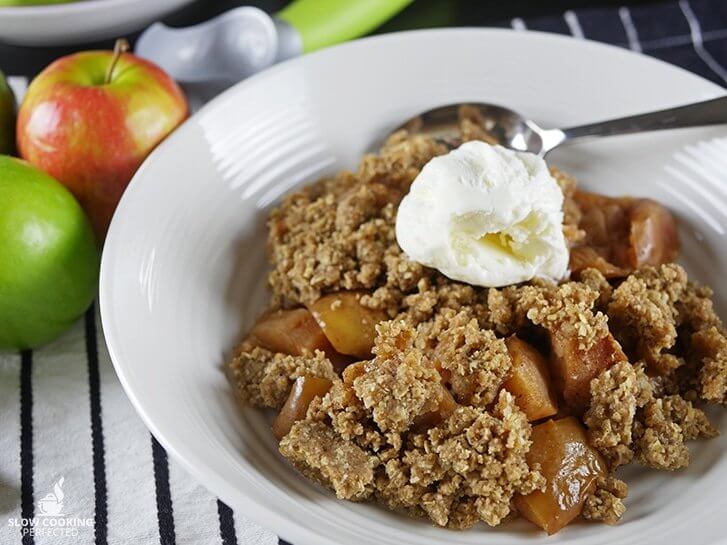 By the time this dish is ready, the apples will be deliciously tender, and the topping will be surprisingly crunchy. It is a delicious combination that will have you going back for seconds.
There are plenty of ways you can cook this dish, but doing it in the slow cooker frees up time and reduces a bit of stress. The apple crisp will be fine if you have it cooking for longer than the required time, unlike in the oven where you end up with a burnt topping.
You should be able to feed four people without the need for any additions. If you need to feed more, then I highly recommend that you double the recipe.
If you have a gluten allergy or on a diet that forbids wheat, then you can try cooking a gluten-free apple crisp in the slow cooker. I cannot say how this will turn out as I have not tried doing it.
Tweaking the Recipe
Assuming you want to add a bit of crunch to your apple crisp, then try adding some chopped walnuts, pecans or slivered almonds. They will add that extra crunch and a bit of a nutty taste as well.
As you can tell in the photos, we cook the apples until they are tender rather than mashed. If you prefer them cooked even longer, than I suggest adding a few more hours onto the cooking time. You can also add two tablespoons of water to help moisten the apple filling.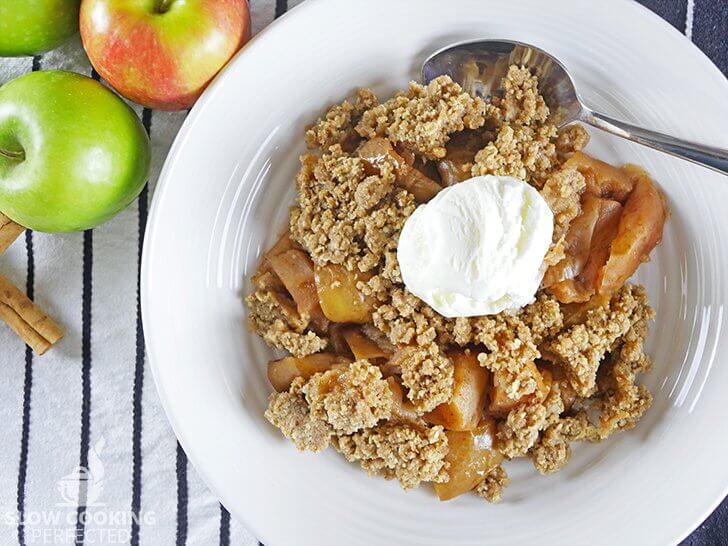 You can use any type of apple in this recipe. I try to use any apples that look like they are starting to go bad, especially if I have too many. If I need to buy apples, I usually buy Fuji or granny smith.
A super easy tweak to this recipe is to use apples out of a tin. You will not need to cook the apple crisp for the full amount of time as the apples are already cooked.
Lastly, more fruit can be added in with the apples. One of my favorite combinations is apple and rhubarb. However, plenty of other combinations work great such as raspberries, pears, or blueberries.
What to Serve with Apple Crisp
Below are some ideas on how you can serve the apple crisp.
I love to serve my apple crisp with a scoop or two of vanilla ice cream. It matches the dessert perfectly as it helps cool the dessert while also adding a slight bit of sweetness.
If you have some spare time, then a homemade custard is excellent drizzled over the top. The store-bought custard will also work pretty nicely.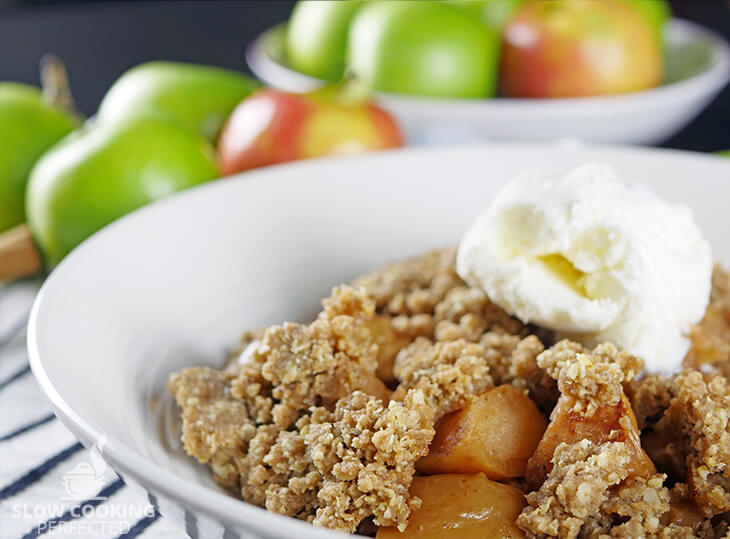 The easiest accompaniment is a drizzle of heavy cream. It helps cut through the sweetness of the dessert and adds a delicious creamy element to it. I highly recommend giving it a try.
The apple crisp also pretty good by itself, so if you are not a fan of adding anything extra, you will not be disappointed.
If you want to see how to make this apple crisp in the slow cooker, then be sure to check out the video below. It is short, snappy, and straight to the point. Alternatively, the full written recipe is immediately underneath the video.
Slow Cooker Apple Crisp Recipe
Ingredients
6 apples, cut into chunks
1 tsp cinnamon, ground
2 Tbsp lemon juice
Topping
200 g (7.1 oz) plain flour
150 g (5.3 oz) unsalted butter, cubed
110 g (3.9 oz) brown sugar
85 g (3 oz) oats
1 tsp nutmeg, ground
1 tsp cinnamon, ground
Instructions
In a bowl, rub together the flour, butter, brown sugar, oats, nutmeg and the cinnamon using your fingers. Rub together until it resembles large breadcrumbs.
In the slow cooker, add the chopped apples, cinnamon, and lemon juice. Mix, so the apple is lightly coated in the lemon juice.
Add the crumble mix on top.
Cook on low for 5 hours or until the apples are tender.
For the last hour, slightly move the lid so that moisture can escape. This technique should help the topping harden.
Serve & Enjoy.
Recipe Tips
If you are in a rush, then you can put the slow cooker on high for two hours and remove the lid slightly for the last hour. Lifting the lid helps the topping harden.
More fruit can be added in with the apple. For example, blueberries, rhubarb, and much more will work very nicely.
Note: I use a 5.5L (6 Quart) slow cooker for all the recipes that I have on this website unless specified. If you have a smaller or larger slow cooker, then you might need to adjust the ingredients.
Nutrition Information
Serving Size: 282g (9.9 oz)
Servings Per Recipe: 4
Calories Per Serving: 848
Amount Per Serving
Saturated Fat: 29.6g
Trans Fat: 0g
Dietary Fiber: 11.8g
Sugars: 53g
Cholesterol: 122mg
Sodium: 338mg
Protein: 7.4g
The information above is an estimate generated by an online nutrition calculator.
More Slow Cooker Desserts
There are so many slow cooker desserts that you can do. Below are a couple of my favorites.
You will notice that some desserts will work better than others in the slow cooker. For example, something like rice pudding or some poached pears will work much better than a cake. That does not mean you cannot cook a cake in the slow cooker.
For something a little more cake-like, you should check out some of the dump cakes you can cook in a slow cooker. My favorite is the apricot dump cake, but the others are also pretty good.
I hope that the slow cooker apple crisp cooks to be as good for you as it did for me. If you have feedback that you would love to share, then please do not hesitate to leave a comment below.