Slow cooker poached pears are a delicious sweet treat and a great way to finish off a nice dinner. In this recipe, I use a few different spices and some red wine to poach the pears.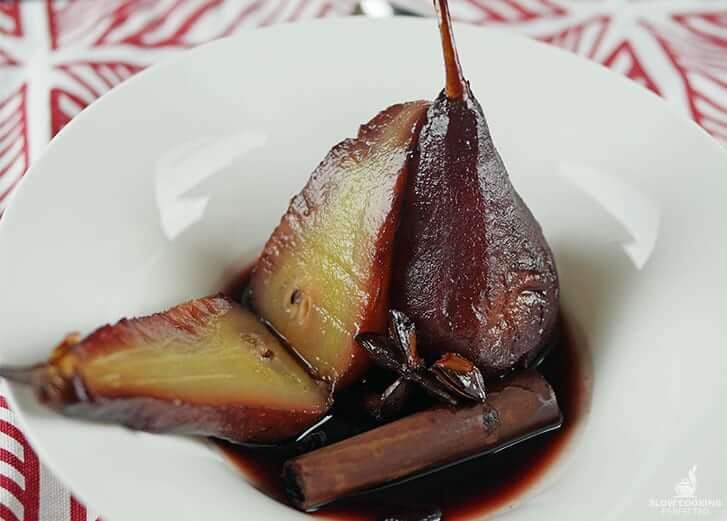 After slow cooking for four hours, the pears will have a lovely red color and a fantastic aroma. As you bite into the pears, they will be super tender, and you will be greeted with flavors from the wine, star anise, cinnamon, and vanilla.
This dessert is probably one of my favorite slow cooker desserts. The tender, succulent pears are just a great way to finish your meal. Personally, I love to enjoy these with some vanilla bean ice-cream or some double cream.
What to Serve with Poached Pears
While I love having these poached pears without any extras, there are a lot of accompaniments that match perfectly.
As I mentioned above, my favorite is to have these pears with some delicious vanilla bean ice cream. You can make ice cream at home or take the easy route and buy it from the supermarket.
Biscotti goes excellent on the side of these poached pears. You can serve them whole, or you can crush them and scatter it over the pears. Both options are incredibly delicious.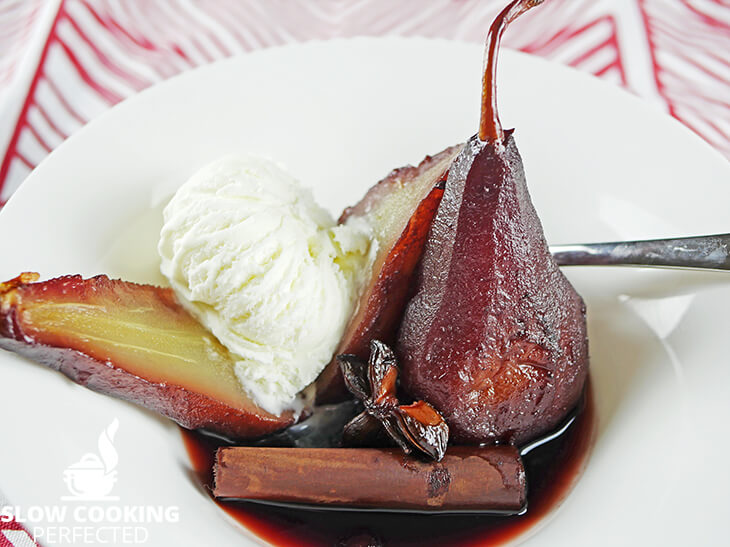 A delicious homemade custard with these pears is a match made in heaven. If you don't have the time, then some store-bought custard will suffice. I highly recommend giving it a try.
Double Cream or mascarpone is a bit easier than some of the options above and just as delicious.
Let us know if you have any suggestions on what to serve with these delicious red wine poached pears.
Adjusting the Red Wine Poaching Liquid
There are lots of small changes that you can make to the poaching liquid to add some more flavors. I like the recipe how it already is, but feel free to experiment.
Some citrus is an excellent way of adding some more flavor. You can add lemon, orange, or even lime zest into the liquid. For a strong citrus flavor, you can add some of the juice in as well.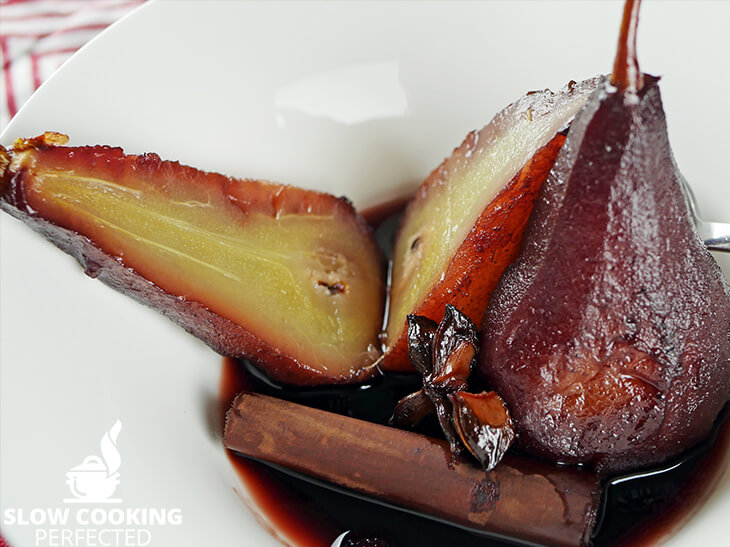 If you are looking to add some more spices into the liquid, then you will find cardamom pods, cloves, or even nutmeg excellent additions. Remember not to go overboard as it may spoil the entire dish.
You're able to play around a little with the type and amount of sugar we use in the liquid. I prefer white sugar, but brown sugar or even honey can be used. If you like your desserts sweet, then you can add a little bit more sugar.
You can easily substitute the red wine for white wine if that's what you prefer. You should get a very similar result, but white wine tends to be a bit sweeter. It just comes down to what you prefer.
Don't be afraid to share your adaptions to this recipe by leaving a comment at the bottom of this page. We love to hear how you have improved this recipe.
What to do with Leftover Pears
The pears also make for a great breakfast, so if you have any leftover from dessert, then keep them in the fridge covered in the poaching liquid. I personally love to slice them up and eat them with some granola and yogurt.
You're also able to freeze the pears and keep them stored for up to six months. I prefer to have them as fresh as possible.
If you want to see how to do this recipe, then be sure to check out the video I prepared below. It goes through all the steps to making these delicious poached pears in red wine. If you do love the video, then be sure to subscribe, so you're kept up to date.
Slow Cooker Poached Pears Recipe
Adblock removing the video? Support us by going ad-free or whitelist us in your ad-blocker.
Ingredients
4 cups red wine
½ cup sugar
1 tsp vanilla essence
2 cinnamon sticks
2 whole star anise
6 firm pears, peeled
Instructions
Mix the red wine, sugar, and vanilla in the slow cooker.
Add the cinnamon sticks, star anise, and the pears. Make sure the pears are covered in the wine mixture.
Cook for 4 hours on low or until the pears are nice and tender.
Before you go to serve, scoop roughly a cup of the poaching liquid and transfer it to a small pot. Bring to the boil and cook for about 5-10 minutes or until thickened and syrupy.
Serve the pears with a drizzle of the syrup over the top.
Recipe Tips
If you don't have the time to wait for the syrup to thicken up by boiling it, then a cornstarch and water mixture will thicken it up fast. Mix in a small bowl one tablespoon of water and one tablespoon of cornflour and pour this in the syrup that's in the pot at step five. It should thicken up fast, cook this for about two to three minutes.
You can replace the vanilla essence for vanilla bean pods. It's slightly more expensive, but you will certainly notice the difference.
If you decide to core and halve the pears, then you will only need to cook the pears for half the time.
Don't stress about the sugar not being dissolved at the start. You will find after four hours of slow cooking that the sugar would have well and truly dissolved into our wine mix.
Note: I use a 5.5L (6 Quart) slow cooker for all the recipes that I have on this website unless specified. If you have a smaller or larger slow cooker, then you might need to adjust the ingredients.
Nutrition Information
Serving Size: 385g (13.6 oz)
Servings Per Recipe: 6
Calories Per Serving: 320
Saturated Fat: 0g
Trans Fat: 0g
Total Carbohydrate: 53.8g
Dietary Fiber: 7g
Sugars: 38.4g
Cholesterol: 0mg
Sodium: 11mg
Protein: 1g
The information above is an estimate generated by an online nutrition calculator.
More Delicious Desserts
There are plenty of fruity desserts that you can make in the slow cooker. I highly recommend trying one of the following recipes if you like this recipe.
I love making some baked apples filled with oats, raisins, walnuts, sugar, and spices. The apples cook to be tender and packed full of flavor from the delicious filling.
You can also make some delicious custards in the slow cooker. These custards go great with these poached pears or other soft fruit such as peaches.
I hope you love this slow cooker poached pears in red wine recipe as much as I do. If you do have a variation, feedback, or anything else that you would love to share, then please feel free to leave a comment below.