Making some slow cooker granola is the perfect way to have your very own homemade breakfast cereal ready to go throughout the week.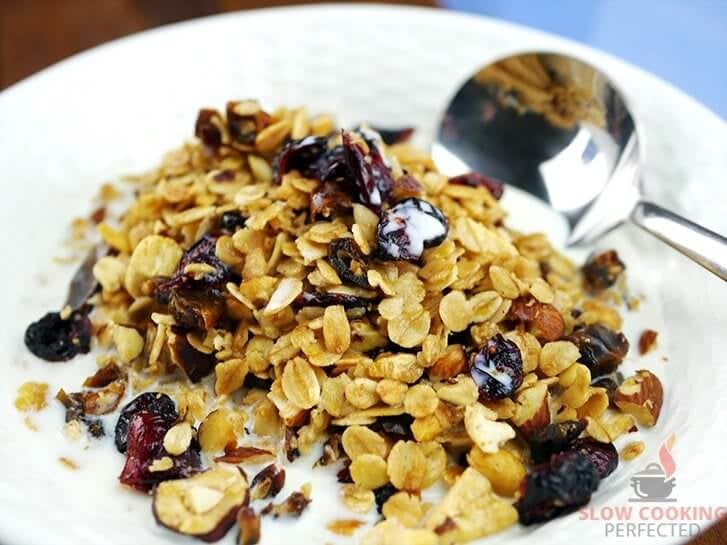 By the time this granola is ready to eat, the oats and nuts will be lightly toasted. You will get some delicious flavors from the honey, dried fruit, and chopped nuts. It's a fantastic combination that tastes amazing.
As with any type of granola, this goes great with some yogurt and fresh berries. Alternatively, just having it with some fresh milk is the perfect way to enjoy this flavor-packed breakfast.
This breakfast granola is a pretty easy recipe that you can have cooking while you do other things. It's also perfect if you need to make this dish in bulk as you can easily double or triple the recipe.
One of the best reasons to make granola at home is that you can select all the ingredients that go into it. For example, if you want more nuts, then simply add more. Feel free to get creative.
What to Serve with this Granola
The great thing with granola is that there are so many different ways you're able to serve and eat it. Below are just a couple of suggestions.
Likely the most popular way to eat this delicious breakfast dish is with some milk and fruit. If you're unable to use regular dairy milk, then you can substitute it for almond milk or something different.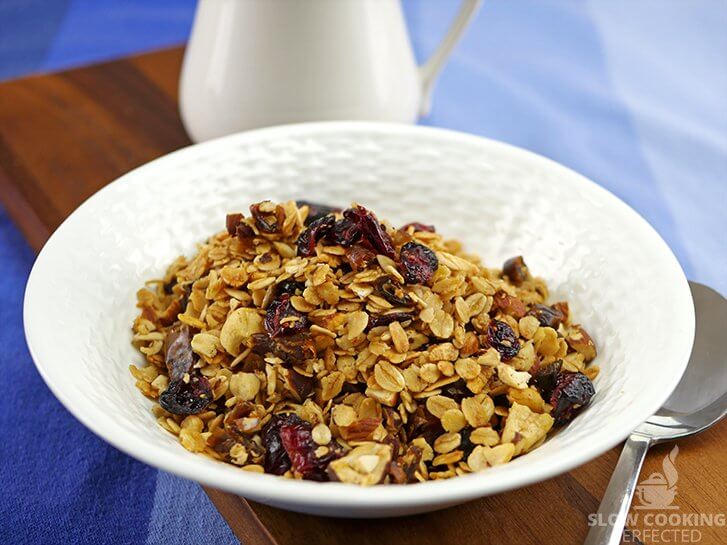 One of the most delicious combinations I have tried is mixing this granola with a homemade smoothie. The result is an incredible blend of flavors that will leave you feeling pretty satisfied.
You could also use this granola as a topping on an apple crisp. It will be one of the crunchiest and tastiest toppings that you have ever made.
There are lots more ways that you can serve this granola, so if you have any ideas, then be sure to leave a comment at the bottom of this page.
Perfecting this Recipe
Making granola at home allows you to alter the recipe, so it's exactly how you like it. If you prefer a nuttier breakfast, then just add some more nuts. On the flip side, you can add more fruit to the dish as well.
You can make this granola paleo-friendly by leaving out the oats and using more nuts. Also, perfect if you want tasty gluten-free granola that you can cook up in the slow cooker.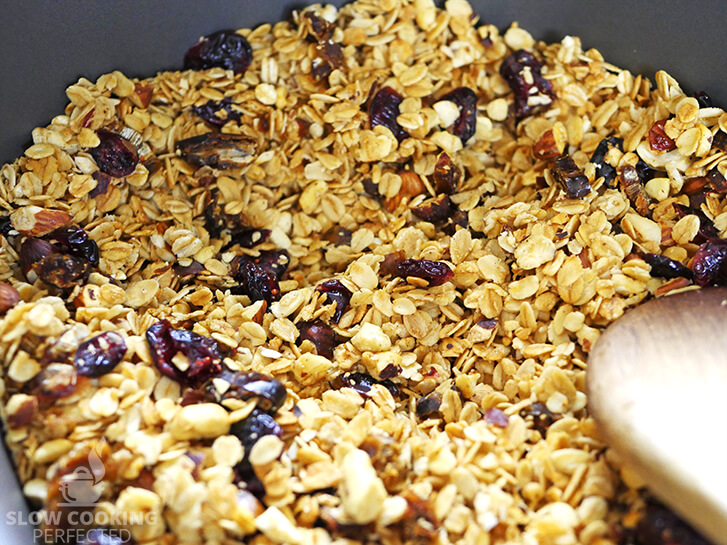 For the best results, you will need to set the slow cooker to high heat. It will help ensure that the oats and nuts become lightly roasted and delicious.
I do not recommend cooking this with a slow cooker liner or similar. The plastic might stop the heat from cooking the granola correctly, and this may leave you with a less satisfying result.
Storing the Granola
This granola can be kept in the cupboard for quite a while before it will go bad. Just make sure you place it into an airtight container then store it in a dry spot in the cupboard.
I don't recommend storing the granola in the fridge or freezer as there is no real need to do so. The fridge or freezer also might introduce liquid to your granola, which can make it spoil faster than usual.
If you love to watch videos, then the video below will take you through all the steps to making this tasty granola in the slow cooker. Alternatively, you can find the full written recipe right below the video.
Slow Cooker Granola Recipe
Ingredients
4 cups rolled oats
1/3 cup almonds, roughly chopped
1/3 cup hazelnuts, roughly chopped
1/3 cup cashews, roughly chopped
1/2 tsp cinnamon, ground
¼ tsp salt
¼ cup coconut oil, melted
¾ cup honey
2 tsp vanilla extract
1/2 cup dates, chopped
1/2 cup cranberries
Instructions
Lightly grease a slow cooker with oil.
Mix the rolled oats, nuts, cinnamon, and salt in the slow cooker.
Stir in the coconut oil, honey, and vanilla until everything is well coated.
Cook on high for 2 hours with the lid slightly askew. Stir every 30 minutes, so the granola is cooked evenly.
Turn the slow cooker completely off and stir in the dates and cranberries.
Allow to cool completely before storing in an airtight container.
Enjoy!
Recipe Tips
There are quite a few things that you're able to change with this recipe to make it more to your liking. For example, you can change the fruit or the nuts in the recipe to something that you will prefer.
Cooking with the lid entirely on will likely result in quite a soggy granola as it won't allow moisture to escape. It should still cook to be fine; just expect it to be a bit moist.
Make sure the slow cooker granola is completely cooled before you place it in an airtight container. If you store it hot, then it is likely to steam and go soggy. It may also develop mold due to the increase in moisture.
Note: I use a 5.5L (6 Quart) slow cooker for all the recipes that I have on this website unless specified. If you have a smaller or larger slow cooker, then you might need to adjust the ingredients.
Nutrition Information
Serving Size: 189g (6.7 oz)
Servings Per Recipe: 6
Calories Per Serving: 746
Saturated Fat: 10.5g
Trans Fat: 0g
Dietary Fiber: 13g
Sugars: 38g
Cholesterol: 0mg
Sodium: 103mg
Protein: 21g
The information above is an estimate generated by an online nutrition calculator.
More Slow Cooker Breakfast Recipe
Granola is just one of the many breakfast dishes that you can do in the slow cooker. Below are a couple more recipes that you might be interested in trying.
If you love oats, then you need to give the slow cooker oatmeal a try. You will need to use steel-cut oats for the best results.
Another slow cooker dish that I highly recommend giving a try is the corned beef hash. It's a delicious cooked breakfast with tasty chunks of potato and corned beef. I highly recommend giving it a try.
I hope that you enjoy this tasty slow cooker granola and that it cooked out to be as great as it did for me. If you have some tips, feedback, or anything else, then feel free to leave a comment below.