This incredible slow cooker corned beef hash is the perfect all in one dish. It has amazing chunks of potato, beef, and onion. It also has some delicious herbs such as thyme and parsley.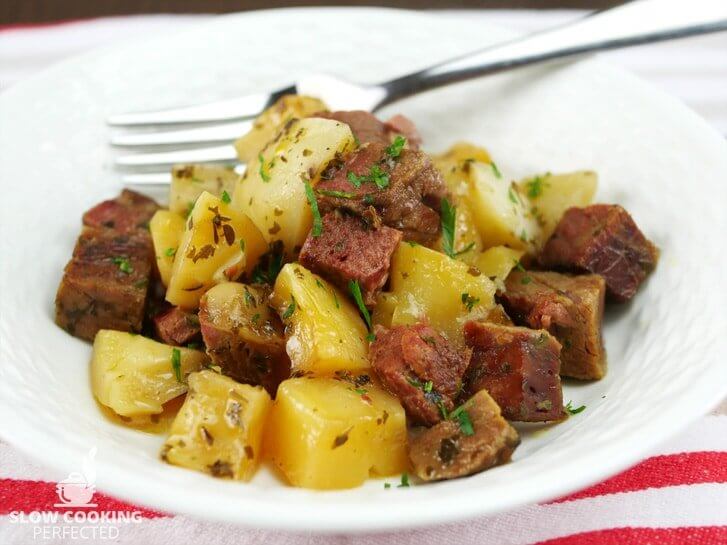 By the time this dish is ready, you will have some lovely tender chunks of potato, onion, and corned beef. There is a slight bit of broth that is packed with flavor thanks to the beef stock, Worcestershire sauce, and herbs.
Personally, I prefer to use fresh corned beef, so I usually make some the day before in the slow cooker. However, if you do not mind, then the tinned meat works just as well. You can find tinned corned beef at pretty much any good supermarket or even online at places like Amazon.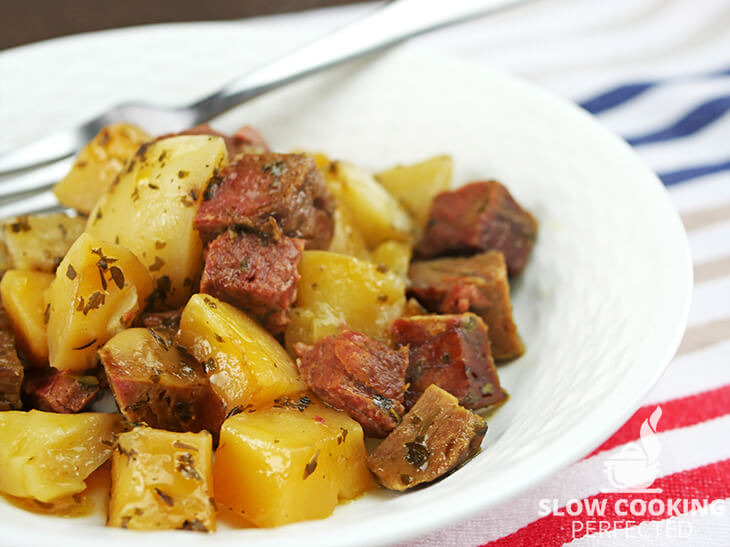 A single batch of this dish will feed roughly six people. Still, it will heavily depend on how hungry people are and whether you are making any extra side dishes.
The leftovers of this dish will reheat nicely, so make sure you keep them. Store in the fridge until required, then heat in the microwave or a preheated oven. If you prefer, you can also freeze the leftovers and simply reheat when you need them.
Tweaking the Recipe
There are so many variations that you are able to do with this recipe. Below are a couple of ideas on what you can do.
If you want to have eggs, simply fry or poach some eggs just before serving the food. I would avoid adding the eggs directly into the slow cooker as they will likely overcook and not be very nice.
You can add some extra vegetables if you want a little bit more nutrition and flavor. Popular additions include vegetables such as bell peppers and carrots. For a bit of extra meat, crispy slices of bacon are very popular.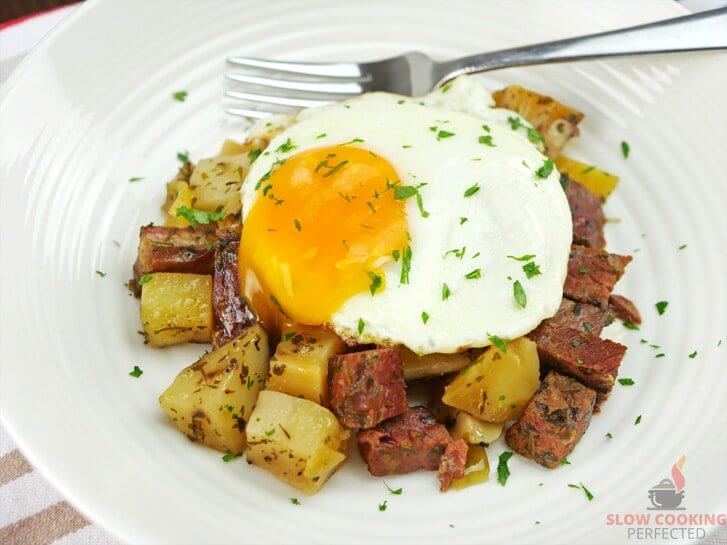 For even more flavor, you can add some baked beans in with the rest of the ingredients. You will need to be careful as this will add quite a bit of fluid and can turn the dish into a stew.
If you have a variation that you would like to share, then be sure to leave a comment below. I love to see what amazing combinations that people can come up with.
Watch the video below to see how to make this corned beef hash in the slow cooker. Alternatively, you can find the full written recipe right below the video.
Slow Cooker Corned Beef Hash Recipe
Ingredients
1 kg (2.2 lb) corned beef, cubed
5 potatoes, peeled & cubed
1 onion, chopped
1 Tbsp parsley, chopped
½ tsp thyme, dried
2 Tbsp butter, cubed
1 Tbsp Worcestershire sauce
½ cup beef stock
Instructions
Place the corned beef, potatoes, onion, parsley, and the thyme into the slow cooker. Mix together.
Add the butter, Worcestershire sauce and beef stock over the top of the corned beef mix.
Cook on low for 6-8 hours or on high for 4 hours.
Season with salt and pepper.
Serve & Enjoy.
Recipe Tips
If you are running low on time, then you can skip peeling the potatoes. However, make sure you wash them to make sure there isn't any dirt left on them.
There are a ton of variations that you can do for this recipe, such as adding baked beans or tinned crushed tomatoes. Just remember the more fluid you add, the more stew-like this dish will become.
Personally, I prefer to use fresh parsley for this dish, but you can use dried if you do not have any available. You do not need to adjust the amount, just substitute with the chosen type of parsley.
Note: I use a 5.5L (6 Quart) slow cooker for all the recipes that I have on this website unless specified. If you have a smaller or larger slow cooker, then you might need to adjust the ingredients.
Nutrition Information
Serving Size: 521g (1.2 lb)
Servings Per Recipe: 6
Calories Per Serving: 505
Saturated Fat: 5.2g
Trans Fat: 0.7g
Dietary Fiber: 7g
Sugars: 4g
Cholesterol: 134mg
Sodium: 261mg
Protein: 41g
The information above is an estimate generated by an online nutrition calculator.
More Slow Cooker Breakfast Recipes
There are quite a few breakfast dishes that you can do in the slow cooker, and this dish is best suited for either breakfast or dinner.
If you are looking for something less meaty to have for breakfast, you might be interested in something like the French toast casserole.
The hash brown casserole is an incredibly cheesy recipe and perfect as a meal or side dish. It is super easy and always cooks to be incredibly delicious, it is one of my favorite slow cooker recipes.
I hope that this slow cooker corned beef hash comes out to be as delicious as it was for me. If you have some tips, variations, or just some feedback that you would like to add, then be sure to leave a comment below.