A slow cooker breakfast casserole is a fantastic way to start the day. It is loaded with hash browns, cheese, and much more.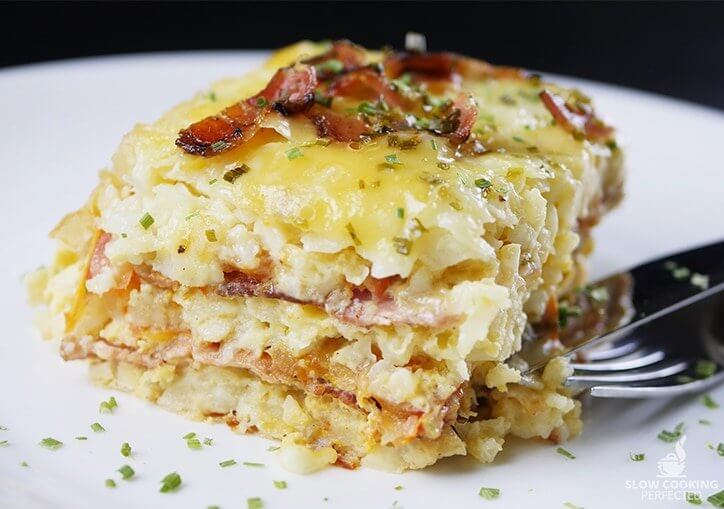 This casserole blends all the fantastic flavors of a typical cooked breakfast in one simple slow cooker dish. You have layers of crispy bacon, tomato, potato, cheese, and an amazing egg mix.
It is the perfect breakfast dish to get cooking the night before so you can wake up, make yourself a nice cinnamon latte, and have a relaxing breakfast.
This dish is very filling, so you should not need to serve huge portions. However, with that said, it is super hard not to go back for seconds.
A single batch of this recipe is enough to feed quite a few people. It is the perfect casserole for feeding a crowd without needing to spend your entire morning in the kitchen.
If you like the idea of hash browns in the slow cooker, then the easy cheesy hash brown casserole might interest you. It is layers of hash browns in a thick cheesy sauce that tastes absolutely amazing.
Tweaking the Recipe
You can swap the bacon for other meats such as sliced pork sausages. You could try the casserole with other slow-cooked meats such as the pulled pork or shredded taco chicken.
I made use of hash brown patties, but you can also use shredded hash browns. There is not a huge difference between the two types, so do not stress about which to buy.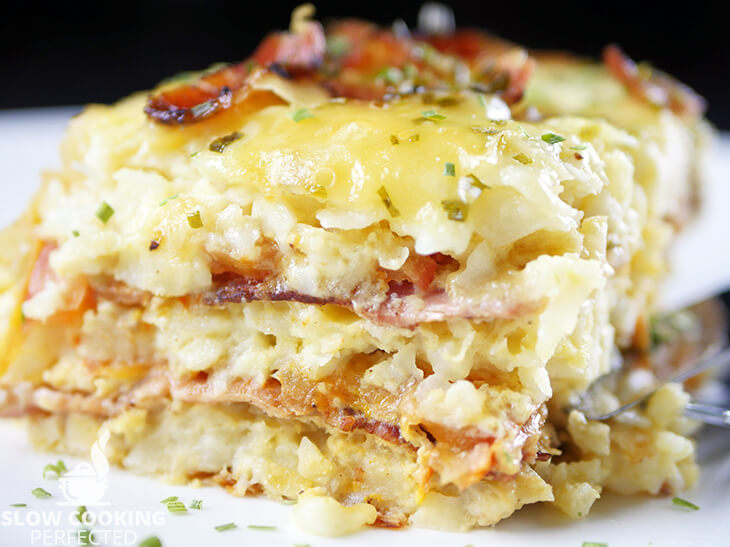 You can add some sliced red bell peppers to this dish. You can swap the tomatoes with them, or you can have them as an extra ingredient. Other vegetables such as mushrooms will also work nicely in this casserole.
If you love things cheesy, then do not be afraid to double the cheese. You can also experiment with stronger flavored cheeses to get a much different tasting dish.
The video below will take you through all the steps on how to make this breakfast casserole in the slow cooker. If you like the video and would love to stay up to date, then be sure to subscribe to our YouTube Channel.
Slow Cooker Breakfast Casserole Recipe
Ingredients
500 g (1.1 lb) bacon rashers
12 eggs
2 tomatoes, sliced
1 cup milk
750 g (1.7 lb) hash brown potatoes
1 & ½ cups mozzarella cheese, shredded
1 tsp chives, chopped
Instructions
Firstly fry the bacon in a frying pan until it is crispy. Once it is cooked, place to the side.
In a bowl, beat the eggs together. Once beaten, add the milk and mix until combined.
In the slow cooker layer in the following order, 250g (9 oz) hash browns, 5 rashers bacon, 1 sliced tomato, 1/2 cup of cheese, 1/3 of the egg mix, salt, pepper and then repeat. Finish off with a layer of hash browns on top and pour in the remaining egg mixture. Top with ½ cup of cheese, and chives. Season with salt and pepper.
Place the lid on and cook on low for 6-8 hours.
Serve & Enjoy.
Recipe Tips
You do not need to precook the bacon, but doing so will leave you with delicious crispy bits of bacon at the end of cooking.
Remember, most slow cookers run at different temperatures, so you may find your casserole will cook faster than the recommended eight hours, even on low.
Note: I use a 5.5L (6 Quart) slow cooker for all the recipes that I have on this website unless specified. If you have a smaller or larger slow cooker, then you might need to adjust the ingredients.
Nutrition Information
Serving Size: 305g (10.8 oz)
Servings Per Recipe: 8
Calories Per Serving: 756.4
Amount Per Serving
Saturated Fat: 15.1g
Trans Fat: 0g
Total Carbohydrate: 37.8g
Dietary Fiber: 3.4g
Sugars: 4.1g
Cholesterol: 328mg
Sodium: 2000mg
Protein: 41.5g
The information above is an estimate generated by an online nutrition calculator.
More Slow Cooker Breakfasts
If you think this may be a little too much for your liking, then there are a ton of other easy slow cooker breakfast recipes that you can do.
I love cooking some oatmeal in the slow cooker as it creates a delicious creamy texture that is loaded with flavor. You will need to use steel-cut oats for the best results.
The French toast casserole is the perfect dish if you are looking to feed a crowd. I also love making it whenever I have lots of leftover bread that I need to use.
If you have made this slow cooker breakfast casserole and would love to leave feedback, be sure to leave a comment below.