The slow cooker oatmeal is a fantastic breakfast that you can prepare and get cooking just before you go to bed. If you're a fan of oatmeal, then you're likely to love this dish.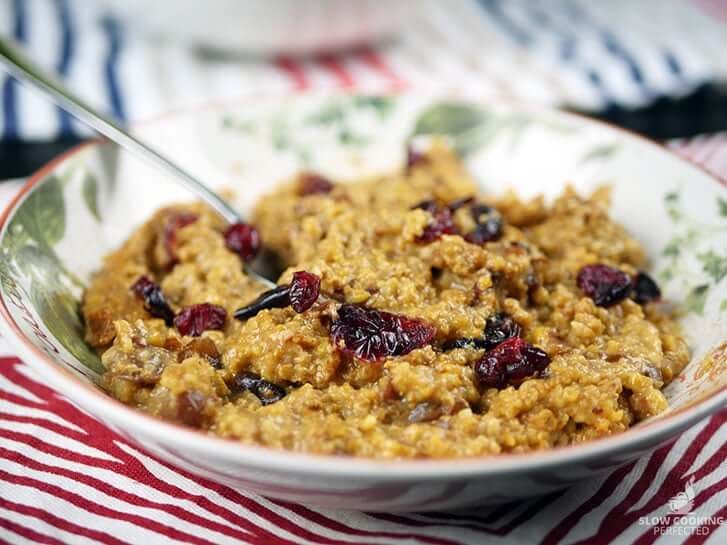 By the time this oatmeal is ready to eat, it should be creamy and have a lovely golden color. There will be amazing flavors from the oats themselves, the cinnamon, vanilla, and sugar. It's a super satisfying breakfast.
This dish is perfect on a cold winter's day, and ideal if you're short on time in the morning but want a cooked breakfast. You can easily start cooking the oatmeal the night before and have a warm cooked breakfast ready for when you wake up.
The long cooking time allows for all the flavors to infuse, resulting in flavor-packed oatmeal that tastes amazing. I found that cooking for six hours is ideal, but if needed, it can be left to cook for up to eight hours.
Tweaking the Oatmeal Recipe
There are so many changes that you can make to this dish. Below are just a couple of examples of how you can personalize this delicious oatmeal.
Adding something like chopped apple, apple butter, or different types of dried fruit will help add to this dish. I use dried cranberries in this recipe, and it tasted absolutely amazing.
A drizzle of cream will help lighten the oatmeal, so it's the perfect change if you don't like it being too heavy.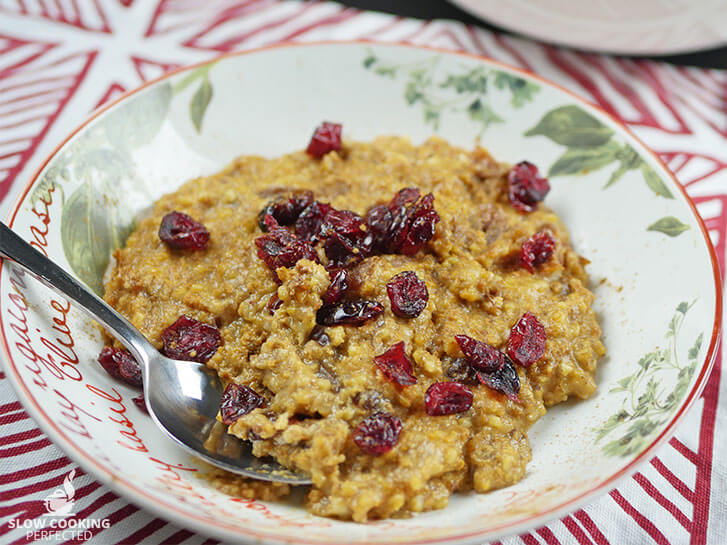 It's extremely important that you use steel cut oats in this slow cooker oatmeal recipe. Any other type of oat will cook too fast and you will end up with overcooked oatmeal that doesn't taste very nice.
The ground cinnamon makes this oatmeal turn brown. You can use a cinnamon stick to avoid this problem.
Every slow cooker cooks slightly different, so the cooking time may vary quite heavily. If your slow cooker cooks hot, then you might want to reduce the cooking time to just four to six hours.
We have some more cooking tips just below the recipe itself. I recommend reading these tips so that you get the best possible outcome.
What to do with Leftovers
If you have any leftovers, then they can be stored in the fridge for a couple of days before you will need to discard them.
Simply reheat any leftovers in the microwave, and you will have amazing warm oatmeal ready for eating. I did find that it did become quite thick and not nearly as lovely as when it was fresh.
If you love videos, then be sure to check out my video on how to make this oatmeal in the slow cooker. It goes through every step to making this deliciously creamy breakfast dish. If you're just after the text version of the recipe, then you can find it right below the video.
Slow Cooker Oatmeal Recipe
Ingredients
1 cup steel-cut oats
4 cups milk
1 tsp cinnamon, ground
1 tsp vanilla essence
½ cup brown sugar
½ cup raisins
Instructions
First, lightly spray or grease the slow cooker.
Add the oats, milk, cinnamon, vanilla, brown sugar, and the raisins to the slow cooker. Gently mix until combined.
Cook on low for 6 to 8 hours.
Serve & Enjoy.
Recipe Tips
Make sure you use steel-cut oats and not quick or rolled oats. This recommendation is because quick or rolled oats will cook too fast, and you're likely to just end up with a gluey mess by the time you go to eat it.
If you want your oatmeal to be a bit creamier, then you can try substituting one to two cups of the milk with cream instead.
The milk can be substituted with water if you prefer to have lighter and less creamy oatmeal. It's also a bit healthier.
You can also substitute the milk for a dairy-free alternative such as almond milk or coconut milk. Keep in mind both of these will add a different flavor to the dish.
If brown sugar isn't your thing, then you can also substitute it for other sweeteners such as maple syrup, honey, or even just plain white sugar. You can also leave out the sweetener entirely. I sometimes like to drizzle some honey over the top of the finished oatmeal.
Note: I use a 5.5L (6 Quart) slow cooker for all the recipes that I have on this website unless specified. If you have a smaller or larger slow cooker, then you might need to adjust the ingredients.
Nutrition Information
Serving Size: 302g (10.7 oz)
Servings Per Recipe: 4
Calories Per Serving: 327
Amount Per Serving
Saturated Fat: 3.2g
Trans Fat: 0g
Total Carbohydrate: 58.6g
Dietary Fiber: 3g
Sugars: 39.7g
Cholesterol: 20mg
Sodium: 123mg
Protein: 11.3g
The information above is an estimate generated by an online nutrition calculator.
More Delicious Recipes
There are many other slow cooker breakfast recipes that you're able to put on when you go to bed so that you have a lovely cooked breakfast waiting for you when you wake up.
If you love French toast, then something like the delicious slow cooker French toast is well worth checking out. It's a casserole and has all the flavors that you come to expect with French toast. I love cooking some bacon to go with it.
Another breakfast recipe that you should check out is the homemade granola. It has a delicious range of nuts, oats, dried fruit, and a little bit of honey. I highly recommend if you want a delicious breakfast dish that you can make ahead.
If you want to leave some feedback or have a variation on this slow cooker oatmeal, then please don't hesitate to leave a comment below.