There is nothing like a good slow cooker bread pudding for either breakfast or dessert. This dish is incredibly easy and is a great way to use up some old bread.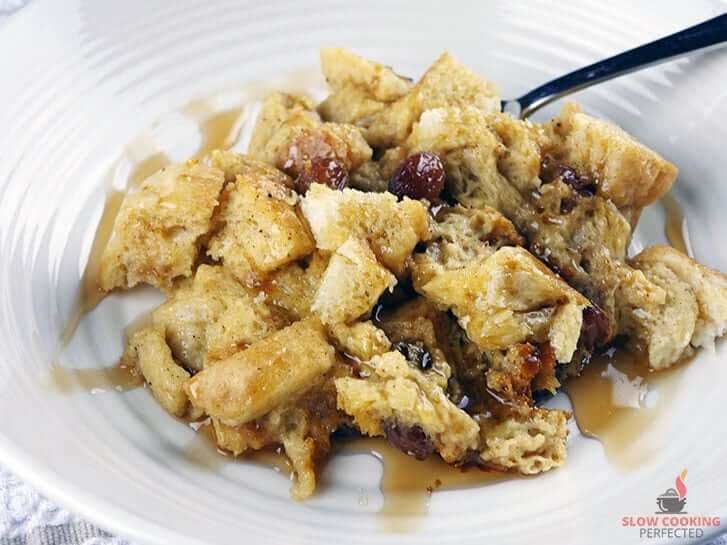 By the time this pudding is ready to serve, it will be moist, packed with flavor, and have delicious raisins throughout it. It's delicious on its own but even better with ice cream and maple syrup.
Bread pudding is an absolute classic and originated from British cuisine. It was once considered to be a poor man's pudding but is now a very popular dish and enjoyed by many.
This pudding is a great way to use any stale bread that you might have lying around. In fact, stale bread will work the best as it absorbs the egg mixture much better than fresh bread.
What to Serve with Bread Pudding
Many different sides will match nicely with bread pudding. I will go through a couple of examples of what you can have with this pudding.
This pudding is fantastic with a drizzle of honey or maple syrup over the top. If you want to go one step further, then some vanilla ice cream matches amazingly well.
If you're having this bread pudding as a tasty slow-cooked breakfast, then a side of bacon also works well with this dish. It's the perfect blend of sweet and savory to start the day.
Be sure to let us know if there is anything that you highly recommend having with this pudding.
Personalizing the Recipe
You can make several changes to this recipe to make it more to your liking. Below is just a couple of examples of what you can do.
Swapping the raisins or adding additional fruit is an excellent way of radically changing the flavors. You can use a mixture of dried fruit such as cranberries, apricots, apples, and so much more. Be careful when adding fresh fruit as they might introduce too much liquid into the pudding.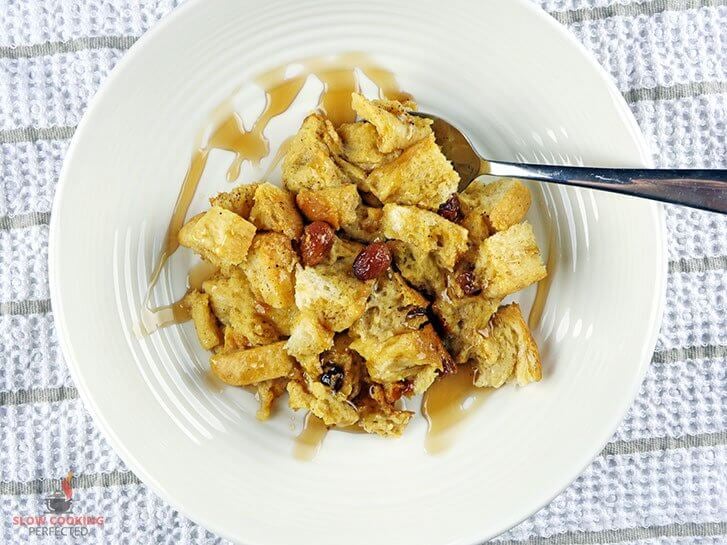 Many different types of bread will work just fine in this bread pudding recipe. For example, you can use fruit bread, sourdough, or even croissants. Make sure you use stale bread for the best results.
Again, much like the accompaniments, there are lots of ways you can alter this recipe. If you have any suggestions, be sure to share them with us.
What to do with Leftovers
The leftovers of this pudding will keep for a few days in the fridge. Whenever you're feeling a bit hungry, just reheat in the microwave for a delicious quick & easy breakfast or dessert.
You can also freeze this dish, but it's probably not going to be as lovely as it was fresh. It should last for up to three months if stored correctly in the freezer.
If you want to see how to make this bread pudding in the slow cooker, then be sure to check out the video below. The video will take you through everything that you need to do in a short and snappy manner.
Slow Cooker Bread Pudding Recipe
Ingredients
½ cup brown sugar
2 eggs
½ cup butter, melted
½ tsp cinnamon, ground
½ tsp nutmeg, ground
2 cups milk
8 cups of cubed sliced bread
½ cup raisins
Instructions
In a bowl, beat together the brown sugar, eggs, and butter.
Whisk in the cinnamon and nutmeg until well combined.
Lastly, whisk in the milk.
In a greased slow cooker, add the cubed sliced bread and raisins.
Pour in the milk mixture, stir slightly to help ensure that the bread is well coated.
Cook on low for 3-4 hours or until cooked.
Serve & Enjoy.
Recipe Tips
Avoid cooking this pudding on the high setting as it's likely to burn the egg mix.
Older bread tends to work best as it will absorb the egg mixture a lot faster, leaving you with a much better tasting bread pudding.
If you don't like raisins or cranberries, then these can be left out completely or swapped for another type of fruit. Chunks of apples will also work pretty well in this pudding.
A jam can help change this recipe and make it incredibly fruity in flavor. Simply add quarter of a cup of jam into the milk mix or add it to the cubed bread and mix it around.
You can add some nuts such as walnuts, pecans or slivered almonds for a bit of crunch.
Note: I use a 5.5L (6 Quart) slow cooker for all the recipes that I have on this website unless specified. If you have a smaller or larger slow cooker, then you might need to adjust the ingredients.
Nutrition Information
Serving Size: 187g (6.6 oz)
Servings Per Recipe: 6
Calories Per Serving: 407
Saturated Fat: 11.6g
Trans Fat: 0g
Total Carbohydrate: 49.5g
Dietary Fiber: 1.7g
Sugars: 24.8g
Cholesterol: 102mg
Sodium: 490mg
Protein: 8.6g
The information above is an estimate generated by an online nutrition calculator.
More Slow Cooker Recipes
If you love this recipe or looking for similar dishes, then you should check out the French toast cooked in the slow cooker. The French toast is similar to this pudding, but you will find it to be less sweet and have more of a creamy egg taste to it.
The banana bread that you can make in the slow cooker is also pretty tasty. Once cooked, it will be moist and rich in banana flavor. It's a recipe that I always recommend giving a go.
I hope that you enjoy this delicious slow cooker bread pudding recipe. If you have any feedback, tips, or anything else that you would like to share, then please don't hesitate to leave a comment below.