This slow cooker banana bread cooks to be incredibly moist and is the perfect breakfast or dessert.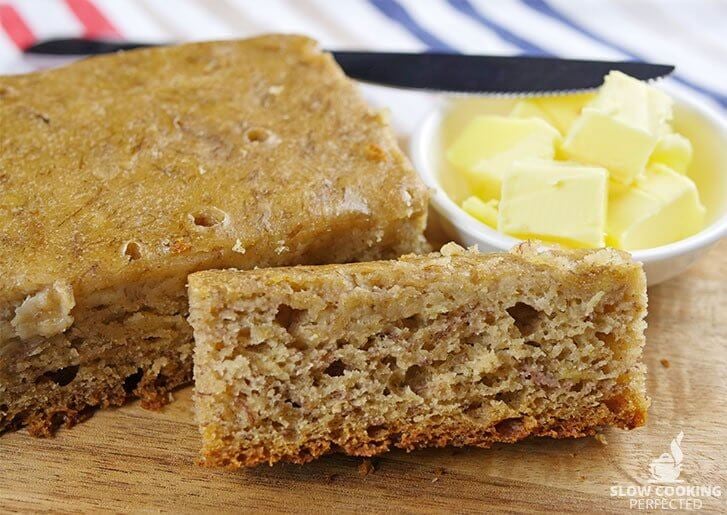 I love the flavors of this banana bread as you get a good taste of banana backed by a hint of cinnamon. The smell from the slow cooker is also amazing. It provides an even better reason to bake a banana bread in the slow cooker rather than the oven.
There is one thing that I have always loved about making cakes and desserts in the slow cooker. That one thing is how incredibly hard it is to stuff up the recipe. Very rarely, I end up with burnt bread, puddings, and other dishes that can so quickly go wrong when you bake in a traditional oven.
You will get roughly sixteen servings out of a single batch of this banana bread. Personally, I can eat two servings, so you may find it will only be enough to feed six or eight people.
This bread will keep nicely for a few days before going stale. I recommend keeping it covered in the fridge for up to three to five days. You can also store it in the freezer. However, I am unsure how well it will keep.
Serving the Banana Bread
Below are a couple of ideas on how to serve this delicious banana bread.
You can just scoop this straight out of the slow cooker and eat it like a pudding, or you can leave it to cool and slice it like bread. Either option is super delicious.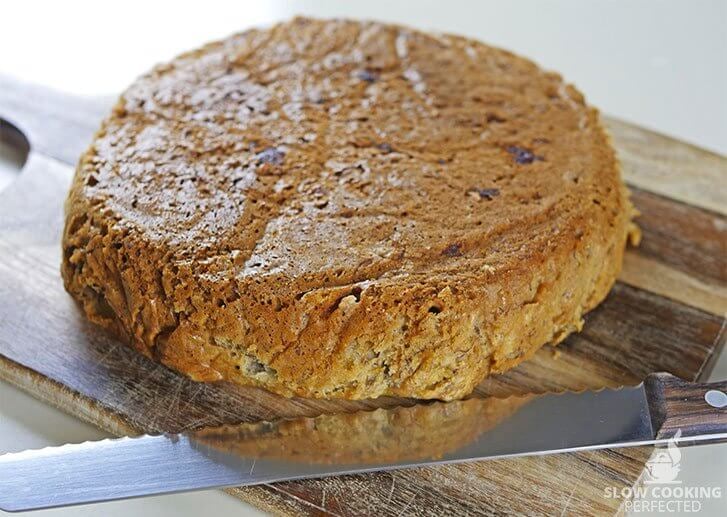 If you are serving the bread warm, then a scoop of vanilla ice cream will work very nicely with all the lovely flavors. Alternatively, some whipped cream is another great option.
I love to serve this bread with a slight bit of butter spread on it. It helps moisten the bread and adds a little bit of flavor. I highly recommend giving it a try.
Tweaking the Recipe
There are a few ways that you can tweak this recipe so that it is more to your liking. Below are some great ideas on what you can do.
If you are feeling a bit adventurous and love a bit of crunch in your banana bread, try adding some chopped walnuts, almonds, or pecans.
You can also try adding some chocolate chips if you want a delicious blend of chocolate and banana. Whatever you decide to add, you will find that one cup should be more than enough.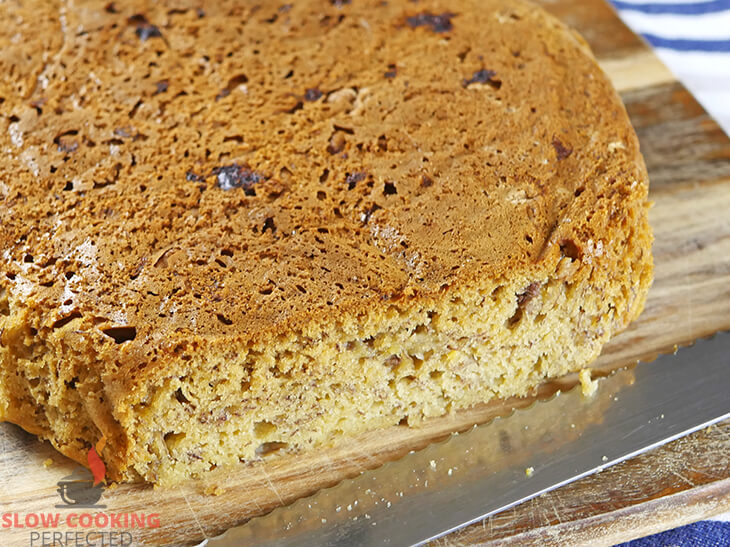 You can make a loaf of quick and easy banana bread in the oven if you need to make this dessert a little faster. The oven method will be ready in less than an hour but involves baking instead of slow cooking.
If you want to see how to make this delicious banana bread in the slow cooker, then be sure to check out the video below. Alternatively, there is a full written recipe immediately below the video.
Slow Cooker Banana Bread Recipe
Ingredients
½ cup unsalted butter, softened
¾ cup caster sugar
2 eggs
2 cups plain flour
2 tsp baking powder
1 tsp baking soda
1 tsp cinnamon, ground
½ tsp salt
1 tsp vanilla essence
3 bananas, mashed
Instructions
In a bowl, beat together the butter and sugar until pale.
One by one beat in the eggs until well combined.
Fold in the plain flour, baking powder, baking soda, cinnamon, salt, vanilla, and mashed bananas.
Line the slow cooker with foil and lightly grease.
Pour the mixture onto the foil.
Cook on low for 4 hours or until completely cooked.
Allow to cool slightly in the slow cooker before removing.
Serve & Enjoy.
Recipe Tips
All slow cookers cook differently, so you might find yours will take longer to cook. For example, if you have a smaller slow cooker, it may take longer since the mixture will be less spread out.
Overripe bananas are the best to use as they will mash easily. This bread is also a great way to use up some bananas if you have too many.
If you know your bananas are a bit bland, you might want to increase the amount of sugar in the recipe to about one cup.
Doubling this recipe will add to the cooking time, I would add two to four hours onto the cooking time if you end up doing this.
Caster sugar is also known as superfine sugar or baker's sugar.
Note: I use a 5.5L (6 Quart) slow cooker for all the recipes that I have on this website unless specified. If you have a smaller or larger slow cooker, then you might need to adjust the ingredients.
Nutrition Information
Serving Size: 61g (2.2 oz)
Servings Per Recipe: 16
Calories Per Serving: 172
Amount Per Serving
Saturated Fat: 3.9g
Trans Fat: 0g
Total Carbohydrate: 26.8g
Dietary Fiber: 1.1g
Sugars: 12.2g
Cholesterol: 36mg
Sodium: 203mg
Protein: 2.6g
The information above is an estimate generated by an online nutrition calculator.
More Delicious Slow Cooker Desserts
Below are some more slow cooker desserts that I highly recommend giving a try.
If you feel like eating a pudding but want something fruity, then the peach cobbler is pretty amazing. You can make it with either fresh, canned or frozen peaches.
Another recipe that is usually done in the oven is the slow cooker chocolate brownies. The brownies are incredibly delicious and loaded with all the chocolate flavors that a good brownie has.
If you have anything to share on this slow cooker banana bread, then be sure to leave a comment below. I would love to hear any variations, feedback, or anything else you might have to say.