This recipe shows you how you can make slow cooker brownies from scratch with minimal effort.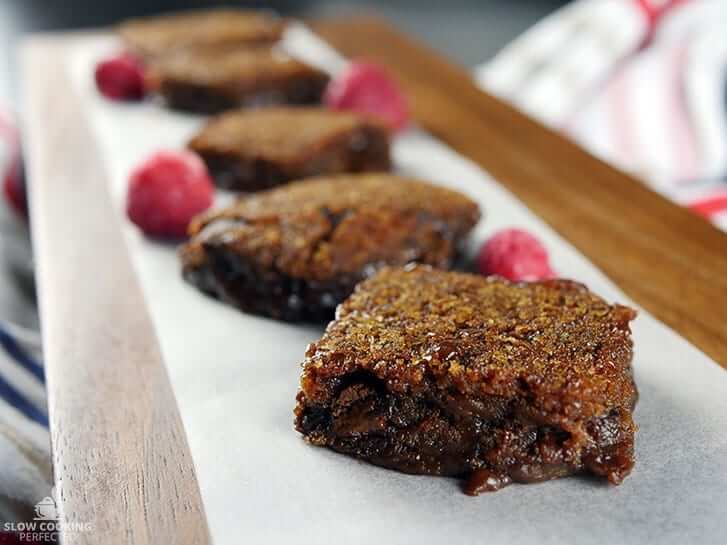 These double chocolate brownies come out to be amazing and gooey and go really well with some vanilla ice cream.
If you're cooking for a party, then these brownies are great as some platter food. People can easily pick them up and eat them with their fingers.
Like most desserts you cook in the slow cooker, this will only need a few hours to have it ready for eating. You will need to keep this in mind when you're aiming for a specific time for dessert.
Personalizing the Brownie Recipe
There are lots of little tweaks that you can make to this recipe to make it more to your liking. Below are just a couple of suggestions, but there is so much more that you're able to do.
You can add some extra chocolate chips if you want some extra gooey bits of chocolate throughout the brownie.
If you really want to be creative, you can add white chocolate chips so you end up with some mixed chocolate brownies that will please any chocolate lover.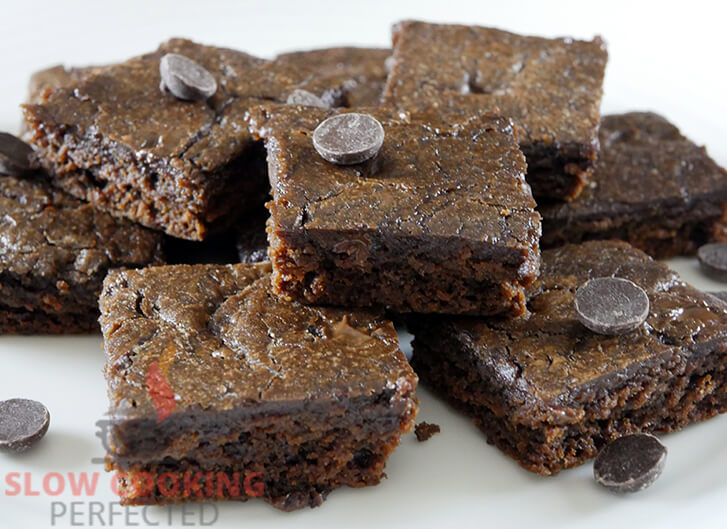 Alternatively, you can swap the extra chocolate chips for M&Ms for some extra color. It's a creative way to really make these brownies a little different.
One last recommendation is adding some chopped nuts for a bit of extra crunch. Nuts such as almonds or walnuts will work very nicely in a brownie.
As I mentioned earlier, there are dozens of different tweaks that you can make to any brownie recipe. If you have any that you would like to share, then please be sure to leave a comment below.
Storing the Brownies
These brownies can be stored in the fridge and simply reheated whenever you need it. They should last about a week (maybe longer) if stored correctly. They're also pretty good cold, so don't feel like you need to heat them.
You can also freeze the brownies, and they will last for roughly six months before they will need to be used. They're the perfect snack that you can quickly heat and eat.
If you want to see how to make brownies in the slow cooker, then be sure to check out the video below. It goes through all the steps to making this amazing snack or dessert in the slow cooker.
Slow Cooker Brownie Recipe
Ingredients
115 g (4.1 oz) unsalted butter
1 cup chocolate chips
3 large eggs
1 cup sugar
1/4 cup unsweetened cocoa powder, sifted
1 & ½ cups plain flour, sifted
1 tsp baking powder
1 tsp vanilla essence
½ tsp salt
½ cup chocolate chips (Optional)
Instructions
Line a slow cooker with foil. Lightly grease the foil with butter or spray oil.
In a microwaveable bowl, add the butter and 1 cup chocolate chips.
Place the bowl into a microwave and heat for about 1 minute or until the chocolate is melted.
Mix in the eggs until well combined.
Next, mix in the sugar, cocoa powder, plain flour, baking powder, vanilla, salt, and the optional chocolate chips.
Pour into the prepared slow cooker and cook on low for about 4 hours.
Allow to cool in the slow cooker for about 1 hour before slicing into pieces.
Alternatively, if you're eating it warm, then serve straight from the slow cooker.
Recipe Tips
The foil will help prevent the outside of the brownie from burning while allowing it to cook correctly. It will also mean you don't need to clean your slow cooker once you're finished cooking.
If you like a bit of crunch in your brownies, then you can try adding some chopped walnuts. Simply mix these in at the same time as all the dry ingredients.
All slow cookers cook at different temperatures, so you may find that you need more or less time. I would personally check at the 3-hour mark if you know your slow cooker typically cooks hot.
You can make these brownies gluten-free by replacing the plain flour with a gluten-free variety. You might also want to double check the ingredients in the baking powder.
Note: I use a 5.5L (6 Quart) slow cooker for all the recipes that I have on this website unless specified. If you have a smaller or larger slow cooker, then you might need to adjust the ingredients.
Nutrition Information
Serving Size: 34g (1.2 oz)
Servings Per Recipe: 24
Calories Per Serving: 142
Amount Per Serving
Saturated Fat: 4.9g
Trans Fat: 0g
Total Carbohydrate: 17.2g
Dietary Fiber: 0.7g
Sugars: 13.8g
Cholesterol: 36mg
Sodium: 95mg
Protein: 2.1g
The information above is an estimate generated by an online nutrition calculator.
More Delicious Desserts
If you like this recipe, then the couple of recipes I mention below might also interest you.
The slow cooker is also great for making some chocolate fudge. It's delicious and the perfect snack that you can keep in your fridge. It's the perfect comfort food.
The chocolate lava cake for the slow cooker is also perfect if you're a huge fan of rich chocolate desserts. The best thing is that you can easily just scoop it straight out of the slow cooker and on to your plate.
You can also cook a brownie in a mug, and it's super delicious. It is perfect if you only need to cook for one and want something sweet and delicious fast.
If you have cooked up these slow cooker brownies and would love to leave your thoughts, feedback, or any variations, then be sure to leave a comment below.